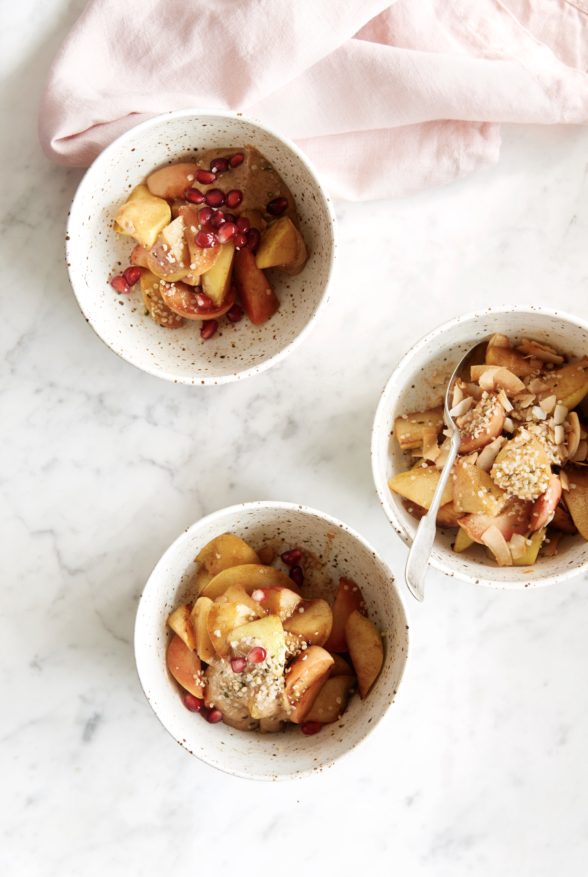 I met my husband's grandmother, who is now 103 years old and going strong, about 30 years ago.  She had a habit of drinking only hot water all day. No lemon or lime or juice added.  Just plain hot water.  I don't know what possessed me to follow her lead, but I did and I never looked back.  I drink warm or hot water every morning to start my day and throughout the day, if possible.  I absolutely love it.  When a waiter at a restaurant asks me what I'd like to drink, I always say " a mug of hot water, please.  No additional glass of water is necessary."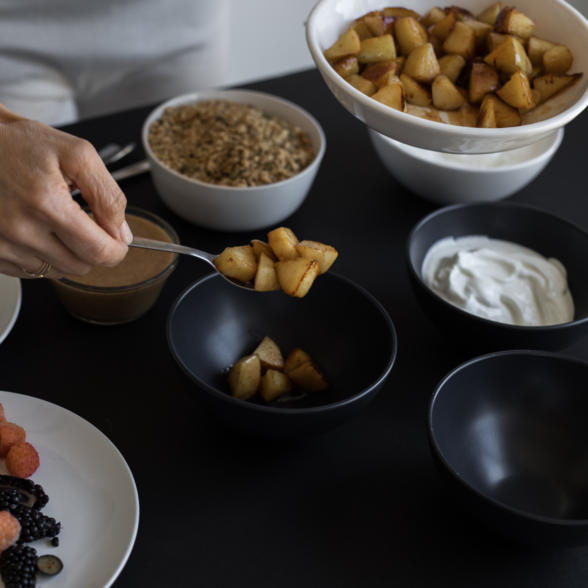 For whatever reason, my digestion is just happier avoiding anything cold, except when the weather is quite hot.  During the winter, I even cook my fruit, which many of you saw on my Instagram stories over the holidays.  When fruit is cooked, I think it tastes sweeter.  I love the soft texture and how comforting it feels, especially when the weather is hovering close to zero as it was last week in Utah.  Yikes!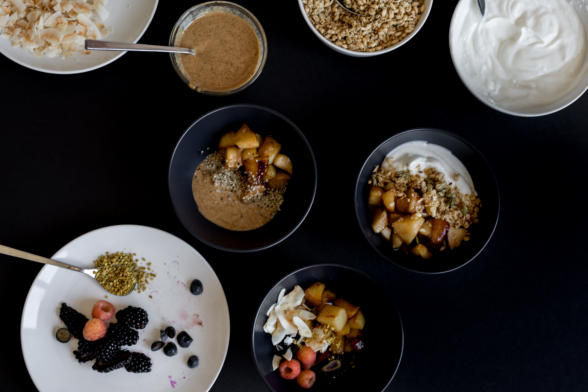 One of my favorite winter breakfasts is a big bowl of warm porridge (usually oatmeal) topped off with either sauteed vegetables or cooked apples or bananas.  Sometimes I skip the oatmeal and make a bowl of cooked apple chunks and top that with all sorts of protein and fat like almond butter, hemp seeds and coconut flakes.  It's incredibly satisfying and keeps me full until lunch.  This recipe is from the breakfast section of my first cookbook, Kitchen Matters.  I say, first cookbook because I am getting ready to shoot my second cookbook very soon! I am so excited that I am doing another book.  This one will be released in early Spring 2020.  I poured so much heart and into Kitchen Matters and nothing makes me happier than seeing your posts of my recipes.  Thank you so much for sharing those.  I haven't asked in a while, but if you never wrote a review of my book on Amazon and you have something nice to say ;), I would appreciate that so much!
Let me know if you have made this recipe and how you've changed it up.  Tag me on Instagram so I can see what you've been cooking!  @pamelasalzman #pamelasalzman
Stay warm and healthy!  xx
Shop the tools I used for this recipe by clicking on the images below!

Sautéed Apple Power Bowl
Ingredients
2 teaspoons unrefined virgin coconut oil or vegan butter like Miyoko's Kitchen
2 apples, any variety, unpeeled, cored and chopped into 1-inch pieces
½ cup unsweetened apple juice or water
½ teaspoon ground cinnamon
Pinch of sea salt
Add some protein: a drizzle of nut butter or a dollop of Greek yogurt
Add something crunchy: chopped nuts, seeds, toasted coconut, pomegranate seeds, granola
Instructions
Warm coconut oil in 9" or 10" skillet over medium heat. Add apple chunks to the skillet and sauté until lightly golden brown on all sides.
Add juice, cinnamon, and a pinch of salt and raise the heat so that the juice simmers, stirring the apples occasionally. Cook until the juice is almost all evaporated, about 4 to 5 minutes. Apples should be tender, but not falling apart.
Serve with suggested protein and crunchy add-in's. My favorite is a bowl of warm apple chunks with a drizzle of almond butter, pomegranate seeds, hemp seeds and toasted coconut flakes.
Notes
There are so many varieties of apples to choose from. Since it is a heavily sprayed fruit, try to only buy organic. Tart apples include Granny Smith and Pippin, sweet include Fuji and Golden Delicious and my favorite are the tart-sweet varieties like Pink Lady and Honeycrisp.