We eat a lot of oatmeal in this house for so many reasons. It is nutritious, filling, inexpensive and incredibly easy to make.  Oatmeal is high in soluble fiber (the kind that helps reduce the absorption of cholesterol by the bloodstream), as well as rich in antioxidants and lignans, which protect against cancer and help stabilize blood sugar levels.    An oatmeal breakfast also allows me to employ the topping bar, which means everyone makes his or her own breakfast.  It's a win-win.  During the school year, I usually cook a pot of oatmeal twice a week.  I prefer steel cut oats, also called Irish oats, because of their hearty, chewy texture.  They're also only one step away from a whole oat groat since the grain has been merely sliced.  Old fashioned rolled oats have been steamed and rolled flat and are considered slightly less beneficial than steel cut.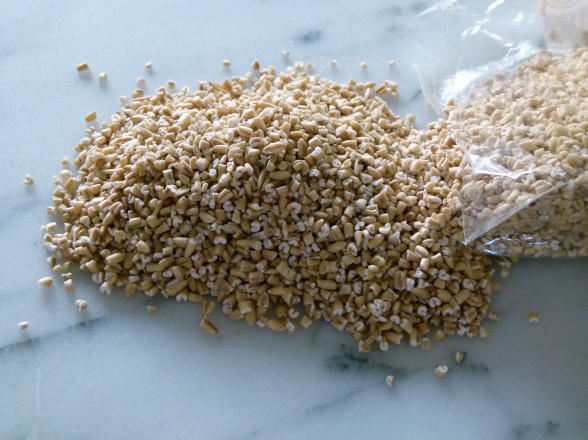 When my sister told me recently that she brings instant oatmeal packets (loaded with sugar and who knows what else) with her kids to their day care for breakfast, I almost choked on my kale chips.  But I know my sister has a rough time of it getting two toddlers ready very early in the morning and out the door before 7:00 am.  Since steel cut oats can take up to 30 minutes to cook, it's quite understandable why they don't get made in her house on a weekday.  But since I can't imagine life without steel cut oats (or maybe I can't imagine life with instant oats), I sent her a crockpot as a very late new baby gift (I knew the right gift idea would come to me one day!) so that she could make the kids oatmeal overnight and have it ready when they woke up.  I was so pleased that I saved my sister from instant oatmeal, until she told me she loves her crockpot so much because she uses it for making dinner while she's at work.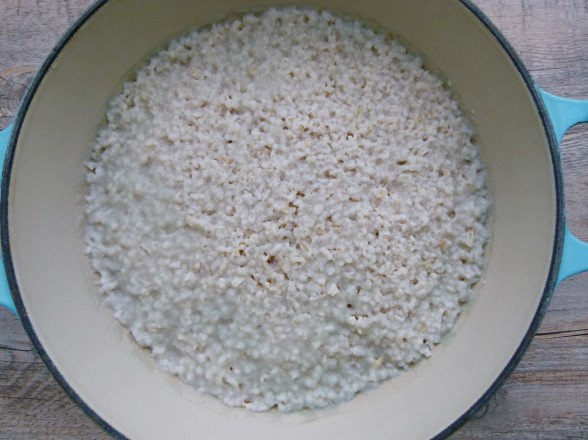 No problem!  I'm all about oatmeal solutions.  Turn to Plan B which is overnight steel cut oats, the answer for anyone who has absolutely no time in the morning.  You just boil water, add steel cut oats and a pinch of salt, cook for a minute and remove from the heat.  Keep it covered until the morning.  Then all you have to do is reheat, which takes about a minute.  You can also use this method in the morning if you wake up early and you want to go workout before everyone gets up and you don't want to leave the stove on while you're gone.  Just reheat when you get back.  It's genius, really!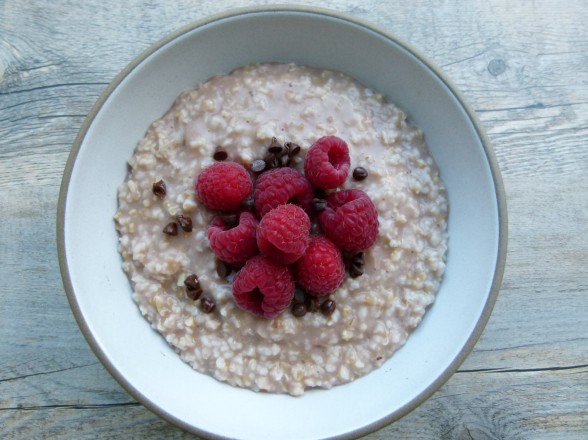 You know I have very little time to mess around in the morning with the two girls needing to be out the door at 6:40 am with breakfast AND lunches packed.  I can't imagine what I would do if my kids didn't like oatmeal.  But they sure wanted to find out!  Daughter #1 informed me a few months ago that she really doesn't like oatmeal.  "Oh yes you do."  "No, I don't."  "Haha! LOL!  JK!  Right?"  "Mom, you're so weird.  I think oatmeal is boring."  Well, stop right there, Missy.  I believe that when you have a problem with children, it's best to nip it in the bud quickly before it turns into something major.  So, I took this recent turn against oatmeal VERY seriously.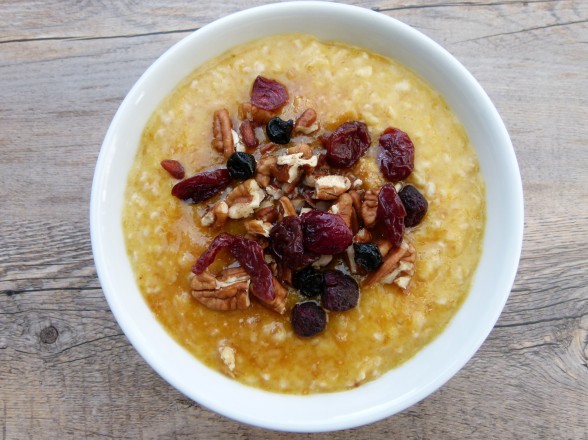 Normally, I cook oatmeal in water, and stir in a little almond milk at the end for a creamy finish.  I set out a topping bar of cinnamon, dried fruit, jars of walnuts and pecans, homemade granola and whatever complementary fresh fruit I have on hand, such as bananas and berries.  Since this was no longer enough, I needed a new plan to bring her back.  Here are a few of the new versions that my daughter has approved of which really aren't much trouble, but just make oatmeal seem special again.
Pumpkin Pie Oatmeal (see photo)– upon reheating, stir in pumpkin puree (about 1/3 cup per person) + pumpkin pie spice (cinnamon and nutmeg, pinch of ginger and cloves), top with maple sugar, pecans and dried cranberries.
Chocolate Oatmeal (see photo)– prepare oats with water and finish with chocolate hemp milk, top with fresh berries and mini chocolate chips (and sometimes walnuts).
Chocolate-Peanut Butter-Banana — finish with chocolate hemp milk, add a spoonful of peanut butter and diced banana.
Oatmeal with Sauteed Apples or Pears (see photo below) — saute chopped, peeled apples or pears with a touch of coconut oil or unsalted butter, then cook with apple juice or water and a dash of cinnamon until tender.  Sometimes we add to oatmeal with walnuts or pecans.
Pamela's Special — oatmeal finished with almond milk and topped with chopped almonds or walnuts, raw cacao nibs, goji berries or chopped dates, flaked unsweetened coconut.
The Hubby — hold the milk, but add fresh blueberries (when in season) or sliced bananas and homemade granola.
Mr. Picky's favorite — oatmeal finished with raw milk and topped with 1/2 diced peach, 1/2 diced plum, a dash of cinnamon and a sprinkle of maple sugar.
Some of you mentioned to me that you like to stir in a little almond butter and that you freeze your oatmeal in individual portions.  I'm going to try that immediately.  Please share more of your oatmeal combos!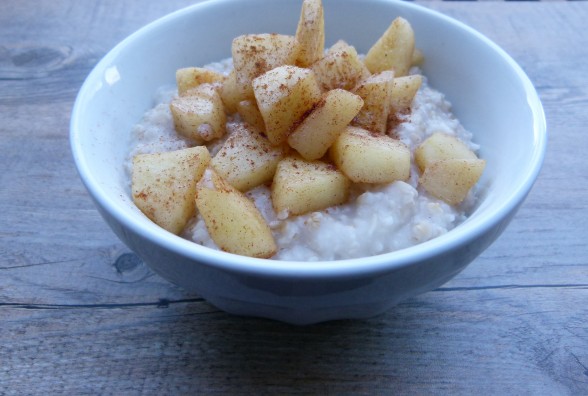 Overnight Steel Cut Oatmeal
Ingredients
4 cups water
1 cup steel cut oats
¼ teaspoon sea salt
optional: additional drizzle of milk such as almond milk or raw milk
Instructions
Bring water to a boil in a medium saucepan. Add oats and salt. Cook for 1 minute. Remove from heat and cover. Let stand overnight.
The next morning, reheat over medium heat, stirring in some milk (I usually use about ¼ -1/3 cup) if desired for extra creaminess.
Notes
*To make 6 servings, increase water to 6 cups and oats to 1 ½ cups.