You know how much I love to plan ahead and even though I am still in the midst of teaching Mexican classes in anticipation of Cinco de Mayo, I would like to remind everyone that Mother's Day is next weekend!
Quite honestly, I am not a fan of commercialized, contrived holidays.  BUT, mothers are the hardest working people I know and they deserve oodles of appreciation, attention and generosity.  So when the mother in your life says, "Don't get me anything," you shouldn't listen.  Mother's Day is an opportunity to show her that you love and adore her and you don't take her for granted.  You don't have to spend a lot of money, or any money at all.  But there needs to be some sentiment whether it is in the form of a hand-written card with a thoughtful message, homemade breakfast in bed or a "coupon" with the promise of some help cleaning up the house or some time to herself.
I was thinking about some things I would love to receive on Mother's Day and I've also included a few items that I have heard some of my students say, "I am dying for a ____!"  You're welcome!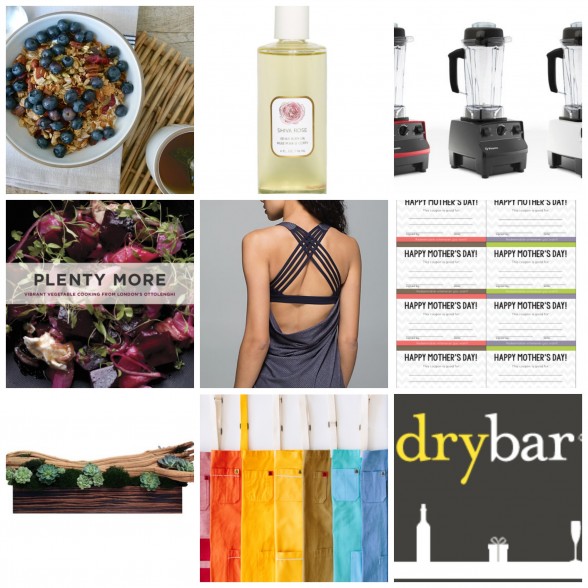 Coupons from kids
Nothing says "I Love You" like  a set of homemade coupons.  In my opinion, these are as valuable as gold and the gift that keeps on giving since you can stash these away to use in times of desperation, or when you just need a little extra love!  I love a hand-written coupon, but if you want to give one from a child that can't write or draw yet, there are templates online that you can print out and then fill in the blanks.  Some coupons I have received from my kids include:  washing, drying and putting away the dishes, no bickering with each other for a whole day, and (my favorite) 100 kisses.
Breakfast in bed
Give your mom a break from the usual 6am wakeup call and treat her to a little morning R&R with breakfast in bed!  Check out some of my recipes that all of my girlfriends love and that can be made ahead of time so that you might be able to sleep in a little, too.  Very important:  Don't forget to clean up after you cook!
Sprouted French toast casserole
Dry Bar gift card
Every mom loves to be pampered and a good blow dry is an easy way to feel more beautiful.  I don't know anyone who wouldn't love a "coaster" (that's what they call their gift cards) from The Dry Bar.  There are so many locations which you can check here.  Price for one blow dry can run $35-40, depending on location.  Click here to order online.
Hedley and Bennett aprons
Update your mom's apron collection with these super chic and stylish aprons!  I have a few and I absolutely love them.  I wrote about them in this post if you want more info.  Word of advice: don't buy someone an apron if they hate to cook!  An apron is not a hint.  It's annoying!  Buy Hedley & Bennett aprons here.
I am obsessed with all of Shiva's products, but especially her rose face oil and my new fave, her amber body oil.  This luxurious body oil is completely natural with no sketchy additives and smells like heaven.
All of Shiva's products can be found on her amazing blog, The Local Rose.  Click here for the link to the body oil.
The perfect gift for moms who love to cook.  This is my favorite cookbook I have bought in the last couple of years.  The food is delicious, beautiful, vegetarian and inspiring.  Purchase on amazon or at most major book retailers.
For the mom who loves to look chic at the gym or the yoga studio, this is the cutest top.  After I wore it for the first time, I got so many compliments.  It's a little subdued in the front, but the criss-cross straps and open back are fab.  I am never bummed to receive new workout clothes as a gift!  Available at lululemon.com and in stores.
Flowers
You can never go wrong with a classic.  No matter what anyone says, every woman loves getting flowers!  I received a BloomThat arrangement last month and I thought it was perfect and very reasonably priced.  Only available in LA and Northern California.
Living Plants
Flowers are always nice, but also consider a living plant which will last much, much longer.  I actually buy my mother-in-law two rose bushes every year on Mother's Day for her garden and she loves them.  Potted herbs are also nice, as are orchids and succulents.  Lots of my students (who happen to be moms) have asked me where I bought this particular succulent arrangement.
Clare Vivier La Tropezienne Tote
Mommies have a lot of stuff and we love big bags to keep it all together.  I love this tote bag from Clare Vivier.  It's clean, classic and it comes in 7 perfect colors.  I've seen her bags in many stores, but you can also order online.
Vitamix
This is the ultimate splurge for mother's day.  Every woman I know who doesn't have a Vitamix, wants a Vitamix!  Trust me when I say this is a life-changing appliance.  It's not just a blender.  It is a professional-strength blender that can turn rocks into flour (don't try that at home.)  I use mine at least once/day because nothing else will make the perfect cashew creams, vegan mac and cheese sauce, smoothie bowls, nut milks, acai bowls and so on.  It's really expensive but it's a workhorse and she will LOVE it.  I personally love the 500 Professional series the best, but some people prefer the 750 series because the carafe is shorter and the whole machine fits under the counter better.  They are both amazing!  You can find select Vitamix machines in Williams-Sonoma, Sur la Table, Bed Bath and Beyond, Costco, and amazon.