Summer is here and Friday Favorites is baaaaaaaack!!!  There has been a lot going on here, namely getting this site back in business.  I think most of the kinks have been worked out, so thanks for your patience :).
We've already been to the beach a few times and had some friends over for dinner, so I thought I would share a few favorites people have been asking me about.  I hope you all have a great holiday weekend!
Onyx Stainless Steel Popsicle Molds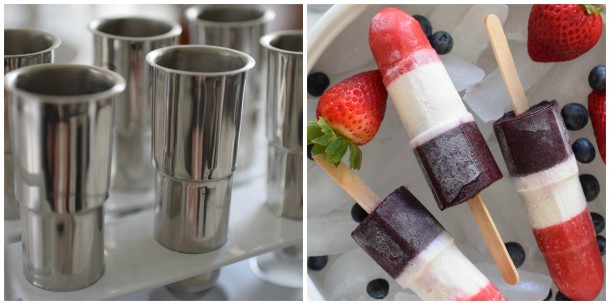 If you saw my post from earlier this week, you may have noticed these stainless steel popsicle molds that I used for my red, white, and blue popsicles. These molds are great and what is most important is that they allow you to make your own popsicles so you can avoid all of the dyes, chemicals and sugars that are in the store bought ones.  You all know me well enough by now to know I avoid plastic (even BPA-free plastic) as much as possible.  Using stainless steel molds ensures that you will not have any chemicals leaching into your popsicles.  Also, these are super easy to remove from the mold as you just run it under cold water for a couple of seconds and voila!  These are perfect for cold treats all summer long!  Here's a link to the cylindrical shape I used for the "bomb pops" and here's a link for the more traditional flat, rectangular shape (which is strangely more expensive and not available on amazon prime.)
Table in a Bag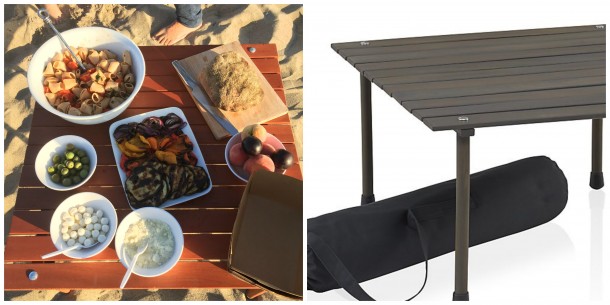 We very often meet friends at the beach for dinner or just drinks and snacks and I don't know what I would do without this darling "Table in a Bag" from Crate and Barrel.  The table disassembles in an easy-to-carry shoulder bag that I can tote with us to the beach or the park or wherever we want to set up a picnic.  It takes minutes to put together and is so much easier than lugging any kind of fold up table from home. I have had mine for at least 10 years, but Crate and Barrel doesn't sell the natural wood version anymore.  But I think the grey is very chic and it's on sale right now online at Crate and Barrel!
Firewire Double Prong Stainless Skewers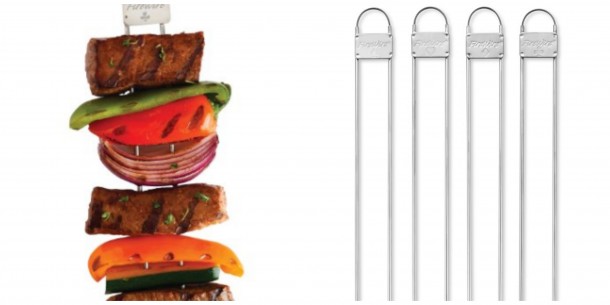 The two questions that I most often get in my classes when it comes to grilling anything on a skewer: 1. Do you need to soak wooden skewers? 2. How do you keep the meat or veggies from spinning around on the skewer? I don't soak wooden skewers if I can fill them up all the way.  And I avoid the spinning problem by using two skewers parallel to each other.  I'll admit, this is kind of a pain to do.  But if you have double metal skewers, you can disregard those issues!  The double prong allows the food to remain stable and in place while on the grill, and the metal eliminates the need for soaking or the worry of them catching on fire. Plus, they are reusable all summer long and also have fun little symbols on them so that everyone can identify his or her own skewer!  These make for a great addition to your summer cooking collection and would make a great gift as well. They are available at Williams-Sonoma and on Amazon (for $1 less and free shipping.)
Chateau Miraval Cotes de Provence Rosé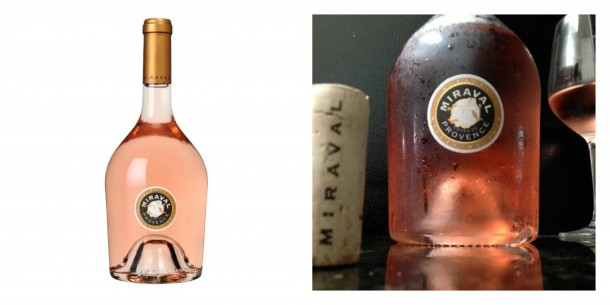 I'm not a big drinker, but I do enjoy a crisp, cold glass of rosé in the summer.  It's so light and refreshing and goes with everything (that I like to eat in the summer.)   Two years ago, I found my new favorite rosé.  Miraval Rose is actually made by Brangelina (go figure) on their estate in Provence and I will confess, I didn't think it would be good.  I didn't want to like it.  But it is fantastic — light, clean, and fruity, but not sweet.   And the critics actually agree with me here, as this was the only rosé included on the top 100 wines in the world by Wine Spectator Magazine in 2013, receiving a 90 out of 100 points.  I mean, what can't those two do right?  I have bought Miraval at Whole Foods and my local BevoMo.
Seasonal Produce:  Tomatoes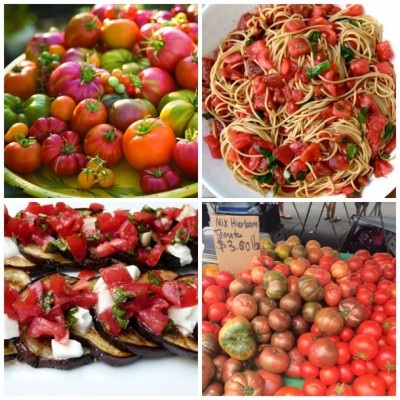 It is so surprise to anyone around here that I am absolutely crazy about summer tomatoes.  I remember as a child, going into the garden with a salt shaker and taking tomatoes right off the vine and eating them out of hand with a pinch of salt.  Heaven.  They are my favorite vegetable (or fruit) and I go nuts all summer long including them in every meal that I can.  But I am a tomato purist, so once they are out of season, I won't buy any of the imported impostors that come into the markets afterwards.
Tomatoes are not only delicious but contain lycopene, which is a nutrient that is said to lower your risk for stroke as well as lower your risk for certain cancers such as prostate. And while most veggies are best eaten raw, interestingly enough the lycopene in tomatoes actually increases when tomatoes are cooked which gives you even more of a reason to make tomato sauces and soups. Tomatoes also contain tons of Vitamin C and beta carotene, as well.
If you are going to consume canned tomatoes it is important to make sure you are purchasing them in glass jars (like from Jovial or Eden) as this highly acidic vegetable will cause BPA (or aluminum if the can is BPA-free) to leach and reach unsafe levels in the tomatoes. So using fresh tomatoes in the summer or tomatoes in glass jars in the winter is your best bet.
When buying tomatoes, gently squeeze the exterior. It should be firm but give slightly. If the tomato is hard or the skin is really taut, then it is under-ripe. Tomatoes are best stored on the countertop– putting them in the refrigerator actually decreases their sweetness and can leave them mushy and mealy. There are many reasons to stick to buying fresh tomatoes only in the summer—some of them being that imported tomatoes are much more heavily sprayed, they are less nutritious, and they are picked way under-ripe because they would not be able to withstand travel if they were ripe and juicy.  I think the best tomatoes come straight from the farmer's market in the dead middle of summer! Here are some of my favorite recipes for fresh summer tomatoes!
Watermelon and Tomato Salad with Feta and Mint
And from around the web:
The Mothership Tomato Salad by Jamie Oliver
Creamy Tomato Risotto by BBC Good Food
Herb Stuffed Tomatoes by Giada DeLaurentiis
Baked Orzo with Tomatoes, Roasted Peppers and Zucchini by The New York Times