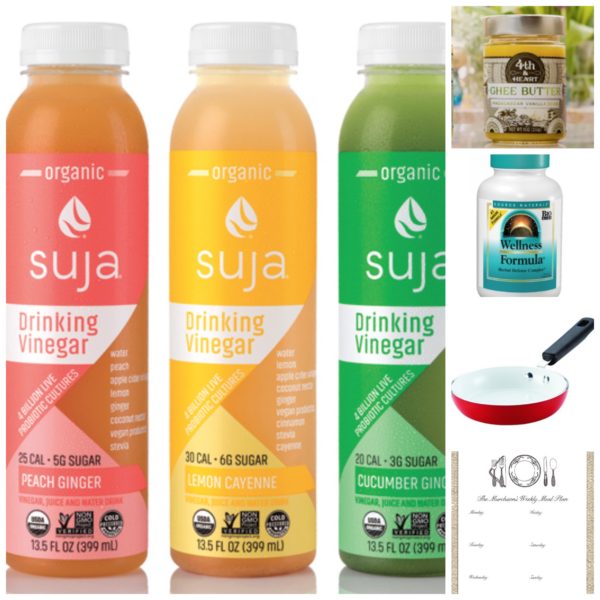 My Friday Favorites posts always take a backseat to holiday recipes, but they're back!  I have a few great finds for you this week.  Enjoy!

Love Lucy Meal Planning Pad
It is no surprise to anyone that I am a meal-planning junkie. I advocate it to all of my students as well as post a weekly dinner planner on my blog to encourage others. I personally wouldn't be able to cook regularly for my family without my weekly plan. I received this adorable, customized meal planning notepad as a holiday gift from my friend Lisa in Dallas and I think it's the best! It is personalized as you can see in the photo. It is made by an Etsy shop so you are supporting local business and I think this would make such a cute gift for upcoming holidays (Valentine's Day, Easter, and Mother's Day will all be here before we know it!)  Since it's not a calendar with dates, it's a timeless gift.
Not only is it fun to give a personalized, but it is also such a useful gift that will encourage your friends and family to get organized and plan out meals! I think it would be so fun to stick this pad on the fridge and let your kids each pick a night that they get to choose what's for dinner (within reason, of course!!)
Check out Love Lucy on Etsy for this adorable pad that comes in two different sizes and designs!

4th and Heart Ghee
How many of you have gotten on board the ghee train? I have been on it for a while as I have been using ghee for years. It has really come into the spotlight in the last couple of years, and for good reason. Ghee is clarified butter, which means the milk solids have been removed (i.e. the casein and lactose) so the result is a more digestible but also more stable fat for using at high temperatures, which makes it perfect for anything on the stovetop or roasting at high temps. Other unsaturated fats like olive oil don't have as high as a smoke point as ghee, so when they get heated too high they become oxidized and damaged (which can create free radicals in the body).
So why am I not using ghee all of the time for every recipe I ever make? Well, the reason is that ghee has a very unique taste that can be a bit strong sometimes and is not always compatible with what I am cooking.  And you can't always sub ghee for butter in baking without making some adjustments since the moisture content is different.
However, there is a new ghee in town that is a total game changer and the taste is unlike any ghee I've ever had before. It is produced by a company called 4th & Heart, that is a recently made-over branch of Tava. 4th & Heart makes small batch, gourmet ghee in the dreamiest flavors imaginable such as Madagascar vanilla and White Truffle Salt. I have used the vanilla bean for greasing my waffle iron and made popcorn with the white truffle salt.  My daughter recently tried the garlic ghee with a pizza quesadilla and she said it was amazing. I always use ghee when I scramble eggs so I am sure it will be divine.
4th & Heart ghee is made with the highest quality grass-fed cows that hail from New Zealand. Grass-fed butter ensures that you are getting all of those nutrients that were in the grass (Vitamin A, D, E, K, and CLA) go directly into the milk of the cow and therefore the ghee!
You can purchase the ghee from Thrive Market and it is also available at my local Whole Foods. Check out the 4th & Heart website to see where they carry it near you!

Suja Drinking Vinegars
Truthfully, I drink water all day and occasionally green tea or matcha in the morning and maybe a glass of wine once in a blue moon.  I juice now and then, but I otherwise don't really buy beverages.  They're usually expensive or filled with hidden sugar.  I know kombucha is all the rage, but it makes me feel too buzzed.  (I'm a lightweight!)
BUT. After trying Suja's Drinking Vinegars for the first time, I nearly fell off my chair.  It was like my dream drink come to reality.  Cold pressed juice + apple cider vinegar + a little stevia for sweetness and only a few grams of sugar per bottle.  I actually put apple cider vinegar in my water regularly and I am convinced that it makes my skin glow.  This is not a scientific assertion, just my observation, for what it's worth.  But I am used to that tang and I really like it.
I would STRONGLY encourage you to ditch soda once and for all, forever and ever.  If you need to replace it with something, try one of these.  Or if you just like having a light and refreshing drink without loads of calories and other junk, try these out.  I love every flavor, but my two favorites are the Cucumber Ginger and Lemon Cayenne.  Here's the website where you can search for locations that sell these near you.
Individual Ceramic Egg Pan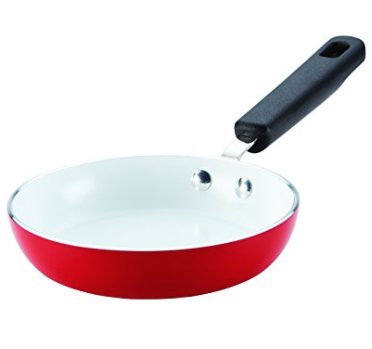 I very often try new products or tools when I am cooking in someone else's kitchen for a class.  I spotted this nifty mini skillet on my friend Alex's stove and my eye's lit up.  I could tell that it was a ceramic-coated nonstick, which I have yet to read anything negative about, as opposed to Teflon and other surfaces which contain PFOA's and PTFE's.  And I really love the design and the small size which is ideal for eggs for one or one egg.  Alex showed me how she uses it for a mini frittata and the eggs puffed up the sides beautifully.  Just to be clear, this is a 5-inch skillet.  That is very small and literally for 1 egg.  I can imagine reheating 1 veggie burger or using it to melt butter or coconut oil and so forth.
My only caveat with ceramic-coated pans is that they scratch easily so you must take care to use wooden or silicone utensils when cooking, and not stainless steel.  Wash with a soft sponge and don't expect it to last forever.  But for $11, you shouldn't. 😉  You can find this pan on amazon.

Wellness Formula Herbal Defense Complex
This may come as a surprise, but I am a minimalist when it comes to supplements.  Most of them are low-quality and a waste of money and your body needs and will assimilate nutrients from food above all else.  But, our food is not what it used to be, and our busy lives are taxing our systems more than ever.  So, I do take a few supplements, including a probiotic, an Omega-3 supplement, and this Wellness Formula.
This supplement is designed to support the immune system.  It contains Vitamin D, Vitamin C, Zinc, garlic and many herbs that are powerful antioxidants.  I prefer the capsules over the tablets.  I take 1 a day for overall maintenance.  But if I am feeling like I am about to succumb to a cold or sore throat, I take 6 capsules twice a day and I swear I'm as good as new.  However I always say, prevention is the best medicine.  Wash your hands religiously, especially after visiting a public place or a doctor's office, and before eating.  Stay hydrated and well-rested.  And of course, eat well.
I purchase Wellness Formula on thrivemarket.com or amazon.com.