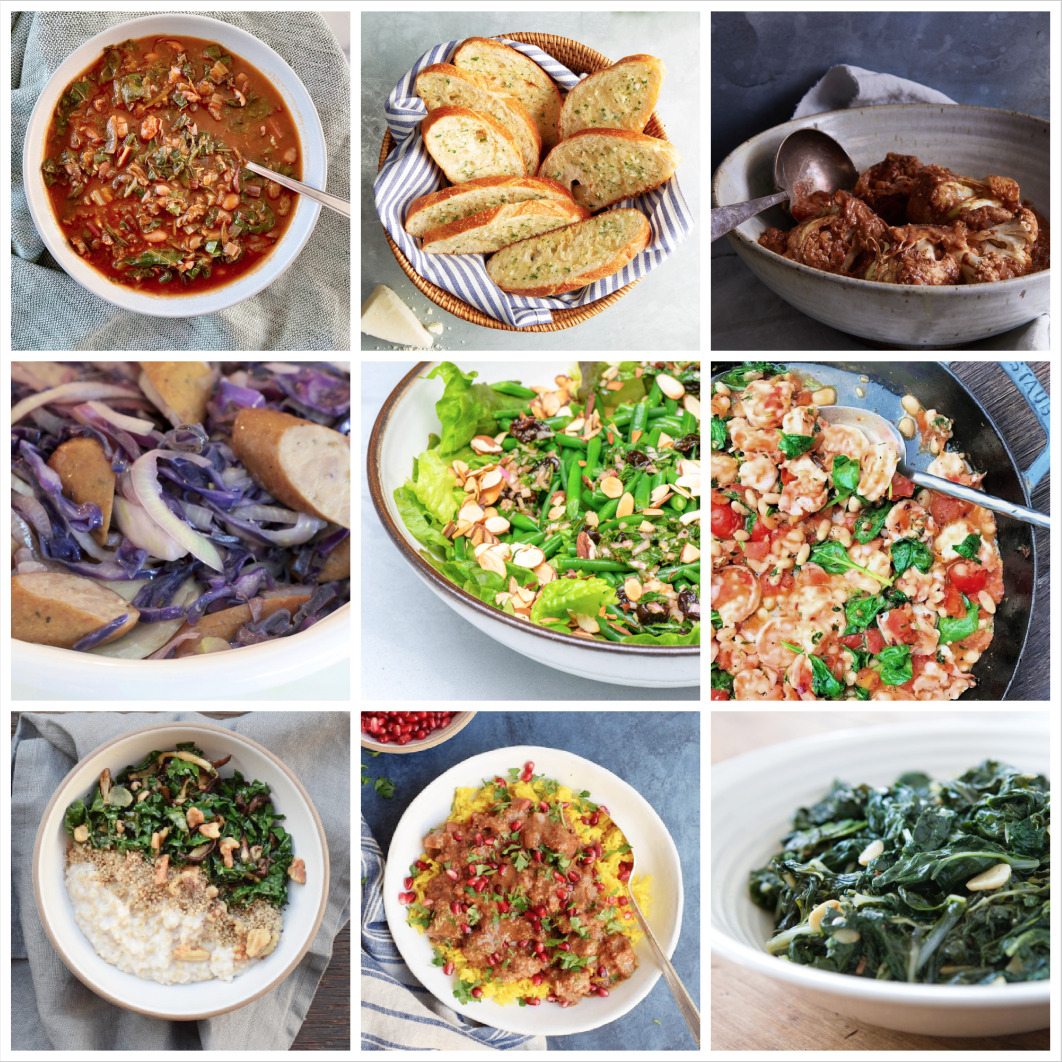 Happy Weekend! I'm trying something new. I am no longer going to send an email to my subscribers letting them know that the dinner planner has been published. It is always uploaded Friday night! I will send my Monday newsletter out on Monday mornings with links to the new dinner planner and the newest recipe published on the site which is usually posted on Wednesdays. You can subscribe to my free newsletter here.
I am in Pittsburgh for the weekend visiting my son, who is a freshman in college. It's the first time seeing him since we moved him in in August. I am beyond excited to be with him!! Here's your dinner planner for the week:
Meatless Monday: porcini, greens and beans soup (my husband and I eat a bowl of soup for Monday dinner very often; you can serve this with garlic bread or a simple salad on the side if you need more.)
Tuesday: Cauliflower Tikka Masala from Quicker than Quick served with steamed rice, plus chopped cashews to add a little protein (if you need more, serve with a simple piece of fish or stir cooked lentils into the masala sauce.)
Wednesday: Turkey sausages with cabbage and fennel (this is a one dish meal IMO, but you can add roasted potatoes if you need something more.)
Thursday: mixed greens with green beans, almonds, and dried cherry vinaigrette + I'm going to add quinoa and feta and double the dressing so this can be a whole meal
Friday: shrimp with tomatoes, white beans and spinach (we love this with rice or garlic bread)
Saturday brunch: Savory oats with kale, mushrooms and walnuts, add a poached egg if you want more protein.
Sunday: Fesenjan-style chicken stew with walnut and pomegranate sauce, any cooked grain or cauliflower rice, sauteed greens like kale or Swiss chard
Here's what you can do in advance if it helps you:
Sunday:
Soak mushrooms for soup and reserve soaking liquid. You can also make the soup now and reheat tomorrow.
Wash greens
Wednesday:
Blanch green beans
Make cherry vinaigrette
Cook quinoa
Friday:
Cook oats
Wash and strip kale and wipe clean mushrooms
I have LOVED seeing all your creations of my recipes on Instagram. If you make any of my recipes, please tag me @pamelasalzman #pamelasalzman so I can check them out! I have a free Monday newsletter with my thoughts, new recipes, and things I'm loving lately. Subscribe here!
Order my cookbook, Quicker Than Quick! If you have 1 minute, would you mind leaving a review on amazon? I would be so grateful, thank you! Take a peek at my first cookbook "Kitchen Matters"!