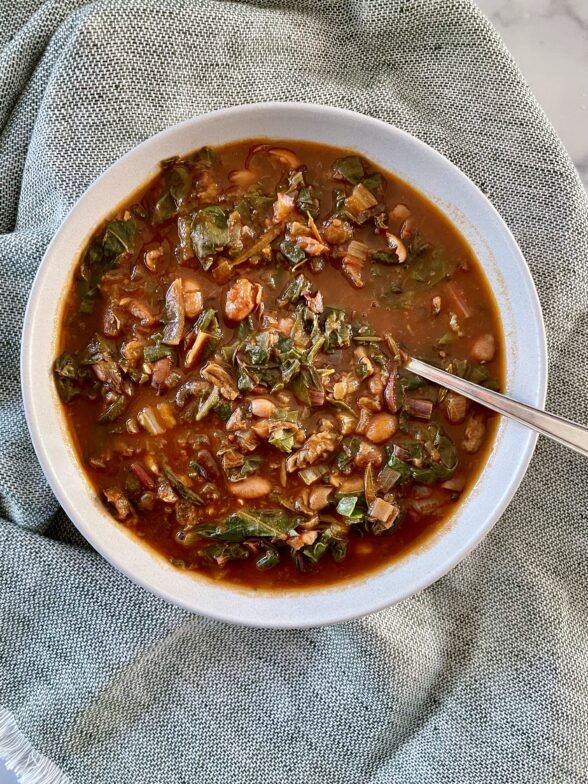 Hubs announced to me the other day that he could eat soup for every meal.  Amen!  I love soup too and for lots of reasons – it's very digestible; it's an easy way to get in lots of vegetables, especially leafy greens; it's a one-pot meal (you all know how I feel about washing dishes); and leftovers are awesome.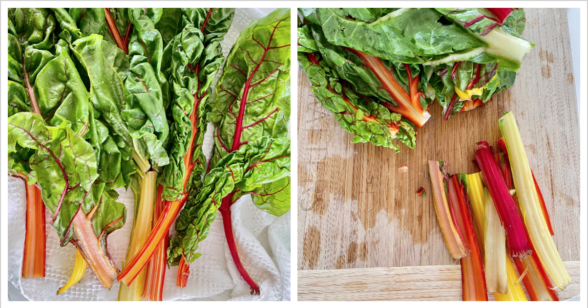 This is an amazing vegan/plant-based soup that tastes like there's something meaty in there.  The secret ingredient is dried porcini mushrooms – so earthy and savory, they give the most amazing depth of flavor.  Mushrooms are my ace in the whole for creating rich and flavorful sauces, stews and soups.  They are also not technically a plant, but a fungus, and they are very nutritious. Porcini mushrooms (which I have also seen frozen in Trader Joe's) according to nutritionfacts.org are the healthiest mushrooms!  How about that?!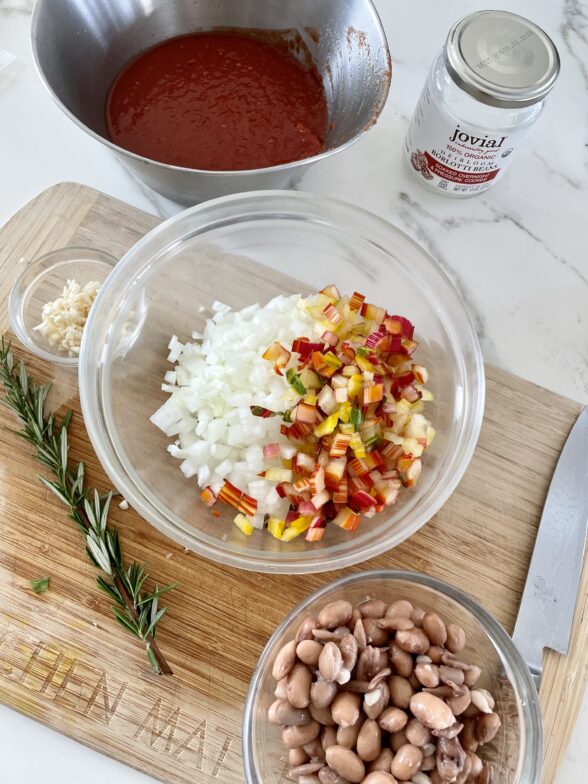 I found these dried porcini mushrooms in the produce section of my local supermarket. This soup is not only super rich-tasting and flavorful, but uber-good for you.  The mushrooms load the soup with antioxidants, and so do the pink beans.  And the beans add protein and tons of fiber too.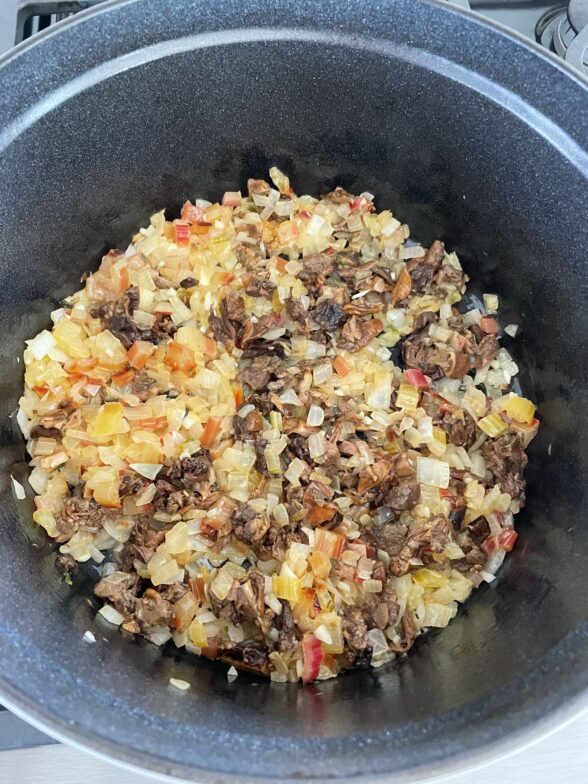 My son and husband went crazy for this soup.  Hubs added some vegan Parmesan to his, my son ate it with garlic bread (toast rubbed with cut garlic and drizzled with olive oil) and I added some cauliflower rice.  So good.  The next day, the soup was even better.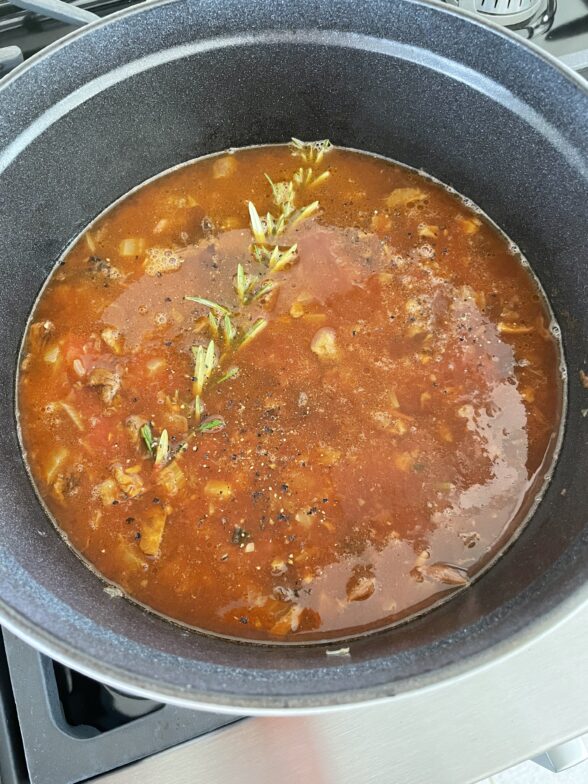 I love adding leafy greens to soups.  Swiss chard is under-appreciated, but spinach and kale are fabulous, too.  So is anything in the chicory family.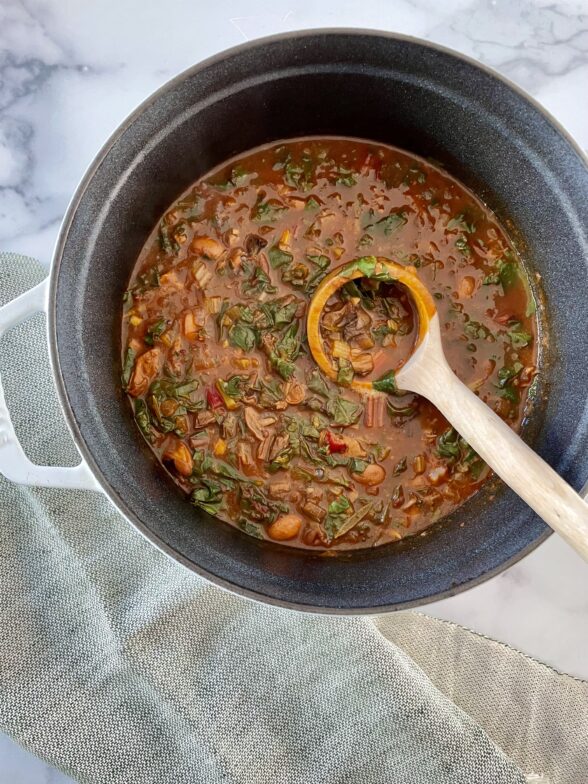 This soup reminds me of a long-simmered meat sauce my grandmother used to make both in color and flavor.  If you are trying to lean into a plant-based diet and nothing tastes rich enough, try this soup! If your kids like pastina or tiny pasta, cook it separately and add it to their bowls with some soup.  You never know!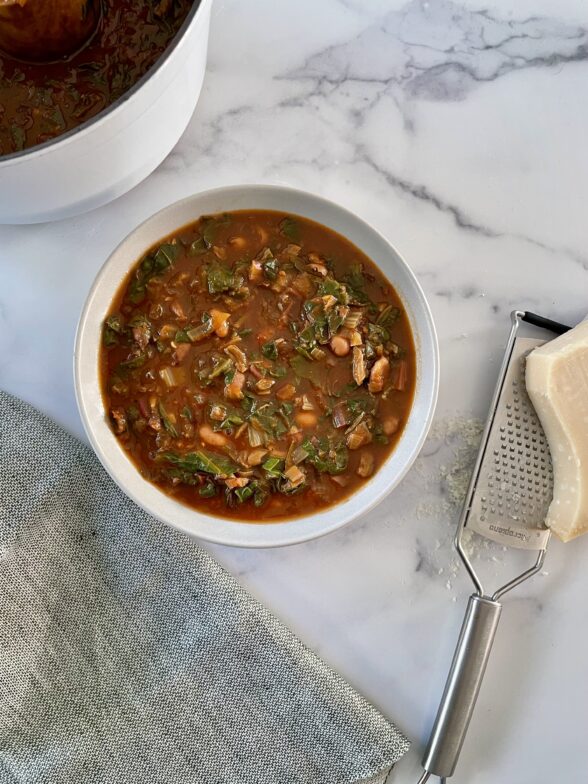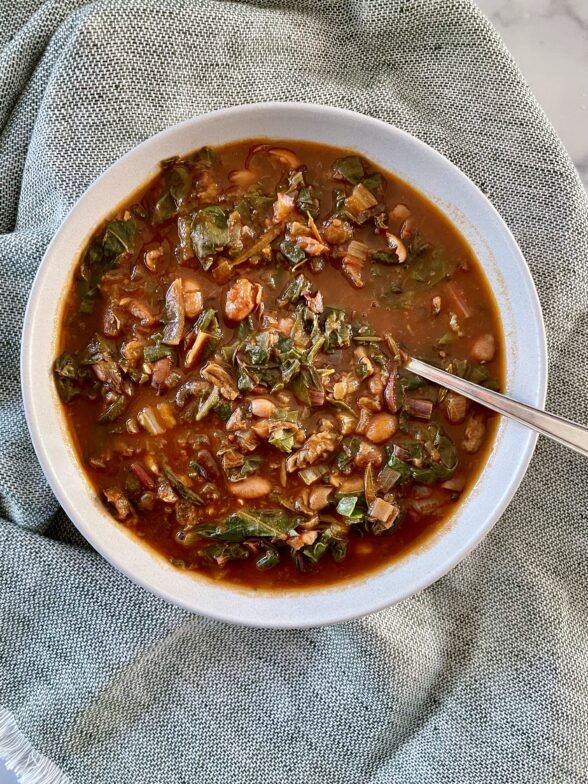 If you make this recipe or any of my recipes, please tag me on Instagram so I can see your beautiful creations @pamelasalzman #pamelasalzman!
You can shop the tools I used for this recipe by clicking on the images below:

Porcini, Greens, and Bean Soup
Author:
Inspired by the River Cottage Restaurant
Ingredients
1 ounce dried porcini mushrooms, about 1 cup
2 Tablespoons unsalted butter or vegan butter (optional)
2 Tablespoons unrefined, cold-pressed extra-virgin olive oil
1 medium onion, diced
2 garlic cloves, finely chopped
14 ounces jarred diced or crushed tomatoes and their juice
1 1⁄2 cups cooked beans such as Borlotti, chickpeas, pinto or white beans or 1 15-ounce can of beans, drained and rinsed
1 sprig of fresh rosemary
10 ounces (about 1 large bunch) dark leafy greens like chard, kale, spinach, or collard greens, chopped (take stems of chard and dice them and sauté with onions in Step 3) Sea salt and freshly ground black pepper to taste
Serving Suggestions: Good quality olive oil + shaved or grated parmesan cheese
(optional)
Instructions
Soak the porcini mushrooms in a large bowl with 3 1⁄2 cups of warm water for 30 minutes. Remove the mushrooms with a slotted spoon and squeeze them over the bowl, reserving the soaking water. Rinse the mushrooms well under cold water (they can be gritty) or in a bowl of cool water and pat dry with a paper towel. Roughly chop them.
Strain the mushroom soaking liquid through a fine mesh sieve or paper towel-lined sieve into a bowl or large measuring cup to remove any grit.
Heat the butter and olive oil in a large saucepan over medium heat and sauté the onion and chard stems (if you're using chard), until tender and translucent, about 8 minutes. Add the garlic and stir for a minute, then add the mushrooms and cook, stirring, for another couple of minutes.
Add the tomatoes with their juice, beans, rosemary, 3 cups of reserved mushroom soaking liquid (save the extra 1⁄2 cup in case you need it later) and a few grinds of black pepper.
Bring the soup to a boil, lower the heat, cover and simmer for about 35-45 minutes until all the flavors meld. Remove the rosemary sprig and discard. Add the chopped greens and cook until wilted, about 4-5 minutes for chard or kale, or 1-2 minutes for spinach.
If the soup seems too thick, thin it slightly with a little reserved mushroom water. Taste and add salt and pepper if needed. Swiss chard has more natural sodium than the other greens, so you'll add less salt if you use chard. I add a big pinch of salt and leave it just slightly under-salted in case someone adds Parmesan.
Divide into bowls and, if desired, drizzle with some good olive oil and Parmesan over the top. Serve at once.
Notes
Read through this recipe once before starting. If you choose Swiss chard as your greens, you'll want to sauté the stems at the beginning with the onion.
Since the dried porcini mushrooms need to soak for 30 minutes, you can prep your other ingredients during that time.

This does well in the fridge for up to 5 days. If you have any reserved mushroom soaking water, add it to the soup before refrigerating it since it will thicken as it sits. You can likely freeze this soup as well.