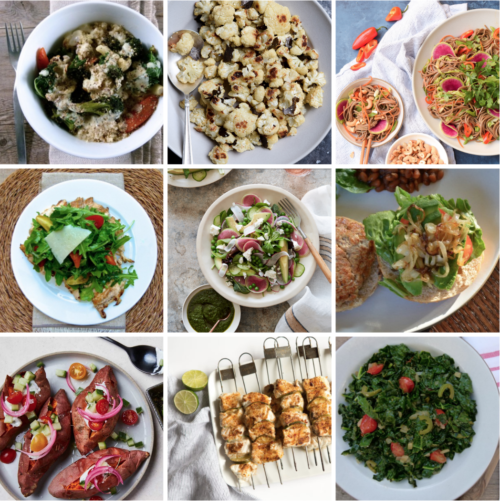 To all my online cooking class students, the new class has been uploaded and is now accessible.  It has been a huge hit in my in-person classes so far.  You're going to love it all!!  Click here if you'd like more information about taking my classes online.
My husband's birthday was a few days ago and we snuck off to his favorite place, Palm Springs, for 2 nights.  We had such a great time.  It was really a treat to get away during the week. 
We have a nice Mother's Day planned with a visit to LACMA and then a family dinner out.  I know my husband and my son took the hint from my previous post and will fix me a good breakfast while I work out in peace.  😉 Happy almost Mother's Day to all the moms out there.  Here's your dinner planner for the week:
Meatless Monday: Veggie bowl bar! Sesame Roasted Cauliflower with Nori , carrots roasted with coconut oil, sea salt and black pepper, your favorite grain and your fresh greens and herbs. I personally like cilantro, mint and arugula. Top it with avocado and tahini sauce or the peanut butter dressing from this salad.
Tuesday: Grilled Chicken Paillard with Arugula and Lemon Vinaigrette, artichokes with cherry tomato salad (or skip the tomato part and serve with balsamic vinegar and olive oil 
Wednesday: Pasta with Kale, Walnuts and Ricotta from my book
Thursday: Spring Pea Salad from What's Gaby Cooking, roasted or grilled fresh nitrate-free sausages (I buy organic turkey or chicken from Whole Foods)
Friday: Tasty Turkey Burgers with sautéed onions, avocado and sprouts + green salad with one of my favorite everyday salad dressings. Burgers can be served on a bun, in a pita, in lettuce or cabbage leaves or on top of a bowl or salad.
Saturday Brunch: Mezze Sweet Potato from Goop
Sunday: Spiced Halibut and Lime Skewers served over white or brown rice and with Mexican-style sauteed greens
Here's what you can do ahead of time:
Sunday: 
Wash and prep all veggies
Make all marinades, sauces and dressings
Cook grains
Thursday : 
Make Turkey Burger patties
Here's a link to my previous dinner planners.
I have LOVED seeing all your creations of my recipes on Instagram. If you make any of my recipes, please tag me @pamelasalzman #pamelasalzman so I can check them out!
Click here to learn more about my online cooking classes! If you like my recipes, you'll LOVE my cookbook!