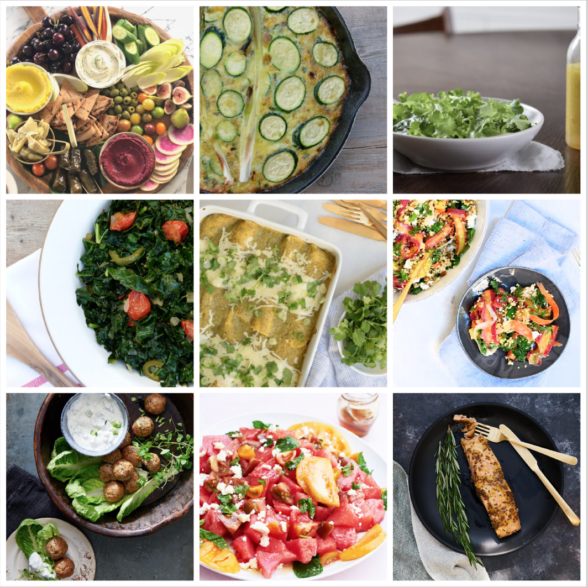 Happy summer!! We JUST moved into our new house and let me give you all some advice – if you think you might move in the next 10 years, start the editing process today!  Holy moly, it's a lot.  Exciting, but a lot.  We'll be on IG live on Monday at 5 pm PT from our new kitchen and you're all invited!!  Here's your dinner planner for the week:
Meatless Monday: Try doing a summer snack/dinner board!  Take your biggest cutting board and arrange some delicious (but easy) bites like cheese (there are great vegan ones out there like Violife), sliced tomatoes, pesto, toasted bread, lettuce leaves, avocado, hummus, sliced raw veggies like carrots, cucumbers and sweet bell peppers.  Open a bottle of rosé.  Dinner's done!
Tuesday: Corn and zucchini frittata, green salad with everyday salad dressing #2
Wednesday: Roasted Vegetable and Black Bean Enchiladas Verdes and Mexican-style sautéed greens (you can easily add chicken or shrimp to the enchiladas)
Thursday: Rainbow Carrot Salad with Millet and Yogurt Dressing  served with grilled chicken
Friday: Greek turkey meatballs from Quicker Than Quick– so many ways to serve these!  Kids love them in pita with tzatziki or pasta/spaghetti squash with tomato sauce doctored up with dried oregano and fresh mint + feta; or in a bowl with rice (add some dill – yum!) or cauliflower rice and roasted veggies; or on a Greek salad bowl.
Saturday brunch: Watermelon and tomato salad with feta and mint
Sunday: Grilled cedar plank salmon, steamed rice, grilled asparagus
Here's what you can do in advance if it helps you:
Sunday:
Make salad dressings
Wash greens
Make pesto or hummus if making from scratch
Make enchilada sauce
Monday:
Make frittata and reheat the next day
Tuesday:
Roast vegetables for enchiladas
Wednesday:
Cook millet
Thursday:
Make meatball mixture
Make tztaziki
I have LOVED seeing all your creations of my recipes on Instagram. If you make any of my recipes, please tag me @pamelasalzman #pamelasalzman so I can check them out!
My cookbook, Quicker Than Quick, is discounted for the first time on Amazon!  If you have 1 minute, would you mind leaving a review on amazon?  I would be so grateful, thank you!
Take a peek at my first cookbook "Kitchen Matters"!