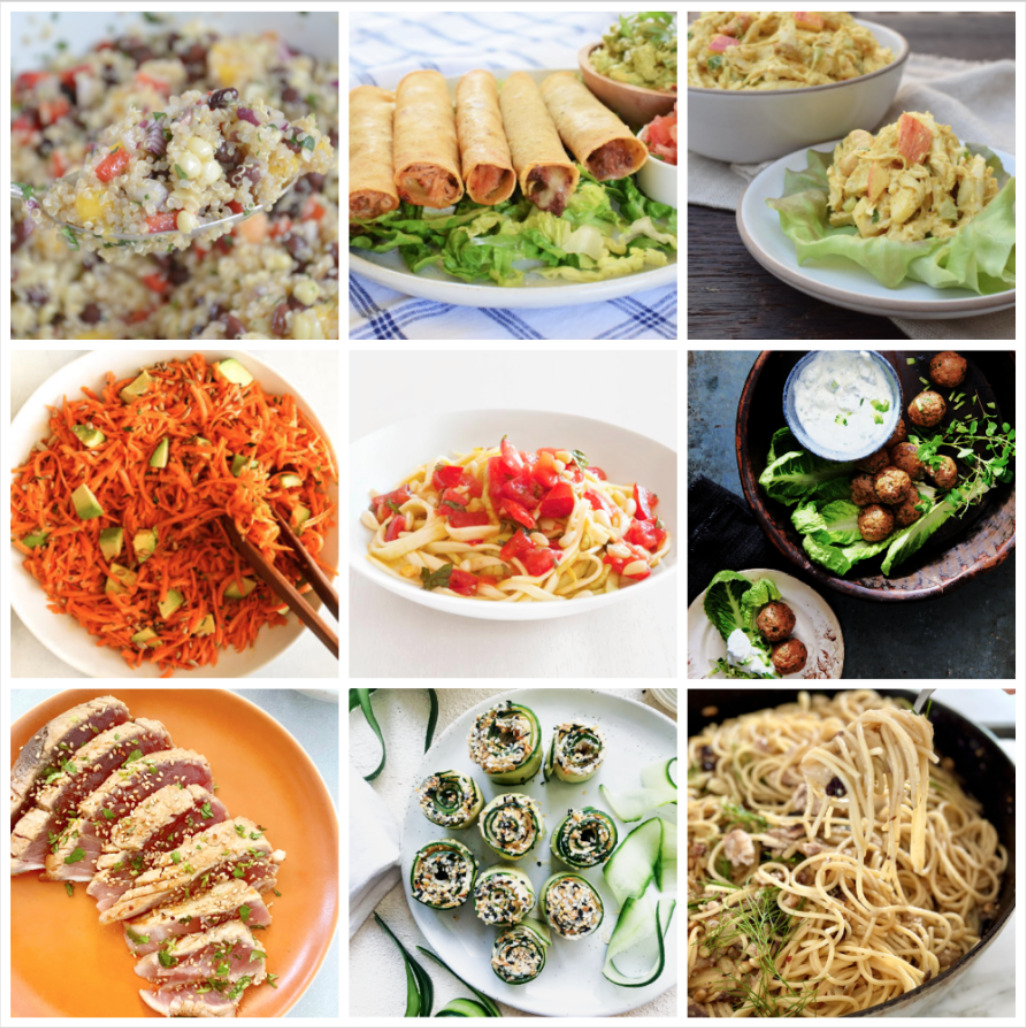 I made a grated carrot salad on IG live this week because I know so many people are struggling with very hot temps and just don't want to use the stove or the oven. I offered a few no-cook options in this week's dinner planner. Another option is to let the supermarket cook for you – rotisserie chickens have a million uses; precooked rice is often in the freezer section and just need a minute in the microwave; there are lots of great seasoning blends and marinades for the grill; I dip into my pantry items like canned fish, canned white beans, olives, salsa, and chips with dips. Here's your dinner planner for the week:
Meatless Monday: Southwestern quinoa salad, black bean or chicken taquitos (My family would probably not need both.)
Tuesday: curried chicken salad on lettuce cups, grated carrot salad with avocado (I know a lot of you are battling hot temps and are looking for no-cook dinners!)
Wednesday: No-cook zucchini "fettuccine" with tomato sauce from Food Network; if you eat dairy, add cubed mozzarella or shaved parmesan, or add cooked white beans for protein. I would serve a small snack board on the aside with bread or crostini, olives, jarred goodies like stuffed grape leaves and onion jam.
Thursday: Greek turkey meatballs from Quicker Than Quick– so many ways to serve these! Kids love them in pita with tzatziki or pasta/spaghetti squash with tomato sauce doctored up with dried oregano and fresh mint + feta; or in a bowl with rice (add some dill – yum!) or cauliflower rice and roasted veggies; or on a Greek salad bowl
Friday: Marinated seared ahi, black rice or sautéed cauliflower rice, any raw or roasted veggies you have + a sauce/dressing (the Chinese chicken salad dressing from QTQ is amazing here!)
Saturday brunch: Cucumber hummus turkey roll ups
Sunday: Pasta con le sarde, grilled squash salad
Here's what you can do in advance if it helps you:
Sunday:
Cook quinoa. You can put together quinoa salad if you'd like
Cook chicken for chicken salad or use a rotisserie chicken
Wash butter lettuce if using to serve chicken salad
Monday:
Make chicken salad
Tuesday:
Make Chinese chicken salad dressing if using with the tuna steaks
Wednesday:
Make meatball mixture
Make tzatziki sauce
Thursday:
Make marinade for tuna steak. You can marinate tuna steaks Friday morning.
Cook black rice
I have LOVED seeing all your creations of my recipes on Instagram. If you make any of my recipes, please tag me @pamelasalzman #pamelasalzman so I can check them out! I have a free Monday newsletter with my thoughts, new recipes, and things I'm loving lately. Subscribe here!
Order my cookbook, Quicker Than Quick! If you have 1 minute, would you mind leaving a review on amazon? I would be so grateful, thank you! Take a peek at my first cookbook "Kitchen Matters"!