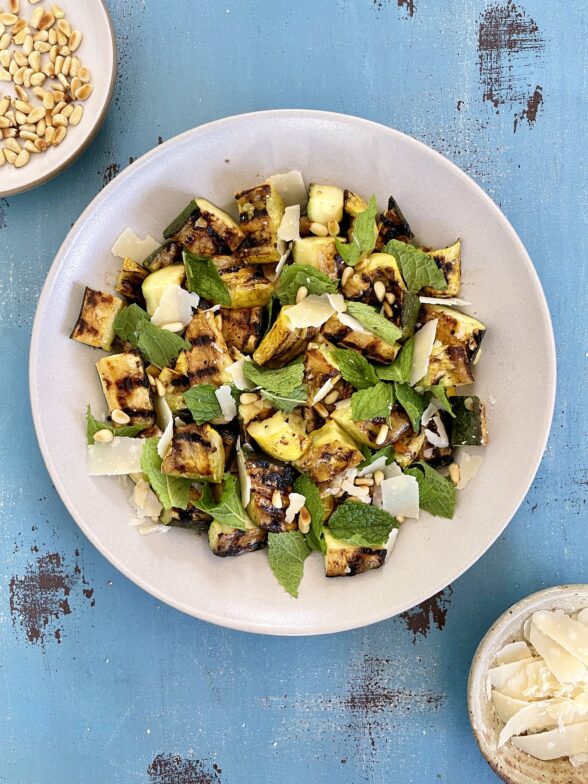 Let's do one last zucchini/summer squash recipe before fall!  I've been on a zucchini kick this year, and I don't even grow it.  It is just a vegetable that my whole family really likes despite the fact (or maybe because) that it's kind of bland.  I've even taken to steaming it and freezing it for smoothies (just 1/4 cup in one smoothie.)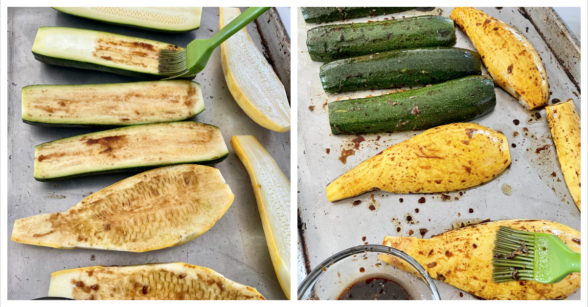 So whenever I come up with new ways to serve zucchini, I make sure I add lots of flavor. My new method for grilling it is to brush both sides of the zucchini slices with a combo of olive oil and balsamic vinegar + salt and pepper.  Sometimes I add garlic powder or minced garlic as well (like I did here.) Do what you need to do to give it a boost.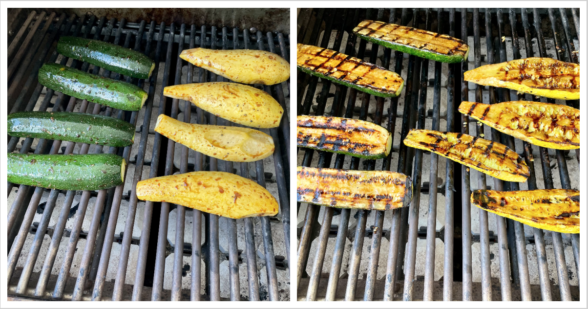 One of my favorite zucchini preparations is the (raw) zucchini carpaccio from Kitchen Matters.  It's doused with lemon juice, olive oil, feta or parmesan, mint or basil, and toasted pine nuts.  SO good and fresh.  I could eat an entire platter.  So I made a "cooked" version of that salad here by caramelizing the zucchini over high heat on the grill which adds another layer of flavor.  Delish!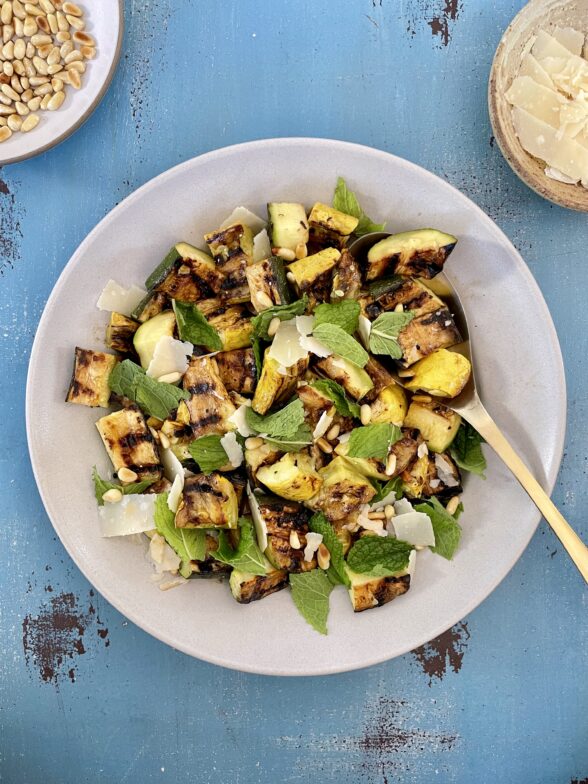 You can eat this hot, warm or room temp (cold is fine, too.) I play with different herbs here – chives, parsley, mint, basil, marjoram – and cheeses – Parmesan, Pecorino, feta, vegan feta, ricotta salata – and nuts – toasted and salted pine nuts, pistachios, walnuts, almonds.  You can't go wrong.  Add lentils with extra lemon juice and oil and you've got a main dish!  If you make this recipe or any of my recipes, please tag me on Instagram so I can see your beautiful creations @pamelasalzman #pamelasalzman!

Grilled Squash Salad
Ingredients
2 Tablespoons balsamic vinegar (not the syrupy kind)
2 Tablespoons unrefined, cold-pressed extra virgin olive oil
1 garlic clove, minced
2 pounds assorted medium summer squash (such as zucchini and yellow summer
squash), trimmed and halved lengthwise
1⁄2 teaspoon sea salt, divided
1⁄2 teaspoon freshly ground black pepper, divided
Juice of half a lemon, about 2 Tablespoons
1⁄2 cup torn fresh mint leaves
1⁄2 cup fresh flat-leaf parsley leaves
Shaved parmesan or pecorino cheese (optional)
Toasted pine nuts (optional-I use about 2 Tablespoons)
Instructions
Preheat the grill to HIGH.
In a small bowl, whisk the balsamic and oil together. Stir in the garlic.
Place the squash on a baking sheet and brush both sides of squash with the vinegar and oil
mixture; sprinkle evenly with 1⁄4 teaspoon salt and 1⁄4 teaspoon pepper. Arrange squash, cut side down, on grill; cover and grill for 5 minutes. Rotate vegetables; cover and grill for 3 minutes. Turn vegetables over; grill for 2 minutes. Remove squash from the grill.
Coarsely chop vegetables; place in a large bowl. Season with remaining 1⁄4 teaspoon salt, remaining 1⁄4 teaspoon pepper and lemon juice; toss to coat.
Two options with the herbs: Add mint and parsley; toss and serve immediately OR wait for squash to cool to room temp and then add the herbs. Adding the herbs to the warm squash and allowing them to sit for more than 15 minutes or so will cause the herbs to discolor. They won't be spoiled, just unattractive.
Top with shaved cheese and pine nuts, if desired.