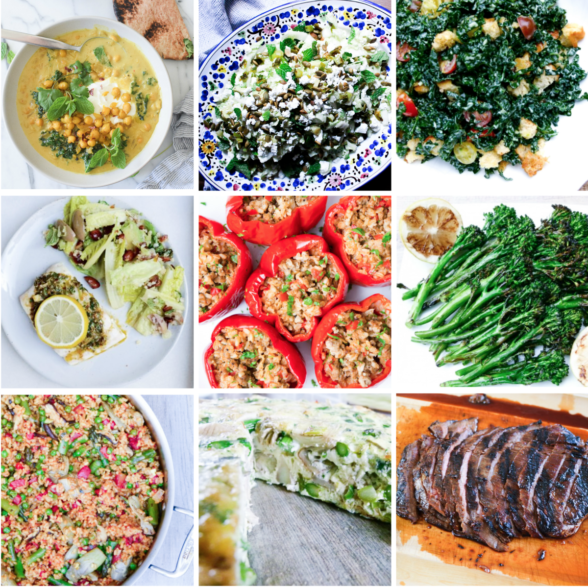 I'm on Spring Break this week!  My husband, son and I are visiting the girls in Dallas this weekend.  I always teach a private class at my good friend Lisa's house while I am in town, as well.  And then my son and I will go East to see my family for a few days. Sooooo, I'm not really cooking much for us this week.  But if you are home and need some inspiration for your meals, here are some ideas:
Meatless Monday: Spiced Chickpea Stew with Coconut and Turmeric with grilled naan or pita bread for dipping if you need a little extra
Tuesday: Napa Cabbage Chopped Salad from The Crunchy Radish served as is or with organic chicken. You can quickly cook boneless skinless chicken thighs in a skillet with oil, sea salt and pepper or pick up a pre-cooked rotisserie chicken at your local market. 
Wednesday: Kale Salad with Creamy Lemon Dressing served with wild fish, such as this Spice Rubbed Salmon. Or ask your local fish monger for any recommendations!
Thursday: Turkey and Brown Rice Stuffed Bell Peppers  with grilled broccolini with a squeeze of lemon and sea salt
Friday: Vegetable Paella with a fresh green salad of your choice; check out my Favorite Everyday Salad Dressings for vinaigrette recipes.
Saturday Lunch: Asparagus and Artichoke Frittata , with this tea tonic from Bon Appétit
Sunday: Grass-Fed Balsamic Herb Flank Steak from my book , roasted carrots, basic quinoa with a squeeze of lemon and olive oil and chopped chives or parsley
Here's what you can do ahead if it helps you:
Sunday: 
Make all dressings, marinades and sauces 
Wash and prep all veggies 
Make the Chickpea Stew
Cook brown rice
Make spice rub for salmon
Friday:
Make tea tonic 
—————————————————————————————————————————————–
Here's a link to my previous dinner planners.
I have LOVED seeing all your creations of my recipes on Instagram.
If you make any of my recipes, please tag me @pamelasalzman #pamelasalzman so I can check them out!
Click here to learn more about my online cooking classes!
If you like my recipes, you'll LOVE my cookbook!