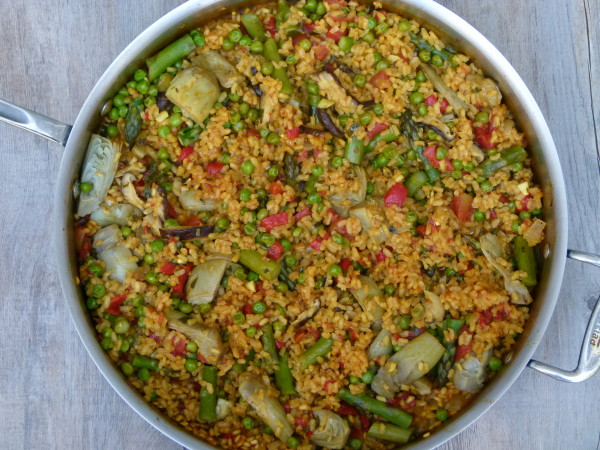 We made it to Barcelona!  Neither my husband, the kids , nor I has ever been to Barcelona before, and hubby and I haven't been to Spain in 17 years!   We are very excited to start our European vacation here.  So much to see and do in a short amount of time!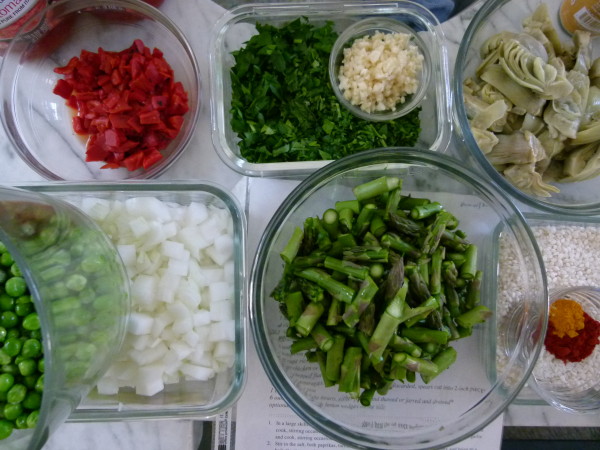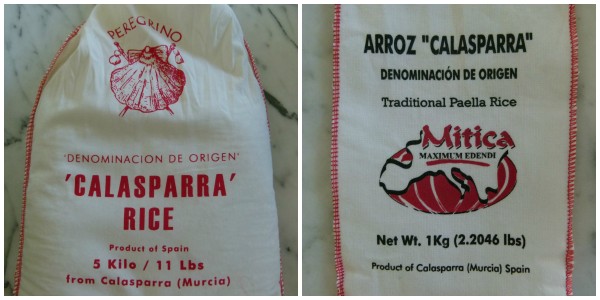 As you would imagine, I am fairly obsessed with what people eat around the world.  As much as I love visiting landmarks and museums and churches (I am actually also obsessed with churches), local markets and restaurants are high on my list of places to experience.  I am fairly open-minded when it comes to trying new foods, although I am not a huge fan of meat, game and pork.  I know, my options will be limited in Barcelona since every other menu item contains some sort of the above mentioned.  Moderation is my mantra.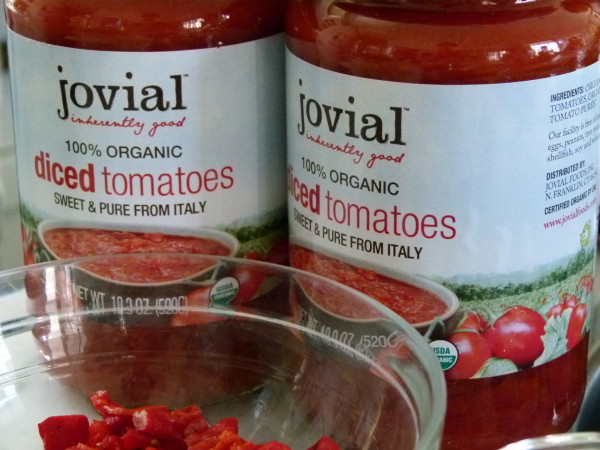 I am for sure on the lookout for excellent paella, which is basically like the national rice dish of Spain.  I L-O-V-E rice in any way, shape or form.  Paella is particularly delicious because it is typically cooked with lots of seafood, chicken, pork and some other tidbits like olives and roasted peppers all mixed together in the same saffron-infused dish.  It's so tasty.  And it's basically Mr. Picky's nightmare since he would eat all of those things PLAIN, and "why did they have to mess this up by cooking it all together?!"  I already gave Mr. Picky a pep talk before we left about being open-minded about food, otherwise he might ended up starving, or worse, really cranky.  I'll keep you posted, friends.  Wish me luck.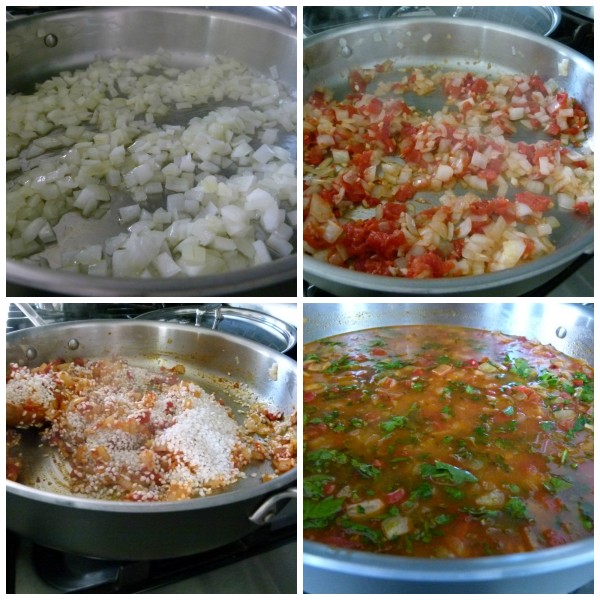 Whether I find the perfect paella in Barcelona or not (and if you know where I should go, speak up!), I did teach this Vegetable Paella in my cooking classes this past spring.  And I might admit, it was so flavorful and rich even without all the meat.  You don't normally find paella loaded with vegetables, and I find that true about a lot of the dishes in Spain – not very veggie-heavy, unless you count (fried) potatoes as a veg.  Asparagus, peppers, artichokes (by all means, use frozen), tomatoes, mushrooms all go in here.  I did make this several times for my vegetarian students with veggie stock, and it was very good, but I do prefer using chicken stock.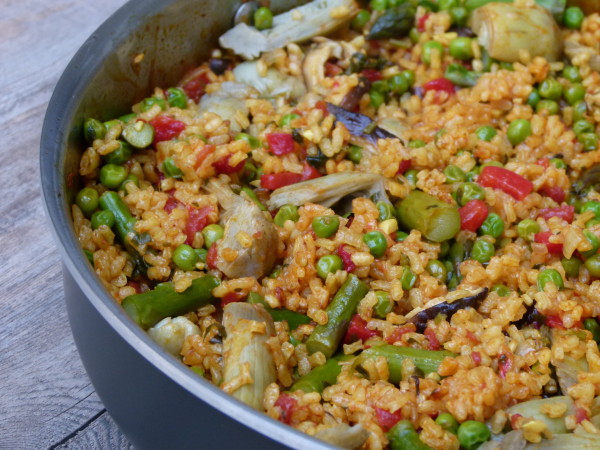 The one ingredient that is missing from this paella recipe that makes it an imposter and non-authentic is saffron, which gives the rice a beautiful gold color and imparts a unique flavor.  Saffron is absurdly expensive and I have always had success substituting a bit of ground turmeric for saffron when I need that great yellow tint.  If you have saffron however, by all means use it by crumbling it and dissolving it in some hot stock.
I love eating this paella with a green salad on the side and that's it (although a pitcher of sangria wouldn't hurt.) More from Barcleona to come, including my quest for the best paella!

Vegetable Paella
Ingredients
2 Tablespoons unrefined, cold pressed, extra virgin olive oil
1 onion, chopped
¼ cup drained sliced jarred pimientos, chopped (one 4-ounce jar) or equivalent amount of roasted red pepper, diced
1 large tomato, peeled and chopped or ½ an 18-ounce jar of diced tomatoes, drained
4 cloves garlic, minced
1 ¼ teaspoons sea salt (or more if your stock is unsalted)
1 ½ teaspoons smoked paprika
¼ teaspoon turmeric
1 teaspoon paprika or sweet pimenton
1 ½ cups rice, preferably medium grain such as bomba or arborio
3 cups chicken or vegetable stock, preferably homemade
½ cup chopped flat-leaf parsley
½ pound asparagus, tough ends snapped off and discarded, spears cut into 2-inch pieces
1 cup frozen peas
6 ounces artichoke hearts, either frozen and thawed or jarred and drained*
optional: serve with lemon wedges on the side
Instructions
In a large skillet pan (between 12-14 inches,) heat the oil over medium-low heat. Add the onion and cook, stirring occasionally, until translucent, about 5 minutes. Add the pimientos, tomato and garlic and cook, stirring occasionally for 2 minutes.
Stir in the salt, both paprikas, turmeric, and rice. Add the chicken stock and parsley and bring to a boil. Continue cooking over moderate heat, stirring occasionally, until most of the liquid has been absorbed by the rice, about 7 minutes.
Stir in the asparagus, peas, and artichokes. Reduce the heat and simmer, covered, for 15 minutes. Remove from the heat and let stand, covered for 10 minutes before serving. Serve with lemon wedges, if desired.
*to give the artichokes some extra flavor, pat them dry and sauté them in olive oil and season with salt and pepper.
Notes
you can also add mushrooms to the paella to add a meatiness. Sauté with onion in Step 1.