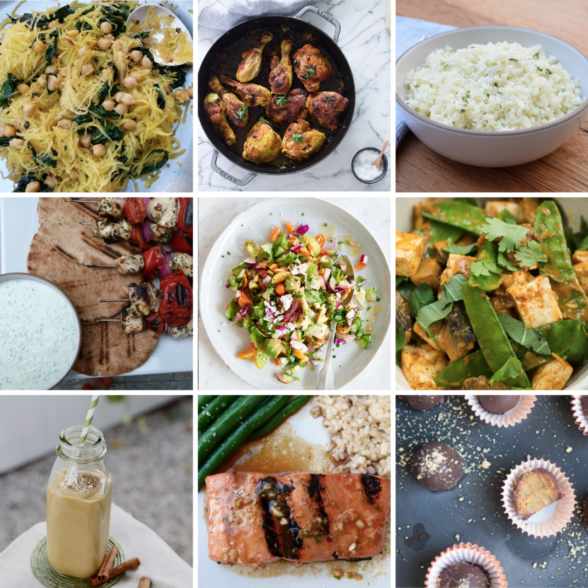 Happy weekend!  I have a busy schedule in the next week.  If you are in the El Segundo area on Saturday (Oct 20th), please come say hello while I do a cooking demo and sign books at the annual El Segundo Public Library Author Fair.  I'm up at 2:00 pm.  I'll be in NYC for most of next week.  Tune into my Instagram feed on Monday at 9:00 am PST/12:00 pm EST while I do some fall cooking at The Feed Feed.  I am also taping a TV segment on Wednesday at one of my favorite shows!  Check my stories on Wednesday to find out which one!
Here's your dinner planner for the week:
Meatless Monday: Spaghetti squash with Kale and Chickpeas and chili-garlic broccolini (blanche your broccolini and dry it really well, sauté some thinly sliced garlic with chili flakes in olive oil in a large sauté pan and add the broccolini, cook until it's heated through and season with salt and pepper)
Tuesday:  Everyday Turmeric Chicken with a side of cauliflower rice, method here, and your favorite fresh roasted veggies. 
Wednesday: Using leftovers, make an Everyday Turmeric Chicken wrap using either pita or fresh organic lettuce for the wrap. Drizzle with tzatziki sauce, use this method, and add pickled red onions and fresh mint or basil. 
Thursday:  My Saturday Chopped Salad from my book. I suggest subbing out carrots and tomatoes for roasted sweet potato and beets.
Friday: Coconut Red Curry with Tofu from the NY Times. Serve with a side of warm brown or white rice or cauliflower rice.
Saturday Brunch/Lunch: Pumpkin Pie Smoothie with avocado toast
Sunday:  Roasted in-season wild fish. I recommend asking your local fish monger what they recommend in terms of fish and method. However, you can always brush your fish with unrefined extra virgin olive oil and season with sea salt and freshly crushed black pepper. Add fresh organic vegetables to your sheet pan when you roast the fish,  seasoned the same way.  After, If you're craving something sweet, these Pumpkin Cashew Truffles are a perfect end of week dessert!
Here's what you can do ahead if you need to:
Sunday
Wash and prep all veggies
Make pickled onions
Make all sauces, marinades and dressings
Wednesday
Roast sweet potato and beets
Saturday
Make Pumpkin Cashew Truffles
Here's a link to my previous dinner planners.
I have LOVED seeing all your creations of my recipes on Instagram.  If you make any of my recipes, please tag me @pamelasalzman #pamelasalzman so I can check them out!
Click here to learn more about my online cooking classes!
If you like my recipes, you'll LOVE my cookbook!