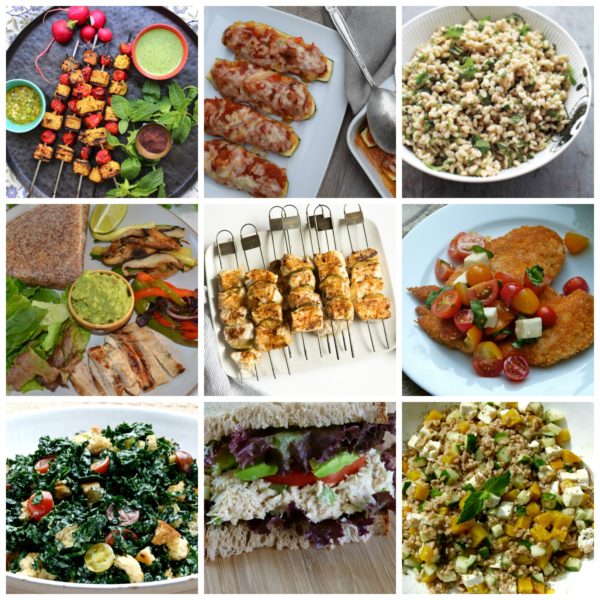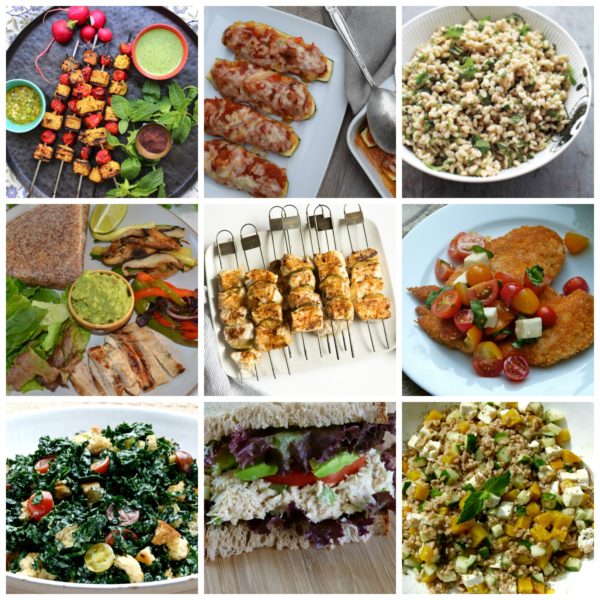 My younger daughter graduated high school this weekend and it was surreal, exciting and bittersweet.  When I had little ones, the days sometimes felt long because I was just exhausted from it all.  And I never believed anyone who said, "Enjoy it.  It goes fast."  Before you know it, your kids have been promoted from one school to another and earned drivers licenses and then they're off to college and you look back on the last 18 years dazed and confused.
If it wasn't enough that my daughter graduated this weekend, Mr. Picky is being promoted from 6th grade to middle school and that does not come without a bit of fanfare.  My parents are visiting for all the events and it is great to have them here, especially my mom who has become my sous chef in the kitchen as I prepare for celebration dinners and recipe testing alike.  Yes, it's a busy time, but we still have to eat!  Here's a great dinner planner for this week:
Meatless Monday:  Marinated tempeh and tomato kebabs with minty cilantro lime sauce, basmati rice (from bottomofthepot.com) These kebabs are so good and a perfect intro to tempeh.  Use chicken if you're afraid of tempeh.
Tuesday:  Stuffed zucchini/zucchini pizza boats, (I might add some browned turkey meat to the boats), herbed barley (make barley and then stir chopped fresh herbs in at end and a little oil or butter)
Wednesday:  Chicken Fajitas, tortillas, guacamole
Thursday:  Spiced wild halibut and lime skewers, green beans with sautéed shallots, green salad with avocado and Everyday Salad Dressing #2
Friday:  Baked Parmesan chicken caprese, lemony kale salad
Saturday lunch:  Tuna salad
Sunday:  Farro with feta, cucumber, and golden beets with mint vinaigrette, grilled vegetables such as zucchini, eggplant and carrots
What you can do ahead if you need to:
Sunday
Marinate tempeh and make cilantro lime sauce
Wash herbs for the week
Make marinara sauce (or buy it)
Monday
Prep zucchini boats and make filling
Prep vegetables for fajitas
Tuesday
Marinate chicken or steak for fajiats
Prep green beans
Make all salad dressings (green salad, kale salad, farro)
Wash and trim kale and salad greens
Friday
Make tuna salad
Cook beets
Prep vegetables to be grilled
Here's where you can find all previous dinner planners.