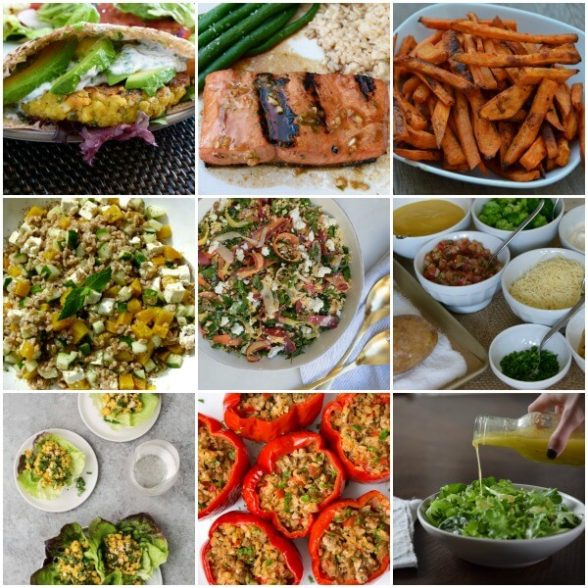 I had a great shoot last week with Clean Eating Magazine.  I can't wait to share with you more about the online batch cooking course I developed for them!  I also had a fantastic book signing at Jenni Kayne's store in Newport.  It was really fun to meet so many people and talk about healthy cooking!
This week, I have several events before I take off for NY on Friday.  I'd love to see you!
Tuesday, July 18th 11:30 am to 12:30 pm Manhattan Beach Farmers Market — I'm doing a cooking demo and book signing.  Books will not be available for purchase, so go pick one up at Pages, amazon or your local bookstore.
Wednesday, July 19th 8:00 am to 10:30 am FitOn Studios, Manhattan Beach — meet and greet and book signing; Pages will be there selling books.
Here's your dinner planner for the week:
Meatless Monday: chickpea burgers in pita with greens and tzatziki (I will put my burgers on salad)
Tuesday: lime-soy grilled salmon, roasted sweet potato wedges, grilled asparagus
Wednesday: farro with cucumber, feta and golden beets and a mint vinaigrette (use quinoa for GF) with or without sautéed shrimp
Thursday: rainbow carrot salad with millet and yogurt dressing, grilled chicken (marinate in half lemon juice-half olive oil, salt and pepper)
Friday: baked potato night with toppings
Saturday: chickpea curry salad from my cookbook
Sunday: turkey and rice stuffed peppers, green salad with everyday salad dressing #1 or #2
Here's what you can do ahead if you need to:
Sunday
soak and cook chickpeas or buy already cooked; freeze some for Saturday's salad
make chickpea patties
make tzatziki
make marinade for fish (don't marinate until before cooking)
prep (wash, dry, trim) asparagus
cook golden beets
dice cucumber
make mint vinaigrette
Make everyday salad dressing
Tuesday
cook farro
Friday
make chickpea curry salad
soak and cook brown rice for peppers
Here is a link to all my previous dinner planners.