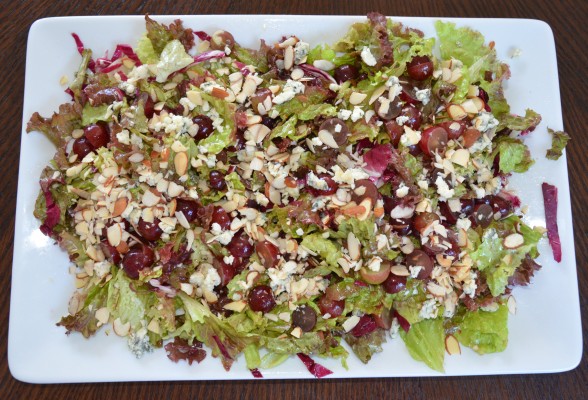 Did you know that grapes have a season just like every other fruit?  Right now is peak grape season in California and they're scrumptious.  In a few months, the season is over and the grapes in the supermarkets will have been flown in from all sorts of exotic locales that I would love to visit one day.  But for now, we are enjoying organic, locally-grown grapes while they last.  When the season's over in a month or two, we're moving on to pears and persimmons.  I always buy organic since grapes are one of the foods on the Environmental Working Group's "Dirty Dozen" list, which means they're pretty heavily contaminated when grown conventionally.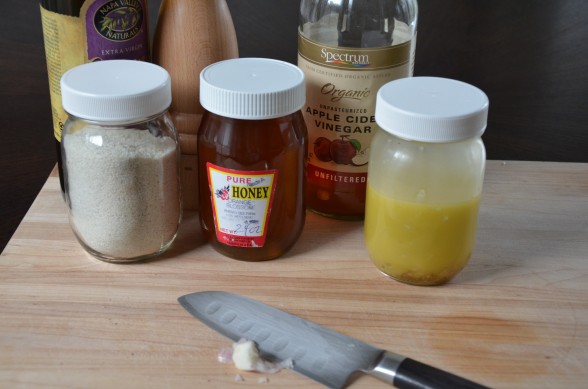 My mother-in-law has a favorite salad that she eats regularly at a restaurant in Park City, Utah and she asked me to copy it at home.  The Grape and Gorgonzola Salad she likes is presented kind of fancy, like a tower with the mixed greens on top, definitely not how I arrange salads at home.  Salads are a dish that are usually the easiest to replicate because you know exactly what's in there and dressings are generally a ratio of 1 part acid to 3-4 parts oil, plus salt and pepper.  Last year I served this for Rosh Hashana lunch instead of the salad with sauteed apples that I always do,  and we loved it so much it was a repeat this year.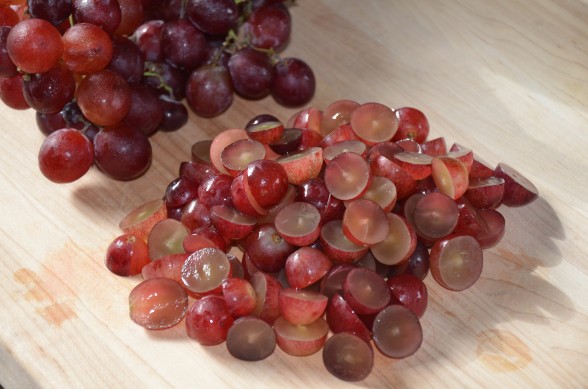 I'm not normally a big cheese eater, but this salad is an example of how I do like to eat cheese.  I usually stick to goat or sheep dairy, which is way more digestible than pasteurized cow dairy for most people.  I will take raw cow dairy over pasteurized for the same reason.  And I like to use a cheese with a bold flavor so that you don't need very much at all to make a statement.  A little goes a long way.  Gorgonzola is a type of blue cheese, more mild than most blues.  The only Gorgonzola I could find at Whole Foods was pasteurized cow, so I selected a piece of genuine Roquefort, a similar blue cheese made from sheep's milk, which is also rich in lauric acid, a powerful immune boosting fatty acid.  It was a good thing I was in the kitchen this morning when my husband almost threw out the brand new wedge of Roquefort, thinking it was a science experiment gone bad.  All those blue veins kind of threw him off a bit.  He looked at me in disbelief when I told him the mold in the cheese was put there on purpose and it's actually good for you.  The blue or blue-green mold running through it is called Penicillium roqueforti which is related to the antibiotic Penicillin and helps fight harmful bacteria in the body.  Not something I would recommend to someone who is allergic to mold or is pregnant however, but since I am neither (hooray!), the Roquefort stays.
You may look at this salad and think it seems so simple and boring, but I wouldn't post it if it were.  You know what it tastes like?  Like all the flavors on a good cheese plate in a salad, which makes me think that you can substitute figs for the grapes and that would be very delicious.  Figs are in season right now, too, I might add.  The grapes are juicy and sweet and pair perfectly with the salty, strong Roquefort and you know how I feel about a little crunch in my salad — thank you, almonds!  But you know where I'm going here — pecans or walnuts for the almonds, any kind of mixed green especially arugula if you're just cooking for grown ups.  I couldn't resist a beautiful red-leaf lettuce from JR Organics at the farmer's market, which I mixed with radicchio for extra color.  Mr. Picky and his younger cousins had their salads with grapes and almonds and got to try the moldy cheese if they wanted to, which they didn't.  No problem.  I am an experienced mother, who by this point has learned that mold is an acquired taste, after all.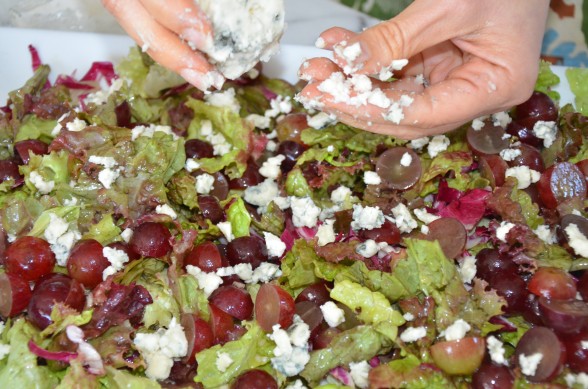 mixed greens with grapes, gorgonzola (or roquefort) and almonds
serves 4
Dressing: (really similar to Everyday Salad Dressing #2)
1 small shallot, minced
½ teaspoon sea salt
freshly ground black pepper
2 teaspoons raw honey
2 Tablespoons unpasteurized apple cider vinegar
6 Tablespoons unrefined, cold-pressed extra virgin olive oil
8 ounces of mixed greens
1 cup red grapes, halved
¼ cup (or less) crumbled gorgonzola or other blue cheese
¼ cup sliced almonds
In a small bowl, whisk together shallot, salt, pepper to taste, honey and vinegar.  Pour olive oil into the bowl in a steady stream, whisking until emulsified.
Mound greens onto a serving platter.  Lightly dress the greens with some of the vinaigrette.
In a small bowl, lightly coat the grapes with some of the dressing and scatter on top of the greens (that way the grapes won't get buried.)   Top the salad with the crumbled cheese and sliced almonds.  Drizzle with any remaining dressing, if needed.