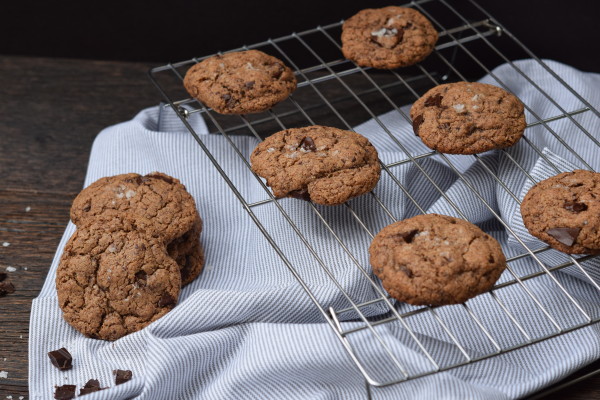 I swore I wouldn't post this recipe, but I gave in to persistent begging.  I didn't know the world needed another chocolate chip cookie recipe!  But apparently many people could not live without this one.  I will admit, these are quite, quite delicious and you can't always say that about a grain-free, flourless cookie.

The reason I was reluctant to post this is because it is a very finicky recipe.  I probably made these cookies 20-24 times and I had a couple of fails.  Not inedible fails, but they didn't look like the pictures you see here.  Again, these are totally delicious in every way.  Big chunks of melty dark chocolate and crispy flakes of sea salt are always a win in my book.  The fact that these are also grain-free/flourless is just an added bonus, especially for all my GF and Paleo students, who seem to be growing in numbers.  Although that might just be the post-holiday detox trend.  I digress.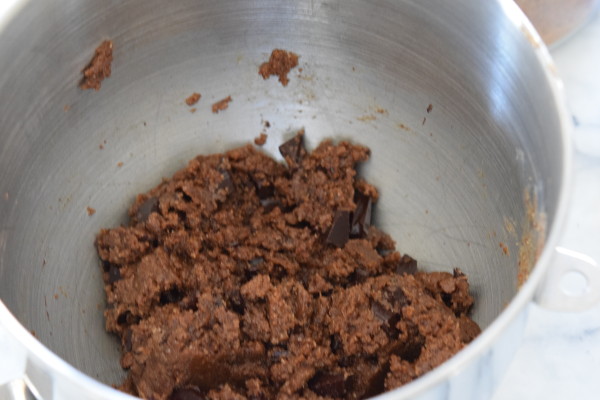 The two ingredients that affect the outcome of these cookies are the almond butter and the sugar.  You cannot use a runny almond butter or one that is very oily.  Once during a class, I had a new jar of room temperature Maranatha almond butter which I may not have stirred properly to incorporate the oil on top.  I had oil dripping down my arms while I was rolling out the dough.  I knew the cookies were going to be a disaster and they kind of were — very flat, oily and crumbly at the edges.  Thankfully, this batter is a snap to make, so I just made another batch quickly with almond butter I had in the fridge.  The next round was perfect.
These cookies are slightly softer than traditional chocolate chip cookies, unless you use brown sugar and then they do get a little crispy around the edges.  The flavor is spot-on with just the right amount of sweetness.  After 2 days, I store them in the fridge.  They also freeze well.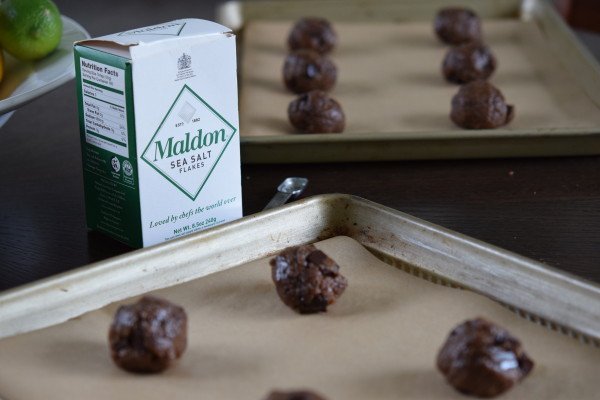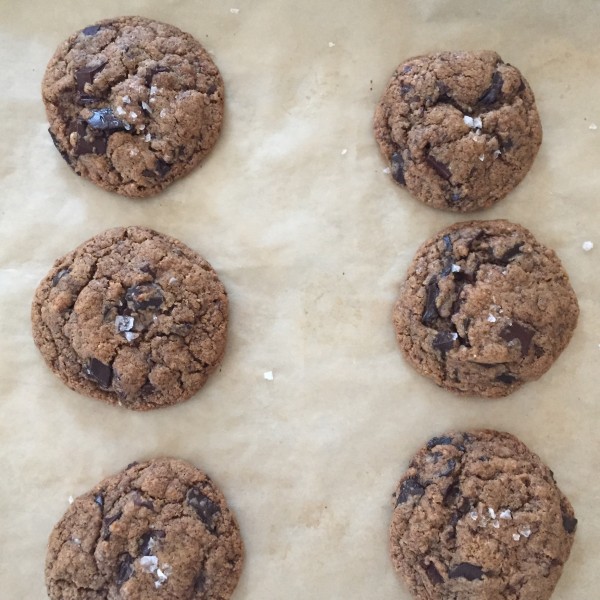 Instead of giving you a blow-by-blow of all cookie escapades, let me summarize here:
use cold, refrigerated almond butter;
thicker almond butter is better than thinner;
if your nut butter is thinner, you can add 1 1/2 Tablespoons coconut flour to the batter;
you can make these with sunflower butter, but there will be a reaction between the sunflower butter and the baking soda which will tint the cookies green;
mix by hand (with a wooden spoon) not a mixer;
brown sugar, although a refined and not Pamela-approved sweetener, gave the best results — slightly crispy and chewy;
muscovado sugar was the second best and coconut sugar came in third — see the images in the post to compare;
do not use maple syrup, honey or another liquid sweetener;
you must allow the cookies to cool completely on the pan, not a cooling rack;
I always make 12 cookies, but you can make fewer and just make them bigger.
Ok, that's all she wrote.  Hit me with your questions and let me know if you make them!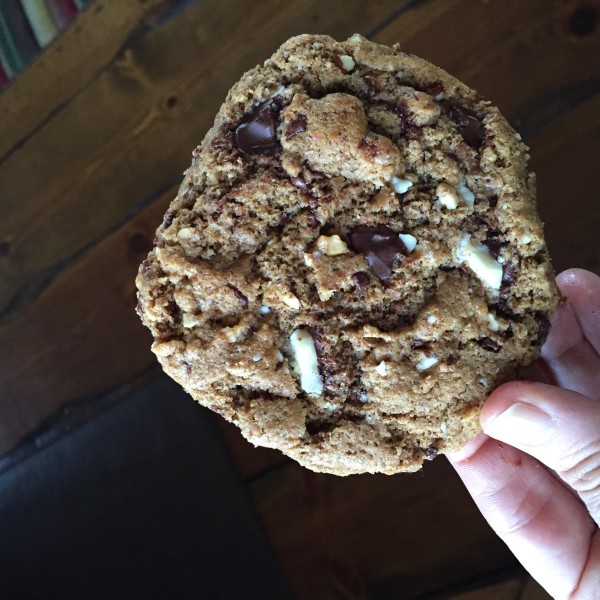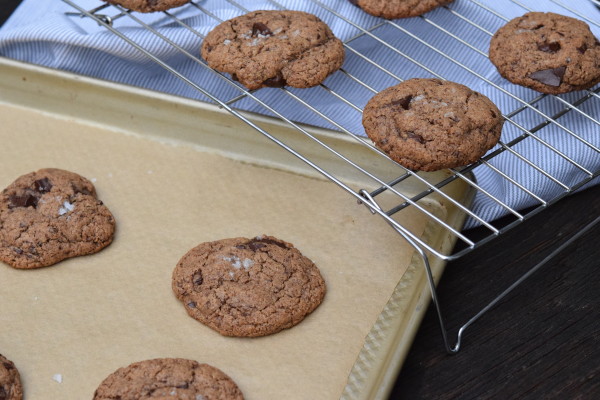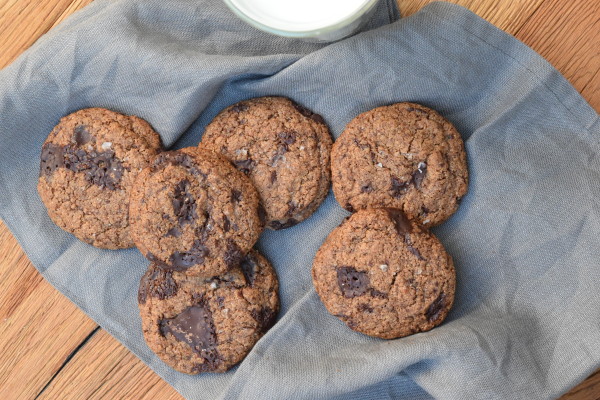 Salted Flourless Chocolate Chunk Cookies
Ingredients
1 cup unsweetened, unsalted almond butter (raw or roasted, make sure it is well-blended)*
½ cup coconut sugar, brown sugar or muscovado sugar
¾ teaspoon baking soda
1 large egg, at room temperature
½ teaspoon pure vanilla extract
1 teaspoon Maldon salt, divided
¾ cup chopped dark chocolate (about 4 ounces) or semi-sweet chocolate chips
optional add-ins: 2 Tablespoons unsweetened cocoa powder to make chocolate cookies or ½ cup chopped walnuts or pecans
Instructions
Preheat the oven to 350 degrees and line two baking sheets with unbleached parchment paper.
In a large mixing bowl, mix almond butter and sugar until well combined.
Stir in baking soda, egg, vanilla and ½ teaspoon flaky salt until well combined.
Stir in chocolate.
Scoop a heaping tablespoon of dough onto the prepared baking sheet. Sprinkle the cookies with remaining ½ teaspoon salt.
Bake for 8-10 minutes or until golden. Allow to cool completely on baking sheet before transferring to a rack. To keep longer than one or two days, store in the refrigerator.
Notes
*If your almond butter is thin and runny or very oily, add 1 ½ Tablespoons of coconut flour to the batter.
Please read the suggestions outlined in the post.