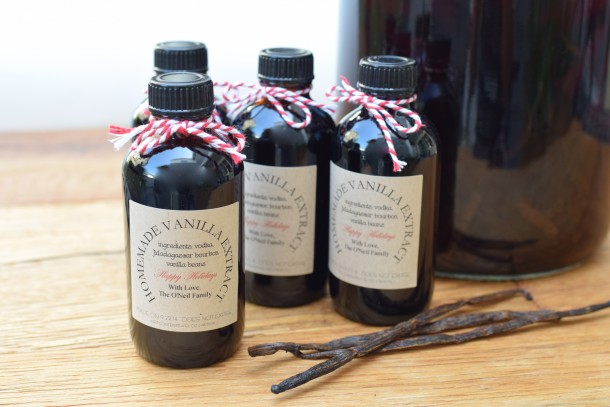 Is it too early to start thinking about the Christmas holidays.  Absolutely.  Do I do any of my holiday gift buying before Labor Day?  Under no circumstances.  I might have my meal plan figured out for the week, but I'm the mom on Halloween morning looking for electrical tape to try and make a Bat Man costume.
But, I do have a great idea that you can do now for holiday gifts or holiday baking — DIY vanilla extract!  Why am I talking about this now after I just said I don't plan for the holidays this far in advance?  Because although vanilla extract takes minutes to make, it requires about 6 weeks to sit and brew.  Still a little early to think about this, but lots of holidays are coming up and I will not be thinking about making vanilla extract in November.  #thanksgivingtrumpsall
My assistant Lauren gave me a bottle of homemade vanilla extract last year for Christmas and I was absolutely delighted to receive it.  First of all, I just love homemade gifts, especially homemade food gifts!  And vanilla is something I use a lot of, so I was really grateful to be given something so good AND useful.  I love the essence of vanilla in baked goods and desserts.  In fact, I think it's one of those ingredients that has a natural sweetness to it without actually containing a sweetener.  Just an FYI, even if you don't make your own vanilla extract, do read the ingredient label on commercially-prepared ones.  Somehow manufacturers are allowed to use the word "pure" on the label while adding things like corn syrup solids.  So troubling.
Recently, I had Lauren provide me a little tutorial on making vanilla extract and give me all her sources for labeling and making these look so cute.  Here's what you'll need: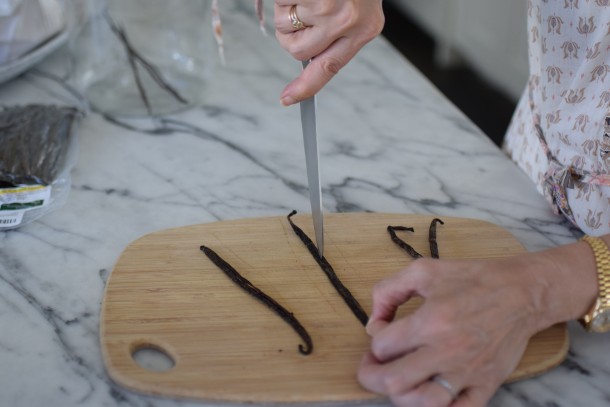 Grade B Vanilla Beans:  Grade B beans are best for extract as they are too dry for cooking, but still are high quality in taste and flavor.  We used  3/4 of a pound of these Madagascar bourbon vanilla beans.  Bourbon, by the way, refers to the island of Bourbon in Madagascar, not the alcohol.  Bourbon vanilla is the most flavorful of all the vanillas and what I use for all my baking.
Vodka: Vodka used because it has no flavor, as opposed to other other alcohols.  You don't need to buy the best vodka to make vanilla extract.  Any mid-level 80-proof vodka will do.  Figure on spending about $15-20 for a 1.75 liter bottle.  We used 2 bottles.
Large glass jar:  This is to brew the extract.  We used
this
gallon kombucha jar which was $10 on amazon.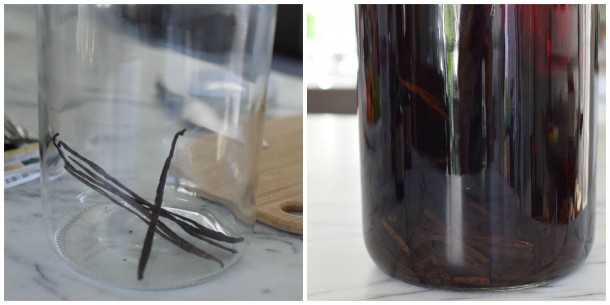 For gifting, there are obviously hundreds of options, but here is what we used in the pictures on this post:
Glass bottles: I like the idea of gifting 4 ounce bottles since that is a standard size for vanilla extract.  
These
are the bottles we used which as you can see are dark glass.  Clear glass is fine for brewing, but for long term storage, dark glass is better since light is no friend to extracts.  In general,
specialtybottles.com
is a great source for lots of different bottles.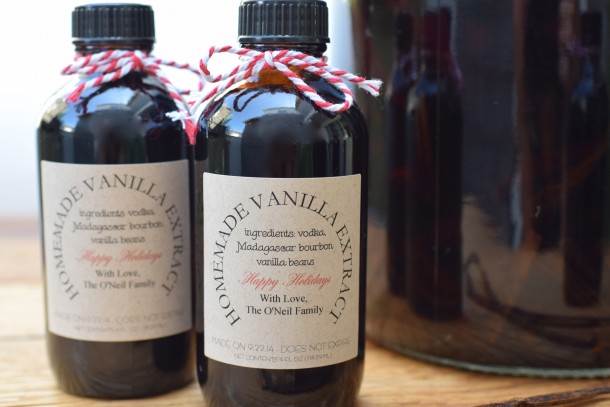 Labels:  I love the labels Lauren used.  It makes the gift more personal and printable labels are especially nice if you don't have nice handwriting.
These Avery kraft square labels
were found on amazon.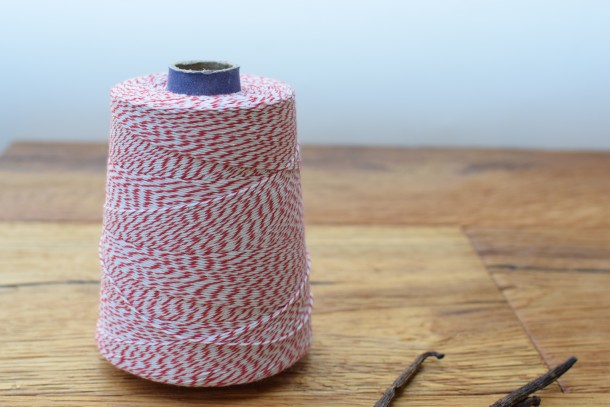 String: Not necessary, but I use
this baker's string
for many gifts from my kitchen.  I think it's adorable.  Red is perfect for the holiday, but there are lots of pretty colors available.
Here's what you do:
1-2 months before you want vanilla extract, prepare the batch.  I like the ratio of 4 whole vanilla beans to 8 ounces of vodka.
Split the vanilla beans lengthwise and place them in the large bottle.  Cover the beans completely with vodka.  Secure the lid on the bottle and swirl it around a bit.  Store at room temperature for 4-6 weeks, the longer the better.  It will darken as time passes.  The batch above has been sitting for 6 weeks.
When you transfer the extract to smaller bottles for gifting, add the beans to the bottles as well.  As you use the extract, just keep adding a little vodka to replace what you took out.  Vanilla extract lasts indefinitely.  You can also take vanilla beans from which you scraped the seeds and add them to vanilla extract in the works.
Store finished extract in the pantry (not the refrigerator) away from light and heat.
Have any of you made other extracts?  I think I have the extract-making bug!