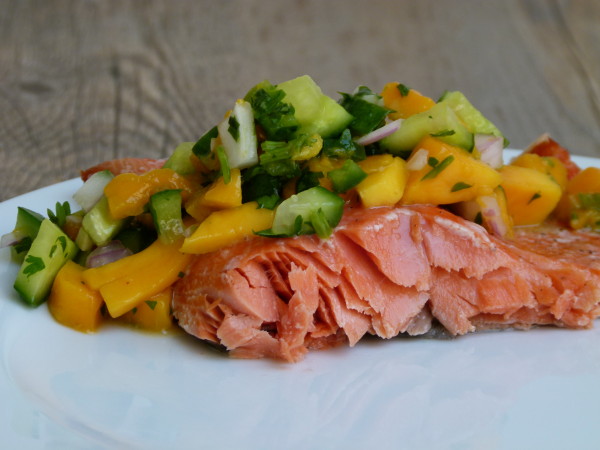 When I was about 10 years old, I decided I disliked beef and poultry enough that I would give them up for good.  I was a pre-teen pescatarian, limiting my "animal" consumption to fish alone which created a bit of anxiety for my parents.  The concern was that I wouldn't get enough protein since I was still growing.  Of course I was quite fine since I ate plenty of eggs, cheese, yogurt, legumes and nuts in addition to fish once a week.  But I have always preferred seafood to animal protein, even to this day.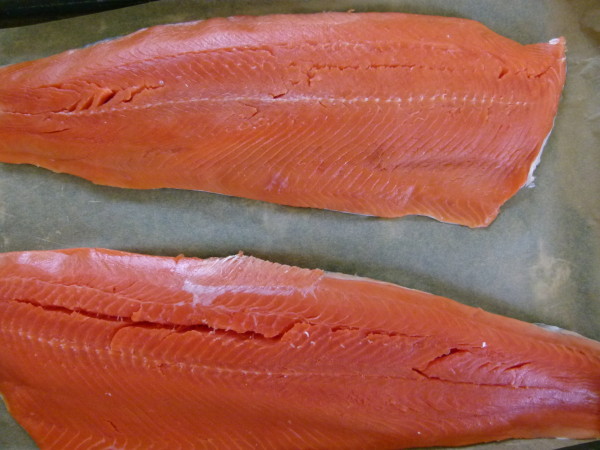 Then I met a cute boy in college who asked me out to dinner and I said yes and he took me to a…steak house.  Hmmmmm……..A cute boy is a cute boy, so off I went.  Ironically, the boy was a meat and poultry-eater, but not a fish eater.  Opposites attract, I thought.  Or hoped.  That night I had my first bite of steak in many years and I actually thought it was delicious.  Not delicious enough to turn me into a full-fledged carnivore, but I did continue to eat a little beef and chicken until very recently when I decided, once again, that I just don't like beef at all and I only like chicken enough to have a bite.  After all these years, I'm still a fish girl.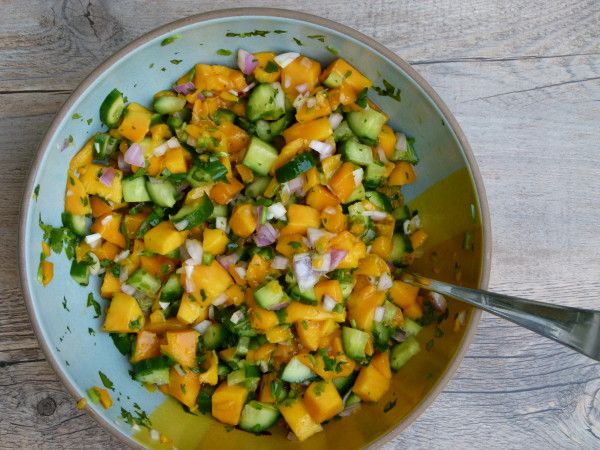 If you've hung around this blog long enough, you know that I married "the boy" and I've turned him on to almost all fish, except salmon. Once in a while he'll have a bite to be nice, but he just can't get into it.  We tell the kids he's "allergic."  But I absolutely love wild salmon and believe it or not, so does Mr. Picky!  ("Love" might be a strong word, admittedly, but he always eats it.)  We both think it's delicious and since it's so rich in important Omega-3 fats and a powerful antioxidant called astaxanthin, I like to find new ways to make it.  (By the way, this is not the case with farm-raised salmon.  Not healthy for you and bad for the environment.)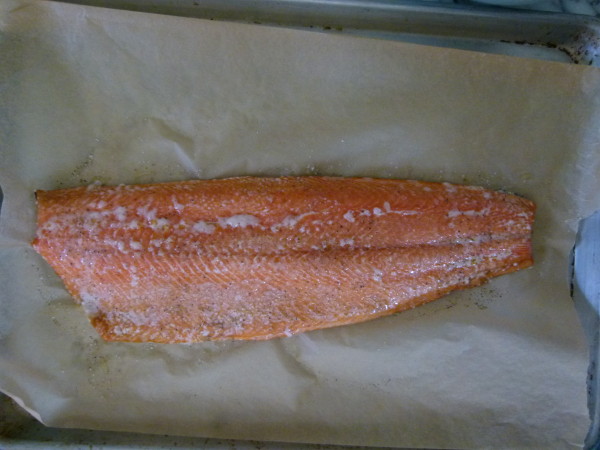 Slow roasting salmon is practically the only way I have cooked salmon in the last year.  I just taught this method in my classes last month and everyone was so excited it.  By cooking the salmon at a super low temperature (250 degrees) for a longer period of time, the fat just kind of melts into the fish and you don't dry it out the way you might at 400 degrees which can cause the proteins to seize up a bit.  I find wild fish to be a little tricky to get just right where it's still moist and succulent, as opposed to tough and dry.  Slow roasting is a dream and results in the most velvety salmon!  Plus a bonus is that at such a low temp, you don't damage the delicate Omega-3 fats.  My son says he also likes this method because the house never smells like fish afterwards.  It's truly the perfect way to cook wild salmon!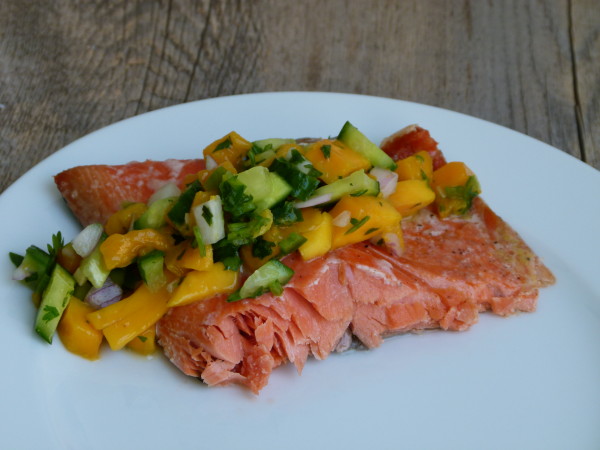 Like I told my classes last month, this recipe is more about trying the technique of slow roasting and it's not about the mango salsa here.  I serve slow roasted salmon with lots of different salsas (try this one with corn and black beans), sauces ( I like this one with dill and cucumbers), dressings, or just a squeeze of citrus.  Since it's wild salmon season right now, I bet you can get your hands on some fantastic fish.  I normally buy my wild salmon during the year from vitalchoice.com which ships it frozen on dry ice.  It's the best quality fish I can find.  But starting in May, Grow in Manhattan Beach and Santa Monica Seafood have outstanding salmon and I haven't been disappointed.
Needless to say, I will not be making salmon on Sunday for Father's Day, but you certainly can.  I guarantee, slow roasting is a game-changer!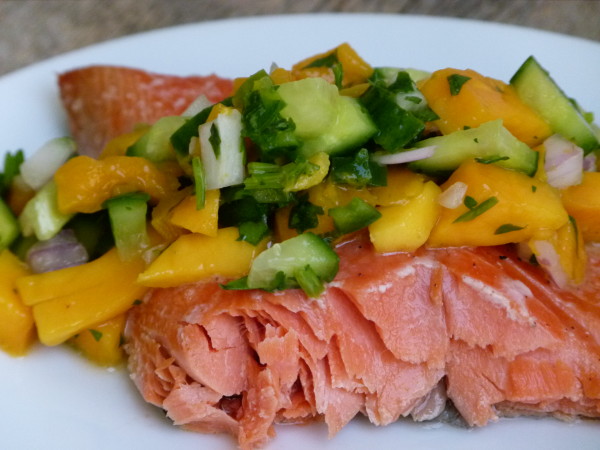 Slow Roasted Wild Salmon with Mango-Cucumber Salsa
Ingredients
For the salsa:
½ cup diced cucumber (If you use a variety like Persian or Hothouse, you can leave the seeds and skin on.)
1 mango, firm, but ripe, peeled and diced
½ jalapeno, minced, seeds removed for less heat
1 scallion, finely chopped or 3 Tablespoons finely diced red onion (this measurement is really according to taste)
1 Tablespoon fresh lime juice
¼ cup fresh cilantro leaves, chopped (tender stems are ok)
sea salt and freshly ground black pepper to taste
24 ounce fillet of wild salmon*(leave out of refrigerator 20 minutes before roasting)
unrefined, cold-pressed extra-virgin olive oil
sea salt and freshly ground black pepper
Instructions
Preheat oven to 250 degrees. Line a large rimmed baking sheet with parchment paper. Place the salmon on the baking sheet and drizzle with enough olive oil to coat the top of the fish lightly. You can use your hands to oil the fish. Sprinkle with sea salt and pepper to taste.
Bake for 25-35 minutes or until center of salmon is rare and starting to flake when you poke it with a paring knife. The amount of time it takes to cook the salmon perfectly depends on the temperature of the fish when you place it in the oven and the thickness of the fish.
While the salmon cooks, prepare the salsa. Mix all the salsa ingredients in a medium nonreactive bowl and toss to combine. Season with salt and pepper to taste.
Serve salmon warm, room temperature or cold with salsa.
Notes
*If you use individual fillets, adjust cook time accordingly.  6 ounce fillets will take approximately 20 minutes.

If you're really not sure if the salmon is done, you can roast until the thickest part registers 125 degrees on an instant read thermometer.