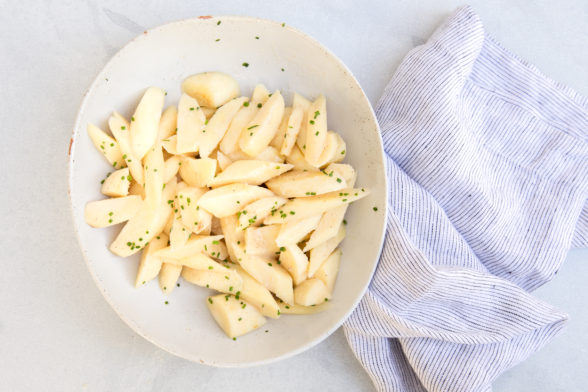 I almost didn't post this recipe.  How do you make parsnips look gorgeous and attractive?  How many people actually appreciate parsnips? How can parsnips compete with all the cookies and candy recipes out there?
Well, the last time I checked, we need to eat real food during the holidays whether it's Hanukkah or Christmas.  I am always looking to change up my holiday side dishes, and I receive lots of emails and questions in class about what to make for the upcoming holiday meals.  I taught this recipe in my classes this fall and it was a surprise hit.  I remember everyone coming back for seconds and eating the parsnips right out of the serving bowl like they were candy!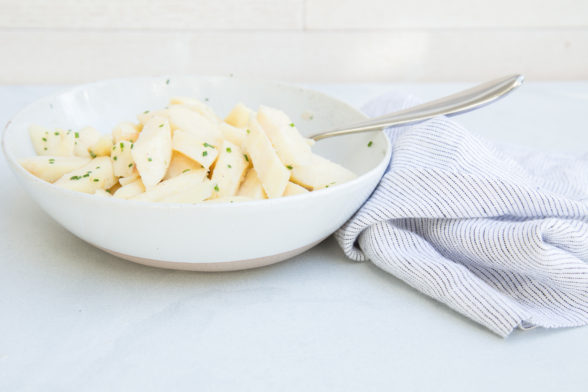 I don't think anyone really expects to love parsnips.  They're so humble and not-sexy.  But I love them.  The flavor is like what a carrot wishes it tasted like.  Really grassy, herby and sweet.  Parsnips are in season now and I often toss a few into the roasting pan with a chicken or in soup or as baked "fries."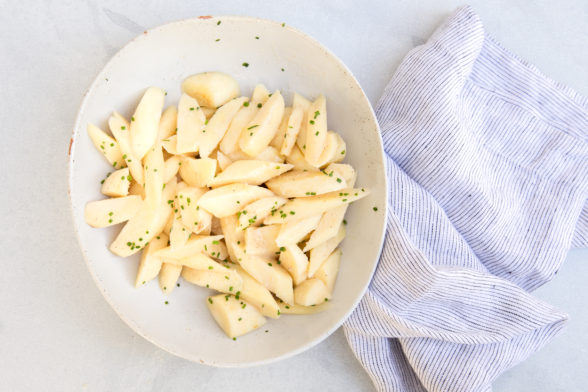 This preparation is super simple and done all on the stovetop so it's fast, too.  If it seems to fussy to use white balsamic, you can use white wine vinegar with a drop of honey (white balsamic is less harsh than white wine vinegar.) I used coconut butter, which is the meat and oil of the coconut pureed, to add richness and a light glazy coating.  But feel free to omit it or use butter instead.  I am making this recipe for our Christmas dinner to go with my mom's tenderloin.  But braised parsnips go with any poultry, lamb and even fish.  This recipe is simple enough that you could give it a test-run this week!

Stovetop Braised Parsnips with Coconut Butter and White Balsamic Recipe
Ingredients
1-2 Tablespoons unrefined virgin coconut oil or unsalted butter (or more if you like it very glazy like me)
½ cup water
¾ teaspoon sea salt + more to taste if desired
freshly ground black pepper to taste
2-3* Tablespoons white balsamic vinegar (not aged), divided (I use the one from Trader Joe's or from O)
1 ½ pounds parsnips**, tops trimmed and peeled and cut on the diagonal into approximately 1 ½-inch slices
1 Tablespoon coconut butter (I like the one from Artisana)
⅛ teaspoon ground nutmeg
Instructions
In a 10-inch skillet with a lid, such as a straight-sided skillet or braising pan, add the oil or butter, water, salt, pepper, and 1 Tablespoon of white balsamic. Turn the heat to high and stir to combine. When the mixture comes to a boil, add the parsnips and turn heat to low. Cover and simmer for 10 minutes.
Remove the lid and stir in the remaining 1-2 Tablespoons white balsamic, coconut butter and nutmeg. Simmer until all the liquid has reduced to a glaze and parsnips are tender, approximately 3-5 more minutes.
Notes
Note: for a pretty finish, top with chives
*use the amount you think you will like better, and according to the strength of the vinegar
**carrots would also work here