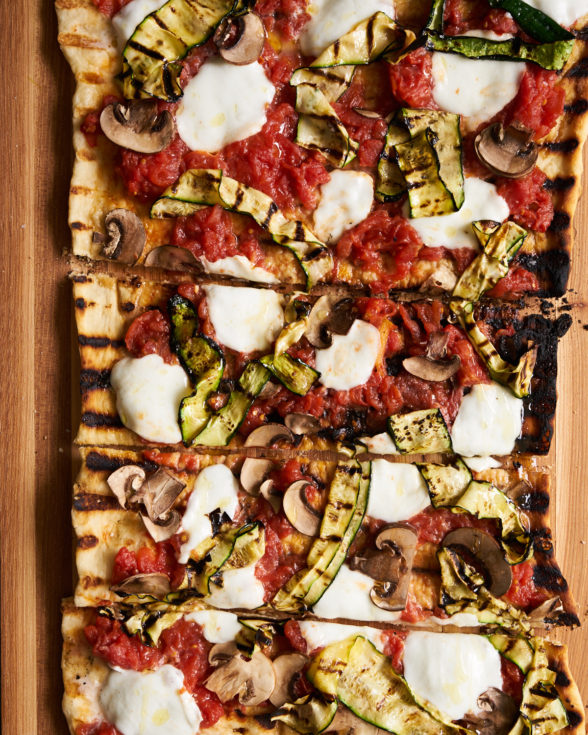 I'm back in LA after the most special and perfect week on Long Island.  I went for it.  Traveling is dicey these days as we all know, but I did everything I could to reduce my risk and be with my family whom I haven't seen since Christmas.  The N95 nose pain and sweaty face from wearing a tight mask for so many hours was worth it.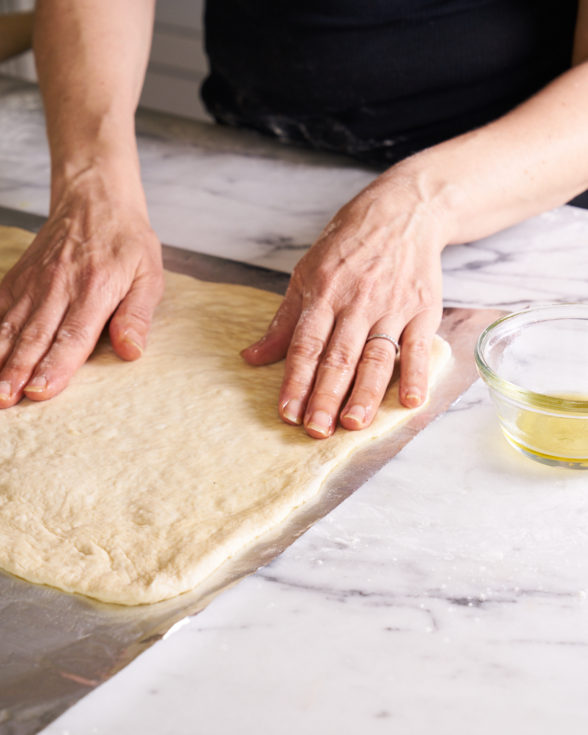 But now I am back and Mr. Picky is about to start virtual school next week.  LA County is still racking up too many new positive COVID cases every day, so he will roll out of bed and onto his computer for at least a month.  I am also continuing to teach online exclusively and not in-person for the remainder of 2020, if not beyond that.  The good news is that my LIVE bootcamps have been so well received that I am continuing with a new one!  I am beyond thrilled to introduce a new 4-week course next Tuesday!  The topic will be everything you need to know about a Plant-Based Diet.  This is the bootcamp I have been dying to teach and I am thrilled so many people have signed up.  If you are interested, there is still space, so click the link above and check it out!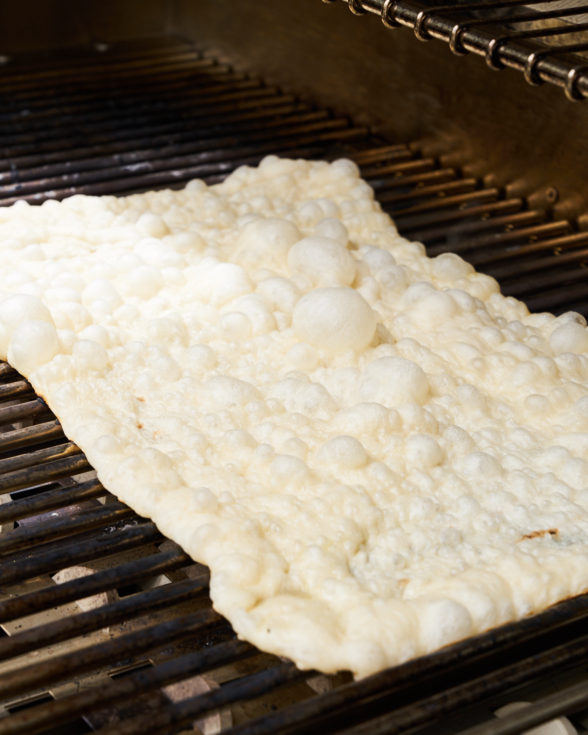 Now let's talk pizza! There are two dinners that all the kids (and my sisters and mom) look forward to most of all – the Clamboil and Pizza Night with the wood burning pizza oven. I never make my own dough for that because I usually make 10-12 pizzas that night and I just don't feel like working so much on my vacation lol.  Plus, there is perfectly good pizza dough available at all the local markets.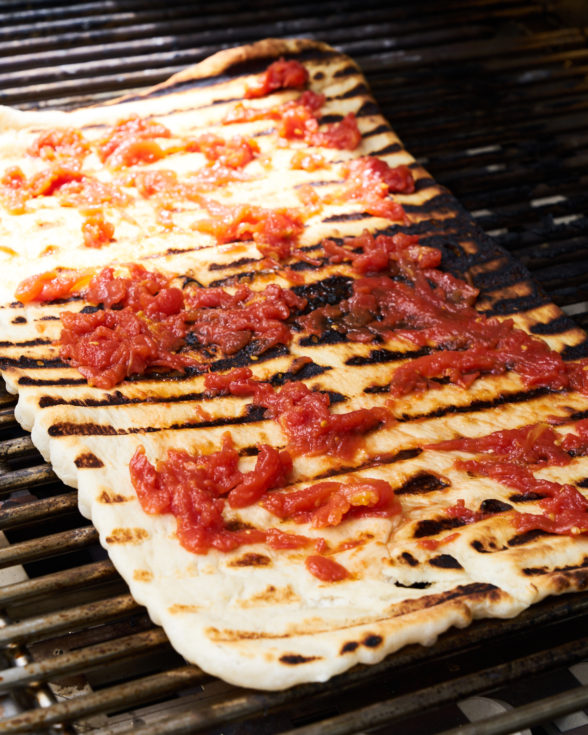 I love the char that the wood burning oven gives the crust of the pizza.  It is impossible to duplicate that in a home oven, even at 500 degrees on convection.  But I can get a little char when I GRILL pizza.  It's easier than it looks, but I will warn you that all grills are different, so it takes getting the hang of it with your grill.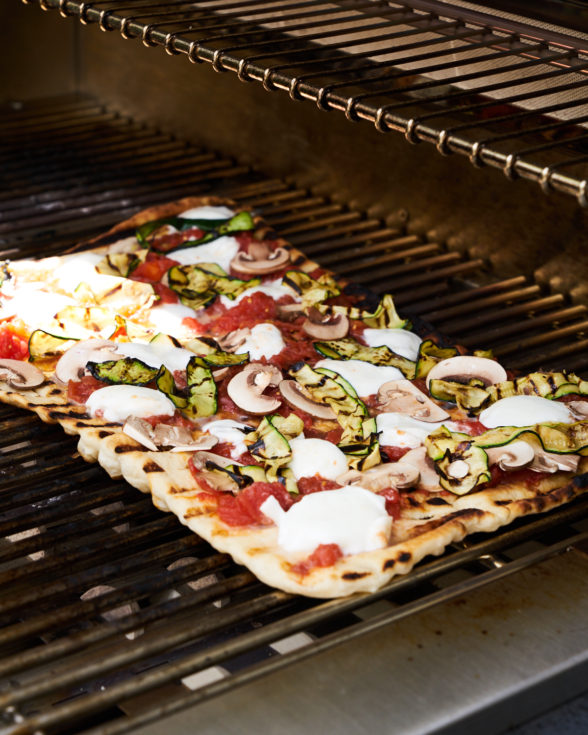 The key is not putting too much oil on the dough before laying it on the grill and not allowing the grill to be too hot.  Also, you don't want overly thick slices of cheese (if you're using cheese.) For this pizza I used crushed tomatoes from the jar that I strained through a colander, plus super thin slices of zucchini, grilled, plus thin slices of raw mushroom and buffalo mozzarella.  I drizzled a little oil and a pinch of salt over the whole thing.  Super fresh and light!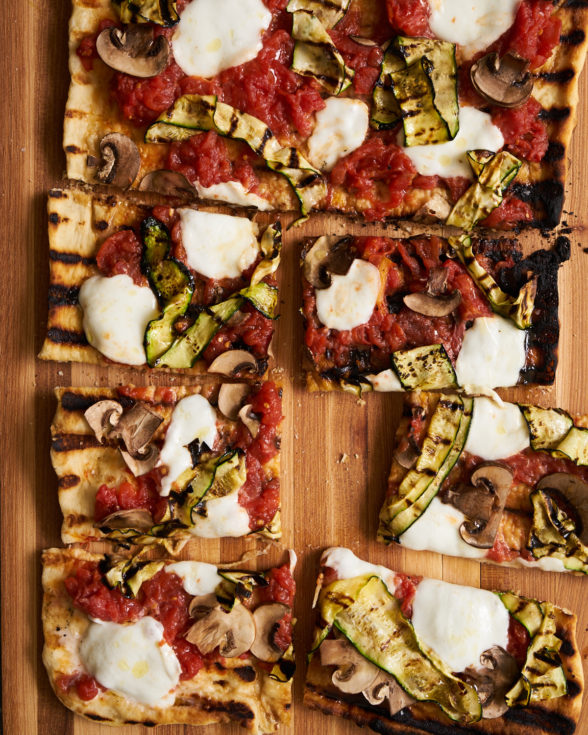 If you want to see a video of me making grilled pizza on my new Aspire by Hestan grill, check out my IGTV video!  If you want to learn more about the grill itself, click here.  Ok, now it's your turn.  Let me see what you can do on your grill!  Tag me @pamelasalzman #pamelasalzman and have fun!

Grilled Pizza Recipe
Ingredients
Pizza dough (I used a 12 ounce ball of dough.)
All-purpose flour
Olive oil
Aluminum foil
Pizza toppings of your choice
Instructions
Preheat the grill over medium-high heat. You want it to get to be about 450-500 degrees.
Roll out the dough on a lightly floured countertop to about 11 x 16 inches. If your dough weighs more than 12 ounces, you can likely go larger.
Pull a piece of aluminum foil to be about the same size or larger than the dough. Brush the foil lightly with olive oil. Place the dough on the foil. Lightly coat the top of the dough with oil. Do this with your hands or a silicone pastry brush.
Bring the dough and the toppings out to the grill. Flip the dough over onto the grill so the foil is on top. PEEL the foil carefully off the dough. Close the lid. Don't leave. Check the dough after 3-4 minutes unless you smell it burning. Check to see if it is starting to puff a little and if there are char marks underneath. Once that happens, flip the dough over. I use tongs and my hands. Have someone help you if it's your first time.
Top the pizza as you like and close the lid. Check the pizza after 5 minutes. If the underside of the dough is looking golden, crisp and has nice char marks but the toppings need more time, turn the heat down to low and continue to cook until the cheese is melted and the toppings are warmed through.