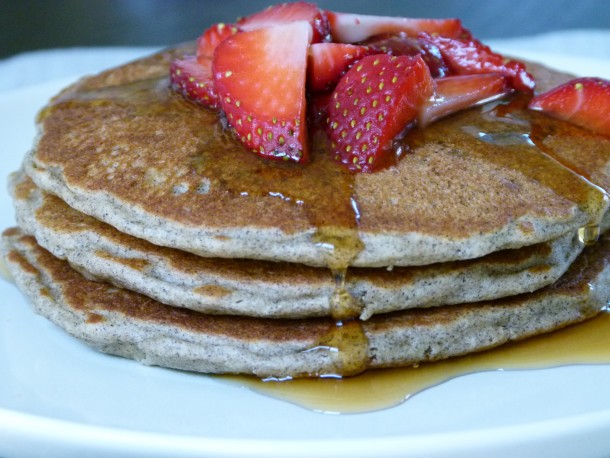 I have two things on my mind this week — eating anything that was forbidden during Passover (like grains) and being mindful of our consumption of limited resources with Earth Day coming up on April 22nd.   "How will she ever revert this to a pancake recipe?" you ask.  Stay with me, peeps.
Passover, which occurred last week,  is a mighty 8-day abstinence from eating all grains, except wheat turned into matzoh.  Giving up bread, pasta and most starches isn't such a big deal to me, but my hubby and the kids start groaning after about Day 3.  "How much loooooonger?"  "How come we can't have rice?  Jack's family eats rice during Passover."  "What??!!  It ends on Saturday night?  I thought it ended on Friday!"  And so on and so forth.  Same spiel every year.  Yawn.  So on sundown of the 8th day, my people were freed from bondage, ordered pizza and ravaged it like contestants on "Survivor."   As for me, I will admit, I was missing oatmeal for breakfast.   Sunday morning I made an extra-large batch thinking everyone craved it as much as I did.  Wrong!  Everyone was craving bagels.    That brings me to my other thought for the week which is being efficient with resources and limiting waste.  I needed a creative way to use that leftover oatmeal!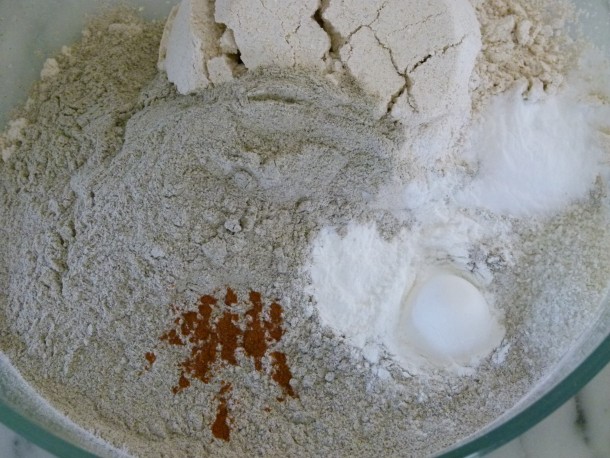 By now you know I am serious about pancakes.  I make them twice per week, very often varying the flours or even adding pumpkin and spices to the mix.  I love that everyone has fun customizing his or her own with fruit, nuts or chocolate chips.  Yesterday I made a a lovely batch of oatmeal pancakes with some of the leftovers from Sunday's excess.  I added a good cup's worth of steel cut oatmeal to gluten-free oat flour and buckwheat flour, which gave the pancakes these fantastic tiny little chewy bites.  I am a big fan of texture and whole grain flavors, so I adore these pancakes.  If you've never tried buckwheat flour, it has a great wholesome earthiness, but it does lend an odd, grey color to the batter.  By the way, buckwheat has no wheat in it and isn't even related to wheat.  In fact, it is a relative of the rhubarb family, which is why it's gluten-free.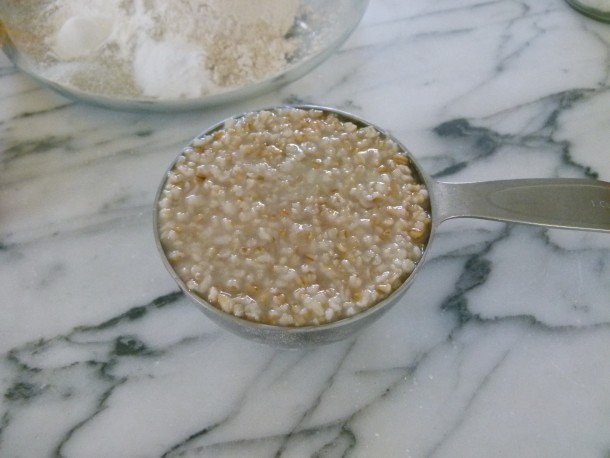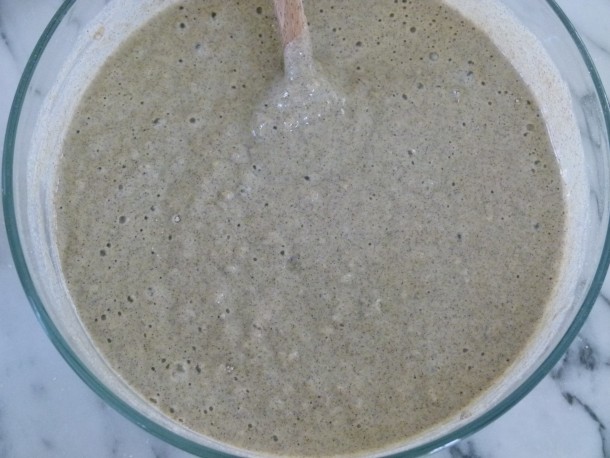 Oat flour is quite simple to make yourself if you don't feel like buying it.  Just process rolled oats in the food processor until powdery.  That's it!  If you need or want the oat flour to be gluten-free, you must buy oats/oat flour that is labeled as such, because otherwise it can contain trace amounts of gluten.  If you're like my husband and are wondering how they take the gluten out of oats, they don't really.  Botanically oats should not contain gluten, but they do share crop space with gluten-containing grains and often they are processed in facilities which also process wheat and barley, for example.  So the oats can pick up gluten that way.  But if you prefer, feel free to use my standard whole wheat pastry flour for the oat and buckwheat flours.  It just won't be gluten-free and it will taste more like my traditional buttermilk pancakes, but with a little chew from the oats.  I tend to adorn these pancakes with the same yummies that I would add to a bowl of oatmeal — diced bananas, chopped walnuts, and the like.  But strawberries are incredible and plentiful right now, so we all included them yesterday and my husband tossed in his standard handful of blueberries.  Mr. Picky eats these pancakes just fine, but did declare my "normal" pancakes are his first choice.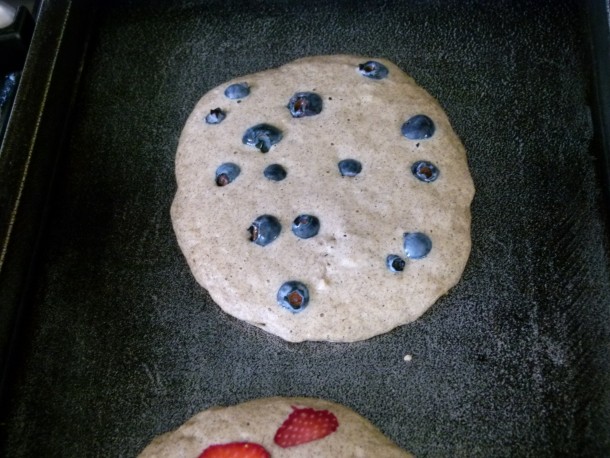 Extra pancake batter?  We won't waste it!!  It will stay good in the refrigerator for a few days and can be used to make fresh pancakes later in the week.  If you use buckwheat flour, don't be put off by the gumminess of the batter.  It's very normal and still turns out perfect pancakes.  You can also make all the pancakes at once and freeze them for another day.  I like to put a piece of parchment paper in between each piece so they don't stick together.  Another idea is to use the pancakes instead of bread for a sandwich or a roll-up.  Any other creative ideas for using up oatmeal or pancakes??
 
Gluten-Free Oatmeal Pancakes
Ingredients
1 cup oat flour
1 cup buckwheat flour (or substitute whole wheat pastry flour for all or part of the oat and buckwheat flours)
1 teaspoon fine sea salt
2 teaspoons aluminum-free baking powder
1 teaspoon aluminum-free baking soda
pinch ground cinnamon (optional)
2 cups buttermilk*
2 large eggs
1 teaspoon pure vanilla extract
1 Tablespoon 100% pure maple syrup
1 cup COOKED oatmeal (preferably steel-cut)
4 Tablespoons unsalted butter, melted
Melted, unrefined coconut oil for brushing the griddle
Instructions
Preheat a griddle to 400 degrees or medium heat. (Not all built-in griddles are the same. 350 degrees may be fine for you.)
Combine the flour, salt, baking powder, baking soda and cinnamon in a large mixing bowl.
In a medium bowl or 4-6 cup measuring cup, whisk together the buttermilk, eggs, vanilla, maple syrup, melted butter and oatmeal until well blended. (Or combine all wet ingredients in a blender and add to dry mix with oatmeal.)
Pour the wet mixture into the dry ingredients and stir until just combined.
Brush the griddle with coconut oil and spoon about ¼ cup of batter onto the griddle. Add blueberries, chocolate chips or diced banana to the surface, if desired. When bubbles start to form on the surface of the pancake and the edges become slightly dry, flip it over and cook until done. Maintain the heat on medium-low or 400 degrees.
Notes
*No buttermilk? Sub half unsweetened yogurt and half whole milk. Or use 2 cups milk, omit the baking soda and use 1 Tablespoon baking powder instead.