I am just LOVING the extra bit of daylight we gained from daylight savings!  It's so nice on many levels.  I noticed on my calendar that Easter and Passover are right around the corner so after this week, I might break from Friday Favorites for a bit to focus on recipes for the holidays.  I am actually cooking Passover dinner for the first time in a long time.  I am normally only in charge of all the desserts for both nights, but my in-laws' house is under construction, so I gladly volunteered for the job.  I just need to start planning!  I would love to hear what you are all cooking, if you're willing to share!  On to my favorites:
Omica Organics Stevia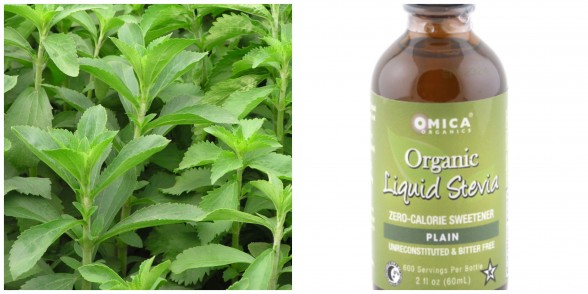 Even though I try and avoid white sugar and other refined sweeteners as much as possible, I still need to find a way to satisfy my sweet tooth.   While I have learned how to easy adapt less refined sweeteners- such as honey, maple syrup, coconut sugar, and even dates- into most recipes that call for sugar, these are still going to be slightly offensive to the body and raise our blood sugar and aren't considered health foods that should be consumed regularly. Furthermore, there are some people who cannot tolerate high-glycemic foods at all, but miss the flavor of sweet foods.  There is a sweetener that does not raise your blood sugar, is sweeter than sugar and not made of artificial chemicals…Stevia!
Stevia is a plant that is typically grown in South America, and its leaves have been used to make extracts and powders in the US as a sugar-free, calorie-free, non-glycemic sweetener.  While the Stevia plant is completely natural and found in nature, you do have to watch out as some of the big companies (think Coke and Pepsi) have gotten a hold of the plant and processed it with additives and chemicals.  You want to always check the ingredients list and avoid anything containing maltodextrin, dextrose, silica, agave syrup, sugar alcohols, etc.  If you buy stevia powder, it should be green, not white!
Stevia is incredibly concentrated so you do not use it one-for-one in place of sugar.  Yikes!  Sometimes if I want to sweeten up my overnight oat and chia porridge or a cup of tea, I might add a couple drops.  That's it!  There is no exact conversion rate because different stevia products have different levels of sweetness.  But a general rule of thumb is 1 teaspoon of stevia (powdered or liquid) is equivalent to 1 cup of sugar.  And a pinch of powdered stevia or 2-4 drops of liquid stevia is equivalent to 1 teaspoon of sugar.
My favorite brand of Stevia is made by Omica Organics.  It is completely unprocessed and unreconstituted leaving it with an aromatic sweetness without the bitterness that is often associated with Stevia Products.  The saccharin-like aftertaste is the most common criticism of stevia and every brand tastes different.  But I tried many and personally like Omica the best.  It is available on amazon at a great price (remember you only use a few drops at a time) and also at Moon Juice if you are local in Los Angeles.  I have not had great luck substituting Stevia for 100% of the sugar in baked goods like cookies and cakes, but I find it is a great addition to my smoothies and smoothie bowls, or could be substituted in recipes calling for small amount of honey or maple syrup.  There is one recipe on my site for a grain-free coffee cake that use part sweetener and you can check that out here.
Boos Block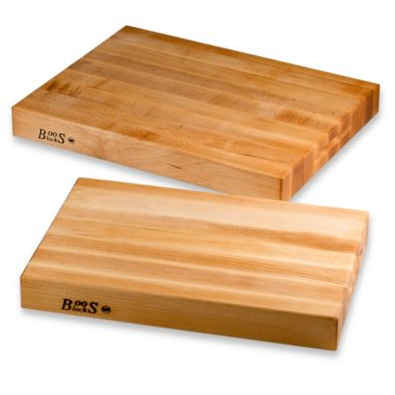 Cooking at different people's houses throughout the years, I have seen my fair share of cutting boards.  I have used plastic, wood, bamboo, glass, disposable, square, circle, oval, thick, and thin.  There is one board that I think is beyond all of the others in terms of quality and ease of use.  I love doing my chopping on a Boos Block cutting board.  Boos boards were designed and made by John Boos dating all the way back to the 1800s.  The Boos block is made out of maple wood and is a thick, heavy, real-deal cutting board.
My students often ask me if I prefer wood or plastic cutting boards—a lot of them use plastic because they feel like they are easier to keep clean and won't absorb as much of the bacteria.  However, research shows that wood has antibacterial properties by nature, and does not harbor bacteria the way that plastic does.  Also, it is easier on our knives and our hands and arms because the wood absorbs the pressure from the knife, which keeps us from wearing out too quickly when chopping and also keeps our knives from dulling sooner.  I wash mine with soap and hot water after each use, and oil it every couple of months.
These boards are pricy but trust me when I say you will have this for decades to come.    All my other cutting boards at some point have warped, split or been cut up too much.  I have had my Boos Board for ages and it's the only one that has lasted.  I think they're also great to use for a cheese board or to serve hors d'oeuvres!  I got my board at Sur La Table and you can also get them at most kitchen stores (e.g. Williams-Sonoma and Bed Bath and Beyond) and they are also available in a variety of sizes on Amazon with free prime shipping!  I personally love working with a really big cutting board, but you should figure out what your storage limitations are before buying one that is too big.
Organic Frozen Figs from Trader Joes

Trader Joes had really been getting their act together lately- it seems every time I go they have some kind of new organic product that finds it's way into my shopping cart each week.  Recently I have been loving their organic, frozen green figs.  These are the Smyrna variety of fig and they are so big, sweet and juicy.  When defrosted they do not quite hold their same consistency as a fresh fig, but can still be used for sauces and jams, poached for desserts, and added a great topping for pizza.  My favorite way to use them is to add them to smoothies and smoothie bowls.  In fact I am eating a smoothie bowl right now that is blended frozen banana, frozen figs, hemp seeds, walnuts, almond milk and a little maca powder.  Freaking delicious.  Or even if I'm caving something sweet, a big partially defrosted frozen fig hits the spot.  These are the perfect alternative to fresh figs that have a short season and can be a little pricy for throwing into a smoothie.    Fig season is so short that it is nice to be able to enjoy this fun summer fruit all year round!
Seasonal produce: radishes

Springtime means radishes are in season and I love adding this crisp and crunchy vegetable to spring salads, topping avocado toast, dipped into hummus, or even raw with a little butter and sea salt.  Delish.  Radishes have a bite to them and can taste quite bitter, but I have found that can be easily balanced by slicing them very thinly using a food processor (with a 1mm or less shredding disc) or by using a mandolin.  If I have the time and the patience, a knife if also capable of doing the trick!
There are actually so many different varieties of radishes beyond the basic red.  Check your produce aisles and farmers markets for varieties like Easter Egg, French breakfast, and my favorite, Watermelon, which is so stunning.
Besides being a delicious addition to the fresh list of spring produce, radishes are so nutritious for our bodies.  They are detoxifying, incredibly cleansing to our digestive system, keep us hydrated and have a cooling affect on our bodies, which will be important as the temps start to creep up in the next few months!  Look for radishes that are firm with fresh green tops.  When you get home from the market, remove the tops and store radishes in a bag in your fridge and they will last for a week or two there.  If your radishes soften prematurely, you can refresh them by soaking them in cold water for a few hours.
Check out a couple of my favorite ways to eat radishes below from my site, as well as a few radish recipes from around the web!
https://pamelasalzman.com/wheat-berry-salad-with-lemon-tahini-dressing-recipe/
https://pamelasalzman.com/grilled-fish-taco-recipe/
Asparagus and Radishes with Mint from The Kitchn
Corn, Avocado, and Radish Tartine from Serious Eats
Radish and Green Tomato Salsa at Nourished Kitchen
Roasted Radishes from Spoon Fork Bacon
Pickled Radishes from David Lebovitz
Superfood spotlight: Maqui Powder

There are so many different powders on the market right now it's hard to keep track of them all.  I love when I find a new superfood powder that I can incorporate into more practical recipes rather than always just having the option to add them to smoothies.  Maqui powder is the ground up form of the maqui berry, which originates in Chile and is super high in antioxidants.  It also contains Vitamin C, Calcium, and Iron, and contains phytonutrients that are anti-aging and anti-inflammatory.  Maqui powder has a tart fruity flavor and I like to pair it with other berries such as raspberries or blueberries and find those flavors are compatible.  I have even added a Tablespoon or so of maqui powder to my raspberry chia jam  and acai bowls with great success.  Berry and banana-based smoothies are also a natural choice for a little extra berry and antioxidant boost.   Navitas Naturals or SunFood Organics are both great brands and can be found at Whole Foods as well as Vitacost and Amazon.