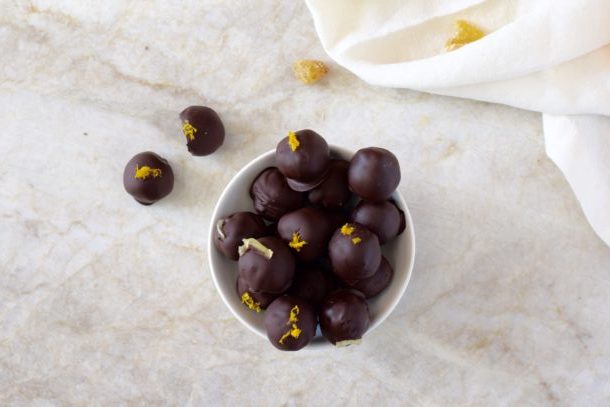 I can't plan any holiday menu at the last minute because I get so stressed out about it that I will have trouble sleeping at night.  My head will be a storm of recipes and food that keep playing over and over again.  I visualize every and any recipe that I have taught or seen on Pinterest and then my mind will play a game of pairing foods with each other on the same plate.  It sounds like fun, doesn't it?  But not when it's 3 AM.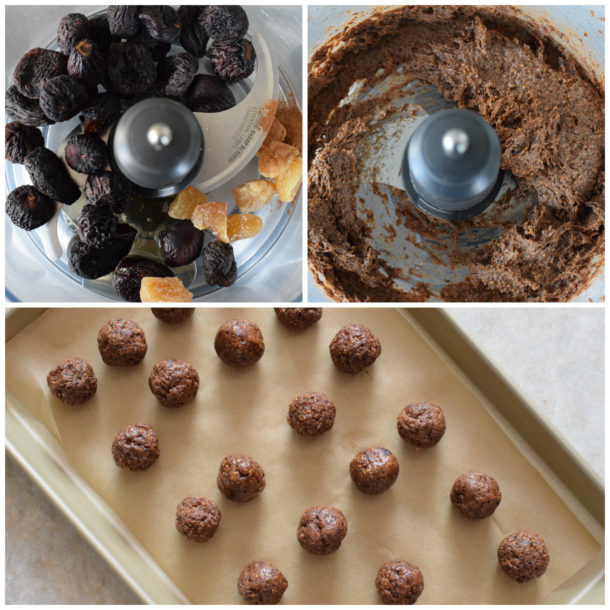 But there are those who have their best ideas at the last minute, like my mother who will sometimes call me the morning of a dinner party and ask my opinion about a menu.  Of course, I always say, "Mommy, this is stressing me out."  Whereas she is completely unfazed and pulls it all off without a hitch.
So for those of you who need to bring a last-minute hostess gift, or make a really simple dessert for a party or Christmas, this one's for you.  My students went wild for these many years ago in a holiday class I taught.  I have no idea I hadn't posted the recipe on the blog.  Quite honestly, these "truffles" are like a glorified bliss ball gone dessert-y.  What are they really besides sticky dried fruit blended in the food processor with some other flavors until a homogenous mixture is created.  Leave them like this for a little power snack or coat them in chocolate for an indulgent, but guilt-free, treat.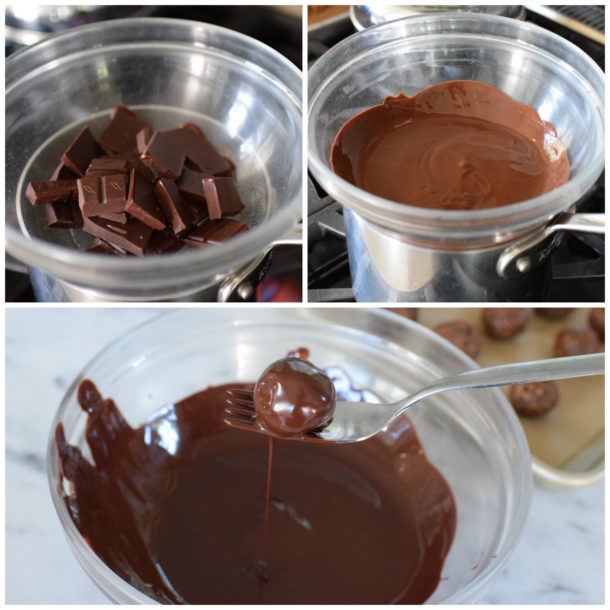 Figs, ginger and orange are a divine combination.  You definitely get that sweetness from the figs, but then there's a hint of spicy ginger coming through.  I will pretty much enjoy anything more if it's covered in dark chocolate, these included.  But I know many people find that dark chocolate is not sweet enough.  You can mix dark and semisweet or use all semisweet if you want.  Keep in mind that when the health benefits of chocolate are touted, we are referring to dark chocolate and not types with more sugar.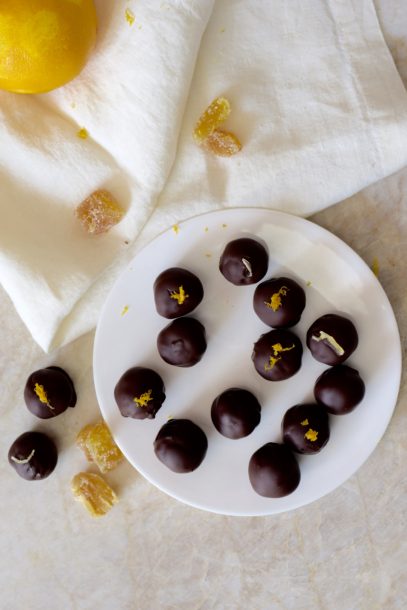 I photographed these very simply on a plate, but you can easily find at a craft store like Michael's little 1-inch paper candy cups or baking cups (like the kind that would be used with a mini muffin pan.)  These would be especially nice to use if you were giving them as a gift or to make them look a little fancier.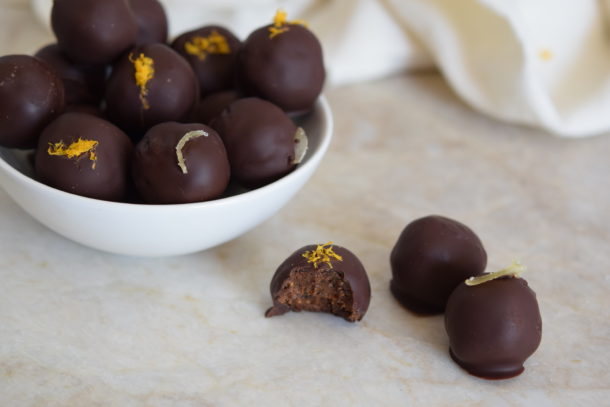 You know I am a huge fan of the do-ahead and these truffles are in that category.  You can make them a week ahead of time and keep them refrigerated.  Just be sure to store them in one layer and not on top of each other.  And also be sure to store them in the back of the fridge where they are hidden because I can almost guarantee they will be gone before you intend to serve them!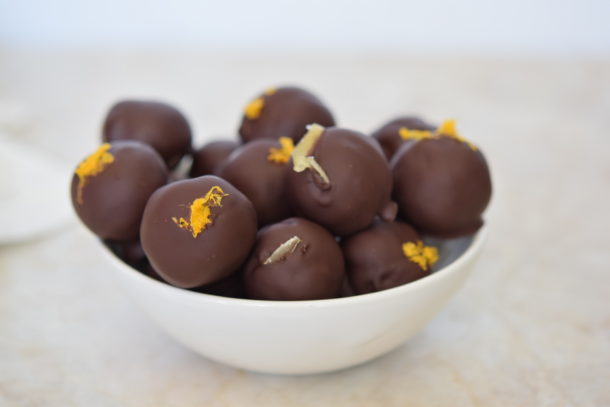 This is the last recipe that I will post before Christmas and the first night of Hanukkah.  I enjoy connecting with you all so much and I am so lucky that I can cook and share with you every day.  I do hope you have a joyous and healthy holiday, whatever it is that you celebrate.  I hope you create beautiful, happy memories with the ones you love.  Merry everything!!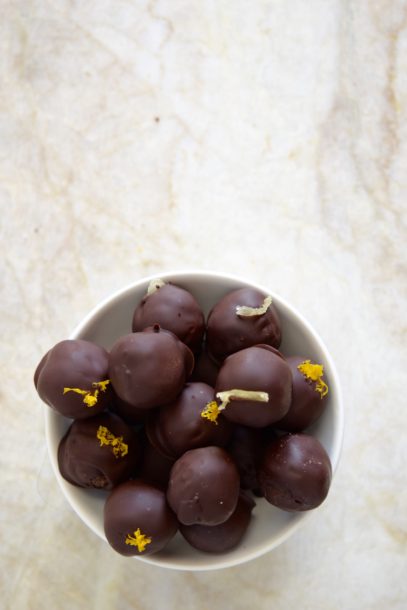 Fig and Ginger Chocolate Truffles
You should be able to find all these ingredients at Whole Foods. Trader Joe's may carry crystallized/candied ginger as well.
Ingredients
2 cups unsulphured dried figs, or other dried fruit (about 11 ounces), stems removed and discarded
3 Tablespoons crystallized (aka candied) ginger (about 1 ½ ounces)
½ teaspoon ground cinnamon
1 Tablespoon raw honey
zest of 1 small orange (optional)
5 ounces dark chocolate (70 percent cacao or higher) or semisweet chocolate
Instructions
Place the figs, ginger, cinnamon, honey and orange (if using) in a food processor fitted with the metal blade, and process until everything is finely chopped and starts to come together.
Take a heaping teaspoon of the mixture and roll it into a ball with your hands (it helps if you hands are a little damp to prevent sticking). Reserve on a parchment or wax paper-lined baking sheet or plate. Repeat with all the mixture. Refrigerate or freeze the balls until cold.
Place the chocolate in a small heatproof bowl over a saucepan of simmering water, taking care not to allow the bowl to touch the water. Stir the chocolate until melted and smooth. Remove the saucepan from the heat.
Roll the fig balls in the melted chocolate until coated, and remove from the bowl using a fork, allowing any excess to drip back into the bowl. Return each truffle back onto the paper and refrigerate until set, about 15 minutes. Serve at room temperature. If the chocolate starts to feel soft, keep them refrigerated for up to weeks.
Notes
I used dried Black Mission figs here, but any variety will do. You can pretty much use almost any type of dried fruit as long as it is moist and meaty, like apricots or persimmons.
If you want, after rolling the truffles in chocolate, you can roll them in finely chopped pistachios or top with a pinch of flaky sea salt, orange zest or a thin strip of candied ginger