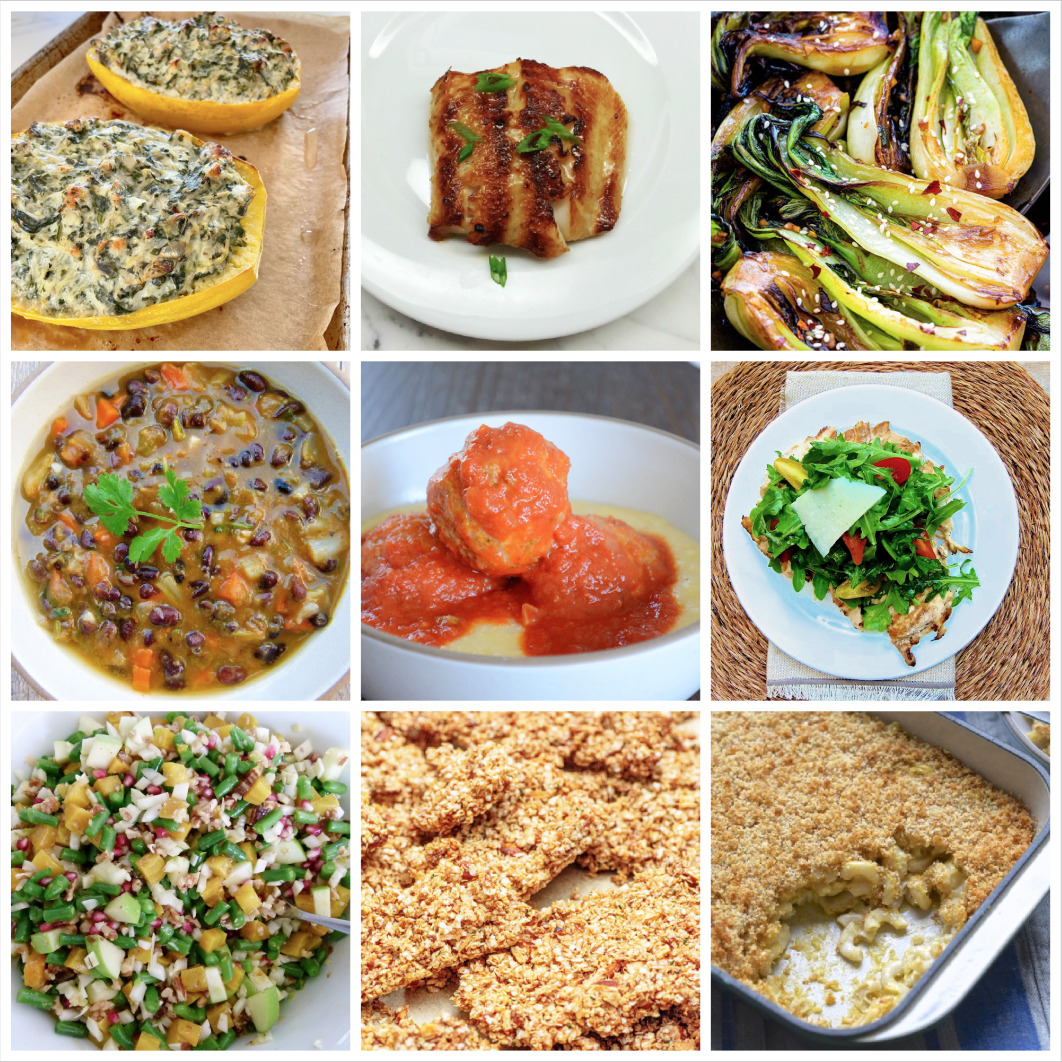 We had a great visit with my son for family weekend in Pittsburgh last weekend and he is home with us for his fall break. So so special! It's actually nice to be cooking family meals again. In our new empty nest, Hubs and I seem to be pretty content with either soup or a stir-fry most nights. Just a friendly PSA, Thursday, October 27th is exactly 4 weeks from Thanksgiving!! I will have an updated Thanksgiving ebook available for purchase next week, so be on the lookout!
Here's your dinner planner for the week:
Meatless Monday: Spinach-Artichoke Spaghetti Squash Boats (this is filling, so you may not need more, but a simple salad would be a good addition.)
Tuesday: Miso glazed black cod, black rice, stir-fried baby bok choy p. 112 from Kitchen Matters
Wednesday: Black bean and pumpkin soup, maybe some corn muffins (I love the parmesan zucchini corn muffins p. 132 from QTQ)
Thursday: Turkey meatballs with pasta or polenta, sautéed greens (use this method)
Friday: Grilled chicken paillard, harvest chopped salad
Saturday brunch: Quinoa granola with yogurt and fresh fruit
Sunday: vegan mac n cheese to which I am going to add steamed cauliflower and bake it all together; if we're hungry, I'll make a salad and add chickpeas
Here's what you can do ahead if it helps you:
Sunday:
Roast spaghetti squash and rake.
Make spinach-artichoke filling. You can combine with cooked spaghetti squash strands and store in the spaghetti squash shells until you're ready to bake the following day.
Monday:
Cook black rice
Marinate fish
Tuesday:
Cook black beans if making from scratch
Wednesday:
Make meatball mixture
Thursday:
Roast beets
Blanch green beans
Friday:
Make quinoa granola
I have LOVED seeing all your creations of my recipes on Instagram. If you make any of my recipes, please tag me @pamelasalzman #pamelasalzman so I can check them out! I have a free Monday newsletter with my thoughts, new recipes, and things I'm loving lately. Subscribe here!
Order my cookbook, Quicker Than Quick! If you have 1 minute, would you mind leaving a review on amazon? I would be so grateful, thank you! Take a peek at my first cookbook "Kitchen Matters"!