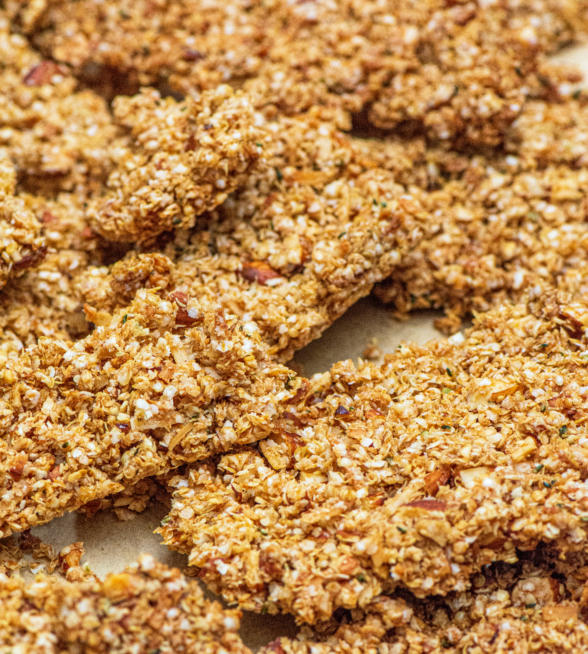 I have made granola multiple ways from traditional to grain-free, with peanut butter and a salted dark chocolate version, too.  It's easy to make, which is great because good quality (key words) store-bought granola is super pricey and often too sweet for me.  Two of the main reasons I cook as much as I can at home are to control both the ingredients and the proportions.  As I have mentioned of late, I am a little disappointed in many manufacturers spraying their wheat and oat crops with glyphosate, a toxin found in Roundup and what some are saying could be the reason so many of us have leaky gut and the subsequent ramifications from that.  Although buying organic should protect us from glyphosate, tests have shown otherwise.  Of course, there are many companies who work diligently to avoid using glyphosate, and it's up to us consumers to contact them to ask if their products have been tested.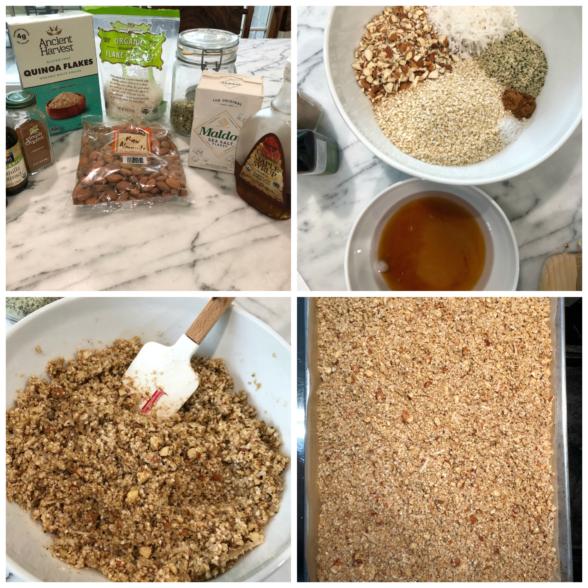 Since most granola recipes use rolled oats as the main ingredient, I thought I would switch it up and use quinoa flakes instead.  If you've never heard of quinoa flakes, just picture quick-cooking oats.  Quinoa is very tiny, so when the grains are flattened, they aren't very big – much like the size of quick-cooking oats.  They have a little quinoa flavor, but when paired with all the granola ingredients, you don't notice.  But the resulting granola is much lighter than a traditional granola and quite crispy.  Furthermore, this recipe produced very beautiful clusters of granola which I know many of you look for.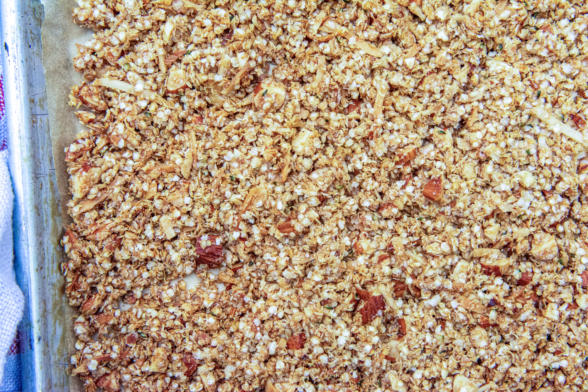 Quinoa is a high protein seed and it is always gluten-free.  You can cook the quinoa flakes like you would any hot cereal or swap out some of your oats with some quinoa flakes.  The quinoa flakes are hard to come by though.  I found a 12-ounce box for a little more than $8 in my local Whole Foods and I have seen the Ancient Harvest brand in other natural foods markets.   Vitacost has it for $9 and Thrive Market has it for $8.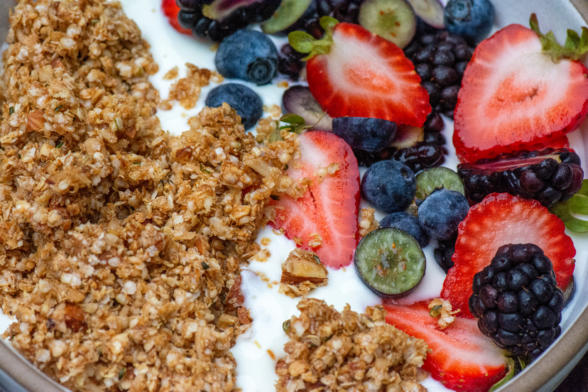 Having nothing to do with this specific recipe but all granola freezes well and I found out a few years ago that my whole family and I all prefer to eat our granola straight out of the freezer!  It's so good cold and crunchy!

Give this granola a try for a healthy change of pace.  And feel free to add different spices like cardamom or pumpkin pie spice (you don't have to use actual pumpkin in a recipe to use the spice!)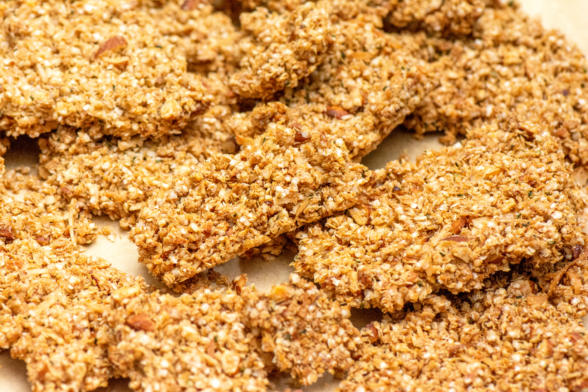 Please tag me on Instagram @pamelasalzman #pamelasalzman if you make any of my recipes.  I just love seeing all your creations! XOXO
Shop the tools for this recipe by clicking on the images below:

Quinoa Granola
Ingredients
2¾ cups quinoa flakes
1 cup chopped raw almonds, pecans, walnuts or a combo
½ cup unsweetened, dried shredded coconut
¼ cup hemp seeds
1 teaspoon ground cinnamon
½ teaspoon flaky Maldon salt
6 Tablespoons melted, unrefined virgin coconut oil
¼ cup pure maple syrup
¼ cup brown rice syrup (or honey)
1 teaspoon pure vanilla extract
¼ teaspoon almond extract
Instructions
Preheat oven to 300 degrees. Line a rimmed baking sheet with unbleached parchment paper.
In a large bowl stir together the quinoa flakes, nuts, coconut, hemp seeds, cinnamon and salt.
In a small bowl, whisk together the melted coconut oil, maple syrup, brown rice syrup, vanilla and almond extracts. It is really important to mix the oil and syrups so that everything is well blended, otherwise the syrups may burn. Add the oil and syrup mixture to the quinoa mixture and stir to coat well.
Transfer the mixture to the prepared pan. Bake for about 22-28 minutes or until golden brown. The mixture will not be crunchy yet. Do not stir. Turn the oven off and allow the granola to sit in the warm oven with the door closed for 30 minutes. Check to make sure it isn't burning. Remove and allow to cool at room temperature.