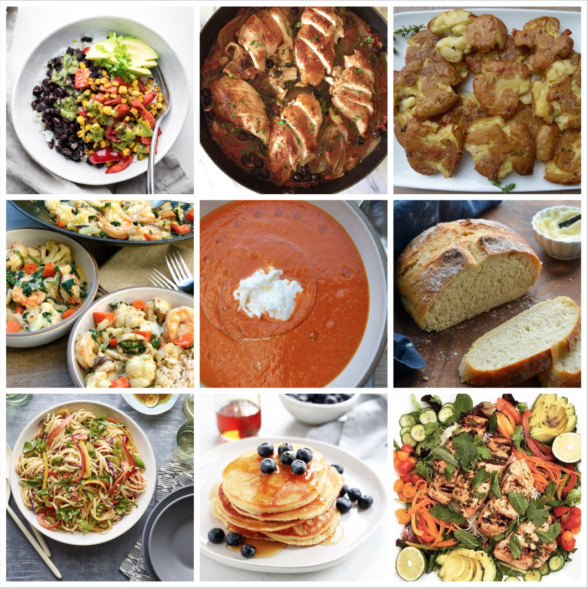 For those of you taking my online monthly classes, I am going live on our private FB page Saturday at 9 am PT!  Bring all your questions, even if they don't relate to the month's newest recipes.  I am happy to help you!
I had many emails and DM's about my Entertaining Bootcamp and if I would consider running it again.  Sure!!  I will launch it one more time during the month of June but that will be it, so if you're interested, don't hesitate to sign up when the email goes out next week.  I will also likely repeat "Healthy Cooking Made Quick and Easy" in June!  Stay tuned for sign-ups and add your name here to be on the waitlist.  Here's your dinner planner for the week:
Meatless Monday: Veggie (roast whatever you have!) and bean burrito bowls with cilantro-lime rice and Mexican Sautéed Greens recipe, avocado or guacamole and/or salsa
Tuesday: Baked chicken with tomatoes, olives and capers, roasted smashed potatoes
Wednesday: Shrimp and mixed vegetables with coconut-basil sauce, brown rice
Thursday: Fresh Tomato Soup, burrata with finishing salt, olive oil and lightly toasted crusty bread, clean out the fridge frittata
Friday: Sesame Noodle Salad from WhatsGabyCooking, for protein add blanched shelled edamame, hard boiled egg, rotisserie or poached chicken.
Saturday brunch: blender power pancakes from QTQ
Sunday: Thai steak salad (I have done this with salmon and chicken, as well, and tofu is a great swap too!)
Here's what you can do in advance if it helps you:
Sunday:
Cook beans if making from scratch
Wash greens
Monday:
Salt chicken
Prep components for baked chicken (slice onions, measure capers and olives) or prep the entire dish the day before.
Tuesday:
Slice veggies for shrimp dish
Cut onions and carrots for soup
Cook brown rice
Thursday:
Make noodle salad dressing
Prep and slice veggies for noodle salad
Friday:
Make steak marinade
I have LOVED seeing all your creations of my recipes on Instagram. If you make any of my recipes, please tag me @pamelasalzman #pamelasalzman so I can check them out!
My cookbook, Quicker Than Quick, is discounted for the first time on Amazon!  If you have 1 minute, would you mind leaving a review on amazon?  I would be so grateful, thank you!
Take a peek at my first cookbook "Kitchen Matters"!