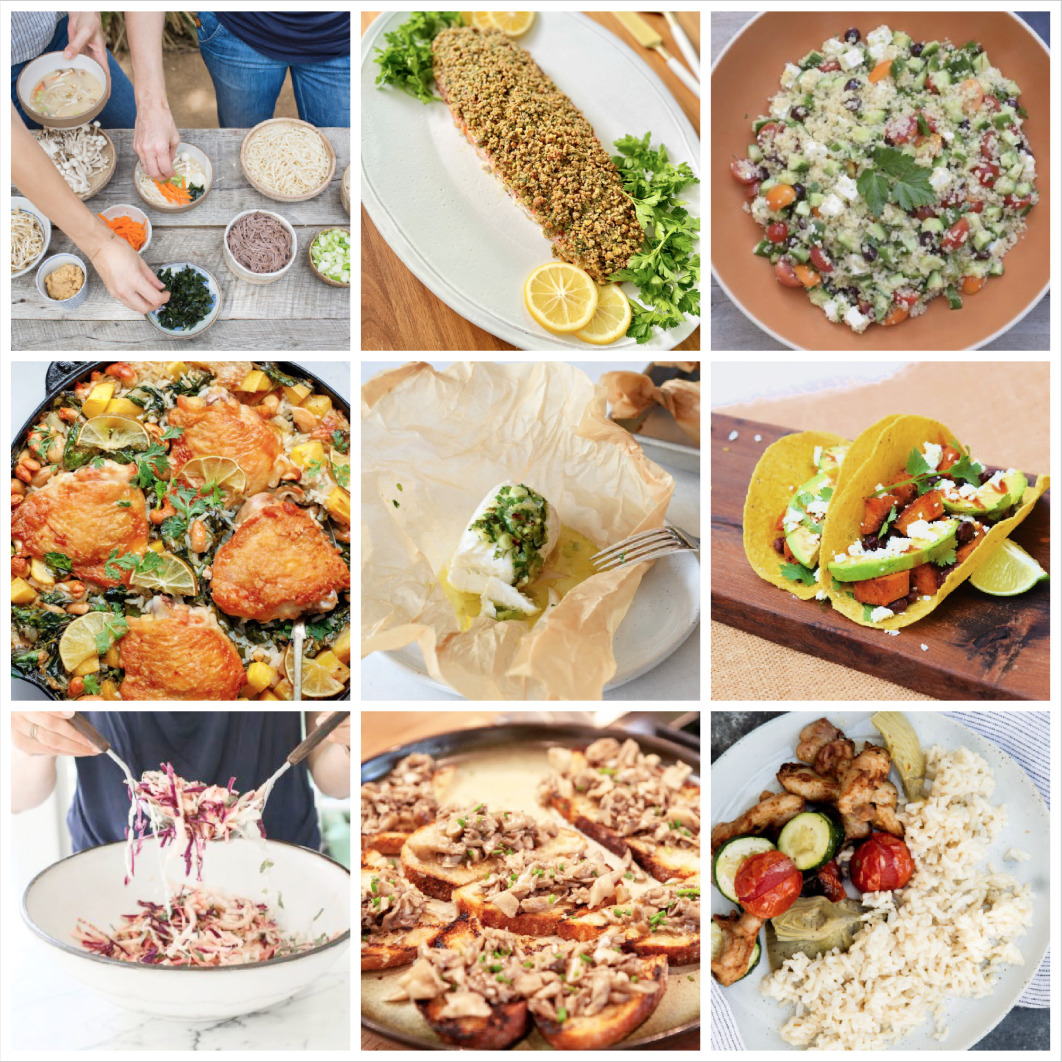 Happy Spring! My daughter Anna is coming home this weekend for a visit and I am so excited! I am sure she will help with Monday's Instagram live. Just like old times! 😉 Also, I am doing a virtual event this Friday, March 24th at 11:00 am PT with an Entertaining with Ease theme. My friend Jeanne Rosner is hosting on her platform, Soul Food Salon. Check out her website or Instagram for details on how to register. It's going to be fun! Here's your dinner planner for the week:
Meatless Monday: Miso Soup Bar and veggie potstickers from Trader Joe's to make things EASY
Tuesday: Pistachio-Crusted Salmon, Mediterranean quinoa salad
Wednesday: One Pan Chicken and Coconut Rice with Cashews, Mango, and Spinach from Amanda Frederickson (the ingredients in the recipe is missing the quantity of mango, but I'm assuming it's 1 mango, chopped.)
Thursday: Parchment baked halibut with cilantro and ginger, broccoli sautéd in garlic (blanch in salted boiling water for 3 minutes, drain, pat dry and saute in olive oil, lots of chopped garlic and a pinch of crushed red pepper.) Add cooked rice if you need more.
Friday: Sweet potato and black bean tacos served with jicama slaw or salad
Saturday brunch: hen of the woods mushroom toast – delish with a fried or soft boiled egg.
Sunday: Sheet pan chicken with artichokes, cherry tomatoes, and zucchini served with cauliflower rice
Here's what you can do in advance if it helps you:
Sunday:
Cook quinoa
Make salad dressings
Wash herbs
Wednesday:
Cook black beans if making from scratch
Thursday:
Roast sweet potato cubes
Saturday:
Season chicken
I have LOVED seeing all your creations of my recipes on Instagram. If you make any of my recipes, please tag me @pamelasalzman #pamelasalzman so I can check them out! I have a free Monday newsletter with my thoughts, new recipes, and things I'm loving lately. Subscribe here!
Order my cookbook, Quicker Than Quick! If you have 1 minute, would you mind leaving a review on amazon? I would be so grateful, thank you! Take a peek at my first cookbook "Kitchen Matters"!