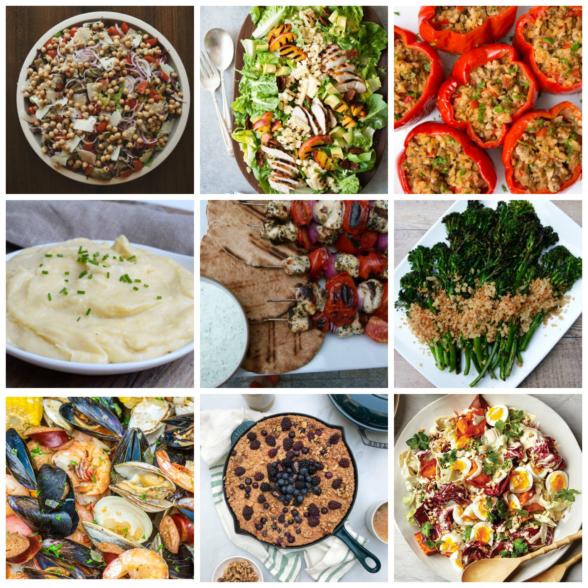 I arrived on Long Island the other day and made my way out to my parents' house for a week with my sisters and their kids.  I just love Long Island in the summer.  The West Coast is great, but there's nothing like East Coast summer.  I am a little jet lagged still despite assuming the time zone once I arrived.  Hopefully I can beat it tonight!  I have created a great summer menu for the week ahead, although I will be cooking for a crowd so I will follow a different plan.  You can follow along on Instagram for the details.  But I will be including all the summer goods like corn, zucchini, tomatoes, cucumbers, melons, peaches, green beans, basil, peppers and berries!
Here's your dinner planner for the week:
Meatless Monday: Vegetarian chopped antipasto salad
Tuesday: Grilled Summer Salad with Chicken Spicy Cashew Dressing from my book (omit chicken for a vegetarian/vegan version; add boiled potatoes for more substance, if you think you need it)
Wednesday: Turkey and brown rice stuffed bell peppers, millet cauliflower mash
Thursday: Chicken Souvlaki with Tzatziki (you can do this with beef or lamb, too), Garlic rice, Grilled broccolini 
Friday: Clamboil (recipe coming early in the week!), tomato and cucumber salad (you can do Fattoush with or without the pita chips)
Saturday: Baked berry oatmeal 
Sunday: Dinner salad with radicchio and roasted sweet potatoes from bon appetit healthyish
Here's what you can do ahead if you need to:
Sunday
Wash lettuce
Make all dressings, sauces, and marinades
Grill chicken for salad
Make rice for stuffed peppers
Wednesday
Prep broccolini (wash, trim)
Marinate chicken
I have LOVED seeing all your creations of my recipes on Instagram. If you make any of my recipes, please tag me @pamelasalzman #pamelasalzman so I can check them out!
Click here to learn more about my online cooking classes! If you like my recipes, you'll LOVE my cookbook!  If you have 1 minute, would you mind leaving a review on amazon?  I would be so grateful, thank you!