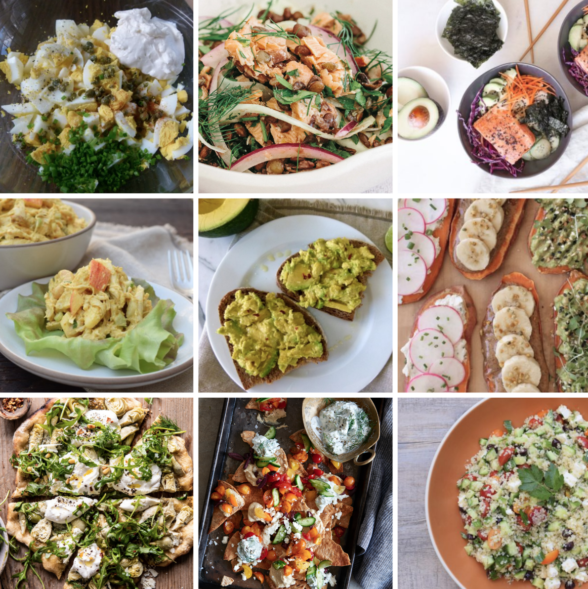 Happy Holiday weekend!  I hope you are going to have a relaxing few days.  Perhaps some of you are on spring break.  I am in the home stretch of my manuscript,  still working full-time and I have a television appearance today, sooooo I am only doing desserts for the holiday this year.  My segment on Hallmark's Home & Family show will air on Monday, April, 22nd.  As they say, check your local listings for channel and time!  For this week's dinner planner, I provided a link to a post about things you can do with hard boiled eggs in case you made a lot for Easter.  There are also some options for those of you observing Passover.  Tag me on Instagram this weekend so I can see what you've cooked up!  #pamelasalzman @pamelasalzman
Here's your dinner planner for the week:
Meatless Monday: Check out this post for things you can do with leftover hard boiled eggs; French Lentil and Fennel Salad from Mindbodygreen (which would be great with hard boiled eggs)
Tuesday: Deconstructed Salmon Sushi Bowl
Wednesday: Curried Chicken Salad in Lettuce Cups , avocado toast or avocado sweet potato toast
Thursday: Artichoke Pesto and Burrata Pizza with Lemony Arugula from Half-Baked Harvest or Matzoh Lasagne for Passover
Friday: Miso Soup Bar
Saturday Lunch: Greek Nachos from my cookbook  (use matzoh crackers to make this Passover-compliant)
Sunday: Mediterranean Quinoa Salad , Grilled Lemon-Herb Chicken with Mint Drizzle
Here's what you can do ahead of time:    
Sunday
Cook lentils
Make rice
Make all sauces, marinades and dressings 
Tuesday
Make curried chicken salad
Thursday
Make miso broth 
Make quinoa 
Here's a link to my previous dinner planners.
I have LOVED seeing all your creations of my recipes on Instagram.
If you make any of my recipes, please tag me @pamelasalzman #pamelasalzman so I can check them out!
Click here to learn more about my online cooking classes!
If you like my recipes, you'll LOVE my cookbook!