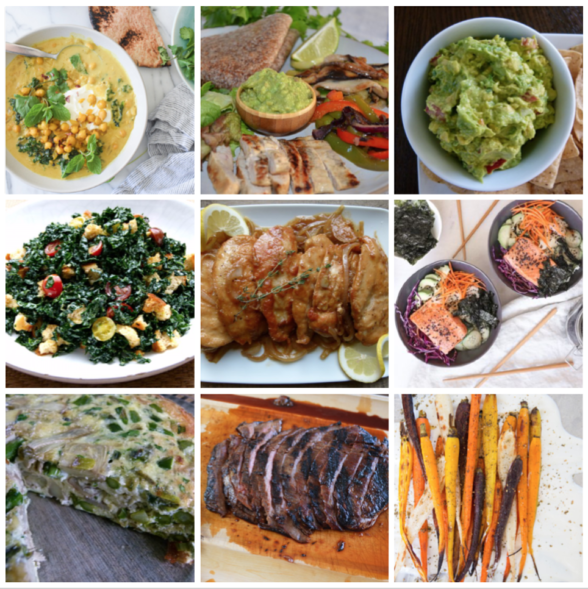 Really, friends, there's no new news other than the fact that my second book, Quicker Than Quick, is coming out on Tuesday.  No big deal or anything.  I've only been waiting for this book to come out since I turned in my manuscript last May!  Order it today for a great Mother's Day or graduation gift.  Signed books can be ordered through my local bookstore, Pages.  Everyone is cooking more than ever, but kind of tired of cooking more than ever.  These recipes are all about quick, but healthy cooking.  Easy stuff, pantry ingredients, tasty food, cooking class tested and perfected.
Not to worry, I know you still need to eat this week!  Here's your dinner planner for the week:
Meatless Monday: spiced chickpea stew with coconut and turmeric, with grilled naan or pita bread for dipping if you need a little extra
Tuesday: Chicken and veggie fajitas, guacamole  (can be made with skirt steak, too)
Wednesday: Kale salad with creamy lemon dressing served with grilled or sauteed shrimp.
Thursday: Lemon-thyme chicken, served with roasted potatoes and sautéed green beans
Friday: Deconstructed salmon sushi bowl
Saturday brunch: asparagus and artichoke frittata
Sunday: Grass-fed balsamic herb flank steak from my cookbook, roasted carrots – use this method, basic quinoa with a squeeze of lemon and olive oil and chopped chives or parsley if you have them.
Here's what you can do ahead if it helps you:
Sunday
Wash and all greens and vegetables
Make stock
Make salad dressing
Strip and cut kale
Trim base of asparagus and stick bunch in a jar with a little water
Monday
Marinate chicken for fajitas
I have LOVED seeing all your creations of my recipes on Instagram. If you make any of my recipes, please tag me @pamelasalzman #pamelasalzman so I can check them out!
Click here to learn more about my online cooking classes! Through the end of quarantine, choose any cooking class in the library for $10 with the code SINGLE10 and a subscription for future classes for $17  (normally $27/mo.) with the code CLASSES17.
If you like my recipes, you'll LOVE my cookbook "Kitchen Matters"!  If you have 1 minute, would you mind leaving a review on amazon?  I would be so grateful, thank you!  My new cookbook, Quicker Than Quick, is available for pre-order!