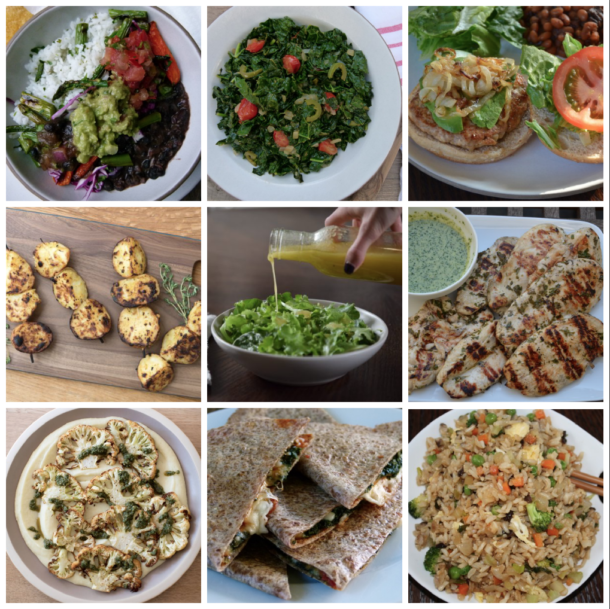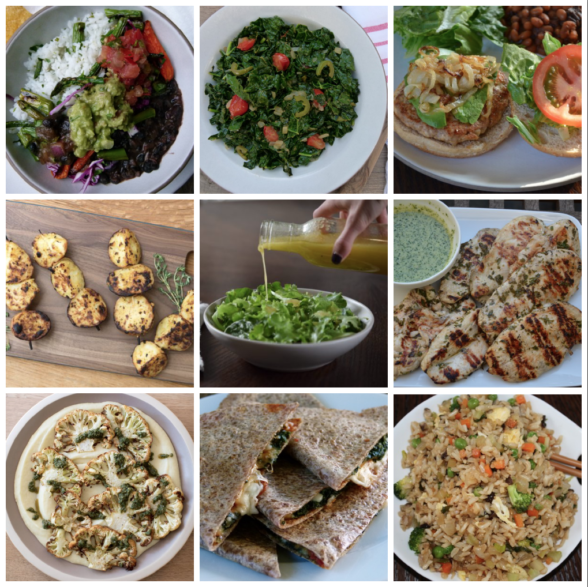 I'm in Dallas for the weekend to visit my daughters!  Yay!  I also was able to squeeze in teaching a class at my friend Lisa's house yesterday and that is always fun. 🙂
In other news, my second online class launched last night, although the menu is missing from the landing page.  Ooops!  In the process of adjusting that now.  The second class is Weeknight Arroz con Pollo, Grainfree Chipotle Sweet Potato Pancakes, Spring Salad with Strawberries and Cacao Nibs, Roasted Asparagus with Pecorino Dressing and Meyer Lemon-Olive Oil Almond.  BUT, what I want everyone to understand is that my classes are not just about teaching you 5 great recipes.  The recipes are the vehicle for me to teach you concepts, techniques, strategies, nutrition, and product info that you can apply to all your cooking!  Come join me here!
Meatless Monday: Veggie and bean burrito bowl with Mexican sautéed greens
Tuesday: Tasty turkey burgers, zesty potato skewers, green salad with everyday salad dressing #2
Wednesday: Grilled lemon herb chicken with mint drizzle, simple arugula salad with lemon juice, olive oil and salt and pepper (add some nuts, cheese or avocado if you want a little more substance)
Thursday: Cauliflower steaks with cauliflower puree and mint pesto, roasted asparagus (drizzle with olive oil and salt and pepper and roast at 400 degrees for 12 mins, or until tender)
Friday: Slow roasted salmon (without the mango salsa), spinach salad with roasted red onions and shiitakes from my cookbook
Saturday Lunch: Spinach pizza quesadillas
Sunday: Vegetable fried rice using half brown rice and half cauliflower rice
Here's what you can do ahead if you need to:
Sunday
Soak your rice, if desired
Cook rice and store in fridge
Make beans, if not using canned
Wash/dry greens/lettuce and herbs
Make chicken or vegetable stock
Make salad dressings
Trim tough ends of asparagus and place cut ends in a small amount of water in the fridge
Make mint pesto
Monday
Make the turkey burgers up to the point of cooking and store, covered, in refrigerator on a parchment or wax paper-lined platter to remove easily
Tuesday
You can assemble the potatoes up to 4 hours before broiling and keep them at room temperature
Marinate chicken
Make mint drizzle and store in the refrigerator
Friday
Roast onions and mushrooms in the morning and leave at room temperature until dinnertime
Defrost spinach (or use whatever leftover veggies you have lying around)
Saturday
Make cauli-rice (make sure you have enough cooked, cold rice for dinner on Sunday)
Here's a link to my previous dinner planners.
I have LOVED seeing all your creations of my recipes on Instagram.  If you make any of my recipes, please tag me @pamelasalzman #pamelasalzman so I can check them out!
Click here to learn more about my online cooking classes!
If you like my recipes, you'll LOVE my cookbook!