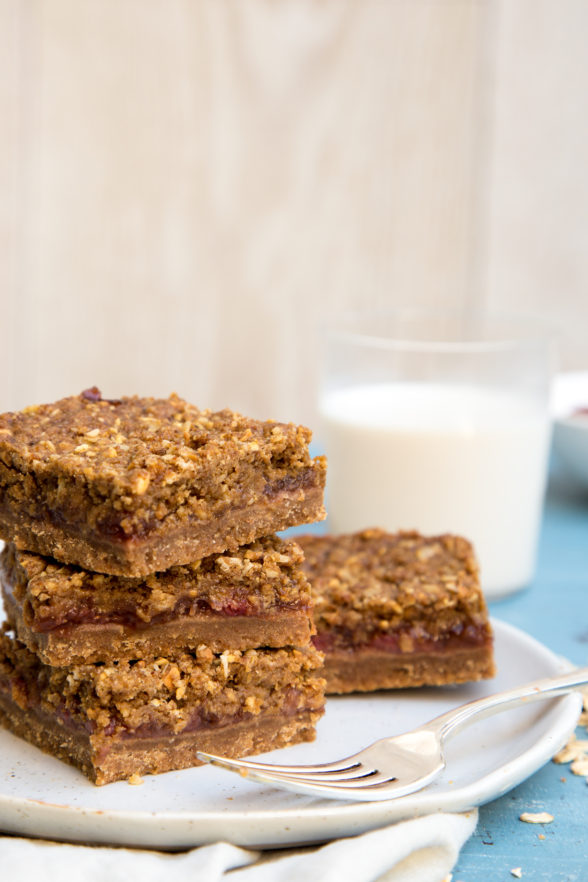 This recipe and blogpost have been hanging out in my drafts folder since last year when I taught this in my classes!  There have been so many holidays pushing this recipe out, but thank goodness peanut butter and jelly is an evergreen combination.  There are certain classics that will never go out of style and that appeal to almost everyone.  These bars were a huge hit last year and I know you'll love them, too!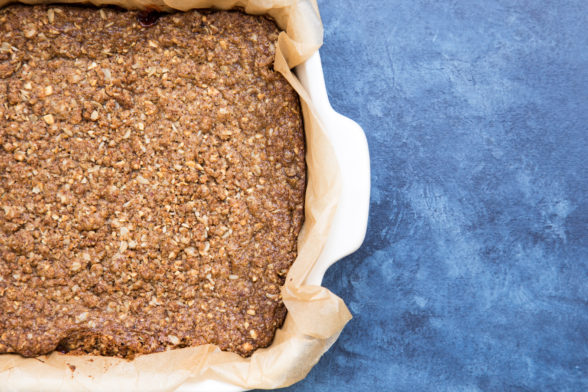 I go back and forth with peanut butter, though.  I can probably make a case for almond butter being "healthier" and "cleaner," but I have gotten to the point where not everything I put in my mouth has to be a 10/10.  I love the flavor of peanut butter and I make sure to eat everything with good intentions.  No need to eat a high quality peanut butter with the guilty thought that almond butter would have been a better choice.  It isn't hard to find organic (peanuts are heavily sprayed) peanut butter in glass jars (plastics leach after time.)  You can even make your own in some supermarkets or in your food processor.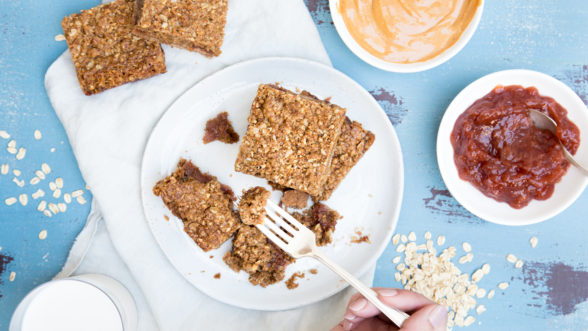 My entire family and all my friends became quickly obsessed with these bars.  So much so that I had a few neighbors text me when I was teaching this recipe in my classes last year to see if there were leftovers! "I'm outside your front door in case the answer is yes!"  LOL.  What's not to love?  A thick cookie-like base which doesn't fall apart, a jammy, fruity middle, and a sweet and crunchy topping.  I'm in! I thought these would be perfect for school bake sales (provided you are in a school that allows nuts) or Mother's Day brunch or lunch or just for a snack.  They stay great in the fridge for up to a week and in the freezer well-wrapped for 3 months!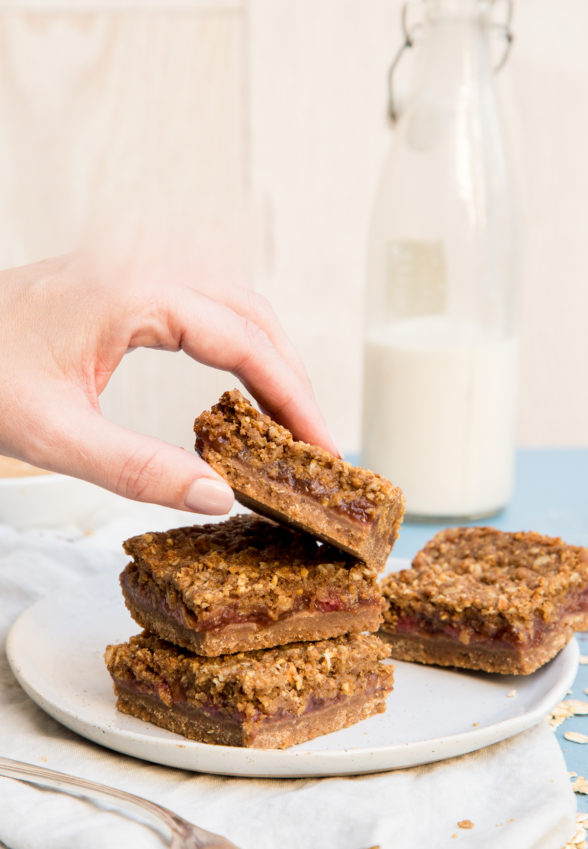 There are dozens of ways to make substitutions here.  Quinoa flakes for oats; sunflower butter for peanut butter; raspberry jam and raspberries for the strawberries.  Just try to find a low-sugar (but not artificially-sweetened) jam.  I add the extra fruit to take the sugar level lower.  And I wrote some notes at the bottom of the recipe regarding flours.  Of course, feel free to leave me a comment or question if you have one.
In other news, on Friday, April 27th from 1:00 – 2:00 pm, I will be at the Williams-Sonoma in South Coast Plaza with my friend, caterer Annie Campbell, doing a demo on summer entertaining in collaboration with C Magazine.  It's going to be so fun, so please stop by if you're in the area!
Lastly, I LOVE seeing your creations on Instagram.  It seriously makes my day.  Please tag me @pamelasalzman #pamelasalzman so I can check them out!
You can shop the tools I used for this recipe by clicking on the images below!

Peanut Butter Jelly Crumble Bars Recipe
Serves:
Makes an 8 x 8 or 9 x 9-inch pan
Ingredients
unrefined coconut oil or unsalted butter for greasing pan
Base:
1 ¼ cups oat flour, whole wheat pastry or whole spelt flour*
2 ½ Tablespoons pure Grade A maple syrup or maple sugar or cane sugar
¼ teaspoon sea salt
¼ teaspoon aluminum-free baking powder
4 Tablespoons cold unsalted butter, cut into small pieces
¼ cup unsweetened, unsalted creamy peanut butter
½ teaspoon vanilla extract
Jelly Filling:
10 ounces no-sugar added strawberry (or any) fruit preserves or 1 scant cup
⅔ cup fresh or frozen strawberries (or other fruit to match preserves)
Crumble Topping:
½ cup coconut palm sugar or brown sugar
¾ cup flour oat flour, whole wheat pastry, or a combo of GF oat flour and King Arthur Multipurpose GF Flour
1 ¼ teaspoons aluminum-free baking powder
6 Tablespoons cold unsalted butter, cut into pieces
⅓ cup old-fashioned rolled oats
¼ cup roasted and salted peanuts
½ teaspoon flaky sea salt (optional)
Instructions
Preheat oven to 375 degrees. Lightly grease an 8 x8-inch baking dish with unsalted butter or coconut oil and line it with unbleached parchment paper.
Prepare the base crust: pulse everything in food processor until you get moist crumbs. Press firmly into prepared pan to form a smooth even layer. If it's too sticky, you can use some plastic wrap to help even it out. Refrigerate for 15 minutes.
In a small saucepan, heat the jam and the strawberries until the strawberries loose their shape. Mash lightly to blend in with the jam. Set aside.
Remove crust from refrigerator and bake until just firm in the center, 12-15 minutes.
Spread reserved strawberry mixture over warm crust.
Make crumble: pulse coconut sugar, oat flour, baking powder, and butter in a food processor until moist crumbs form. Add the oats and the peanuts, and pulse 2-3 times more to chop them up a bit and so everything is combined. Crumble over the top of the bars and sprinkle with flaky sea salt.
Bake until filling is bubbly and crumble is golden brown, 25-30 minutes. Cool completely on a cooling rack before cutting. Refrigerate leftovers.
Notes
*You can find GF oat flour, if needed. I'm sure a good GF flour blend would work well. Try Jovial GF pastry flour or <g class="gr_ gr_441 gr-alert gr_spell gr_inline_cards gr_disable_anim_appear ContextualSpelling ins-del" id="441" data-gr-id="441">KIng</g> Arthur multipurpose GF flour blend.

Also, you can really use any jam/fruit you want and any nut butter/nut or seed butter/seed you want.