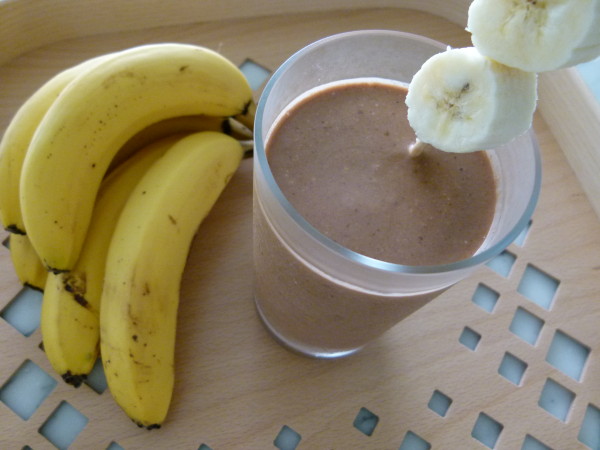 Most of the time we just call this the Chocolate Peanut Butter Smoothie.  Mr. Picky says it's his new favorite and he is usually the one to make it.  You should see how many bananas I have to buy to keep up with the acai bowls, banana "ice cream" and the new favorite CPBBO Smoothie.  Most cashiers at the grocery store either look at me funny or can't resist asking me what I am going to do with 6 bunches of bananas.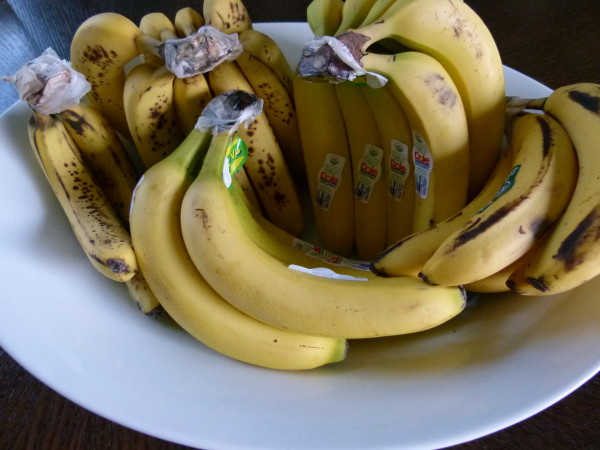 I was going to wait a while before I posted another banana recipe, but Mr. Picky asked if I would put up this smoothie so his friends' moms could have it, too.  Cute.  Smoothies and acai bowls are his favorite after-school snack.  I taught him how to safely work the blender and the Vitamix and as long as I'm in close proximity, he's welcome to give it a go.  As opposed to his teenage sisters, who think making a smoothie is too much work.  Yawn.  I told my daughter who is a junior in high school that she needs to change her attitude that spending 5 minutes to make a snack is hard labor.  What is she going to do when she's (we hope) living away from home in college?  And then I said those awful words that made me sound like my parents.  C'mon, all together now, "when I was your age…"  Yeah, anything that comes after that is going to get the big old eye roll.  But really, wouldn't you have DIED to have a Vitamix when you were a teenager??  Or frozen acai puree??  Or an iPad which pulled up thousands of recipes AND videos?  Can we just talk about smart phones for a second?  What about the fact that I went to college with a typewriter.  A typewriter.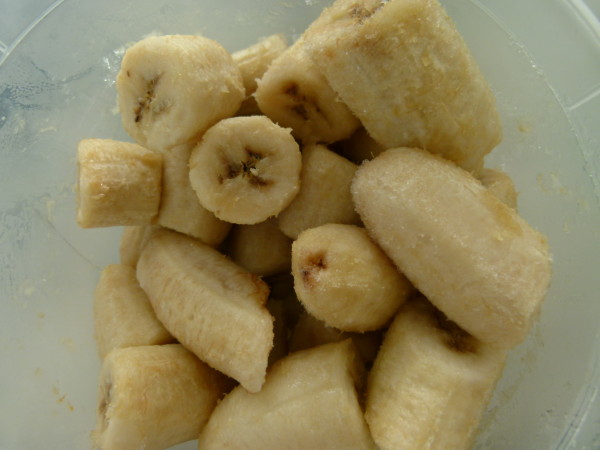 Yep, and that's why it's usually just Mr. Picky and myself in the kitchen making smoothies and acai bowls.  Which is fine, because I'm soooooo annoying.  OMG.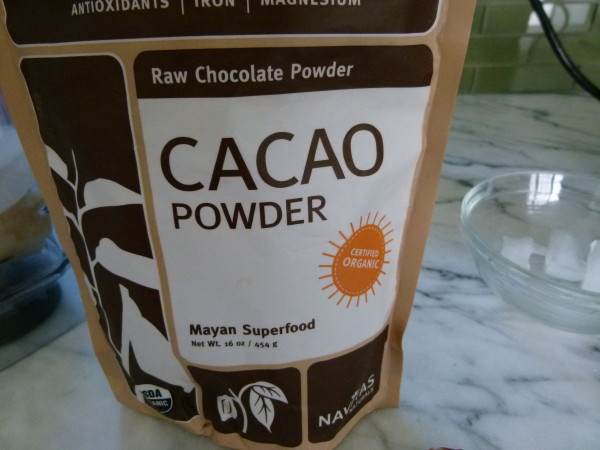 What's cool about smoothies is that you really don't need a recipe.  We completely eyeball it every time.  And Mr. Picky has no idea that I am so on to him that he uses chocolate syrup instead of cacao powder in this smoothie when he thinks I'm not looking.  I'm annoying and flexible at the same time.  I really don't care if he squirts a little chocolate syrup in his smoothie if it's for an after school snack, although we all know that the same antioxidants in raw chocolate don't apply to Hershey bars or chocolate syrup.  Just saying.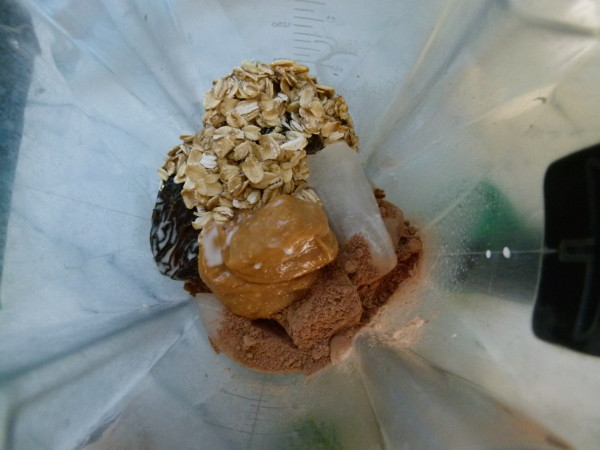 But if you did want this for breakfast, I think it's a perfectly good way to start the day, provided that it's not the middle of winter.  I have a thing about not giving the kids or me really cold stuff first thing in the morning, especially if the weather is cold.  It's just too hard on the digestive system and kids have weaker digestion than adults.  But back to nutrients, there's great protein, healthy fats and complex carbohydrates in this smoothie so you could use this as a meal replacement.  Feel free to adjust the flavors to your liking or add protein powder or spinach or ground flax seeds.  This is just a guideline.  Normally, Mr. Picky and I taste whatever is in the blender and then add a little extra peanut butter or sweetener or chocolate.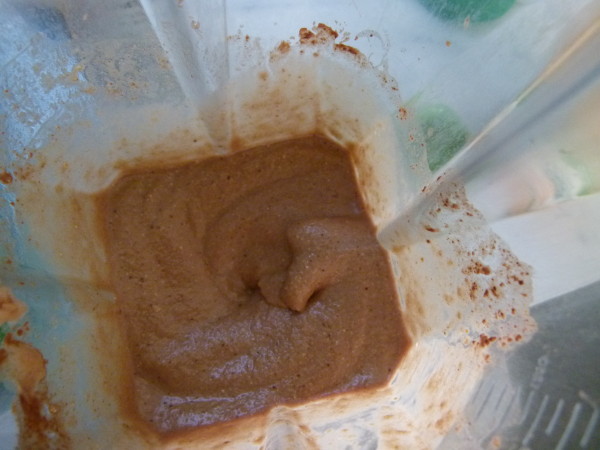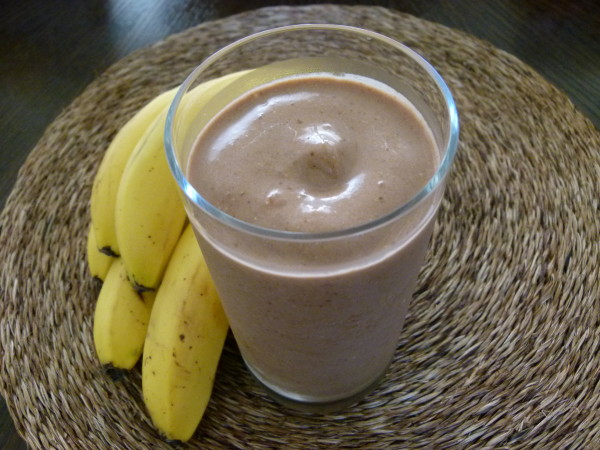 Also awesome if you like to plan ahead, make this smoothie the night before and you'll be sitting pretty come morning!
Chocolate Peanut Butter Banana Oatmeal Smoothie
Serves:
makes 1 large or 2 medium smoothies
Ingredients
2 ripe bananas, peeled, cut into large chunks and frozen (click here for how to freeze fruit)
½ cup almond milk or milk of choice*
3 Tablespoons creamy, natural peanut butter (or raw almond butter for a more neutral flavor)
¼ cup old fashioned rolled oats (use oats labeled "gluten-free" for a gluten-free smoothie)
2 Tablespoons raw cacao powder or unsweetened cocoa powder or chocolate syrup
Sweetener: add your preferred sweetener to taste, such as honey, dates or coconut palm sugar. With unsweetened almond milk and natural cacao powder, 3 pitted dates seems to be perfect for us.
½ cup - 1 cup ice, depending on how icy you want it
Instructions
Add all ingredients to a blender with the ice on top. Blend until very smooth. Smoothie may be refrigerated overnight or frozen.
Notes
*If you use sweetened almond milk, you may not need additional sweetener.

If it's not too obvious, omit the chocolate for a Peanut Butter and Banana Smoothie.  Omit the peanut butter or substitute raw almond butter for a Chocolate Banana Smoothie.  Omit the banana for a Chocolate Peanut Butter Smoothie.