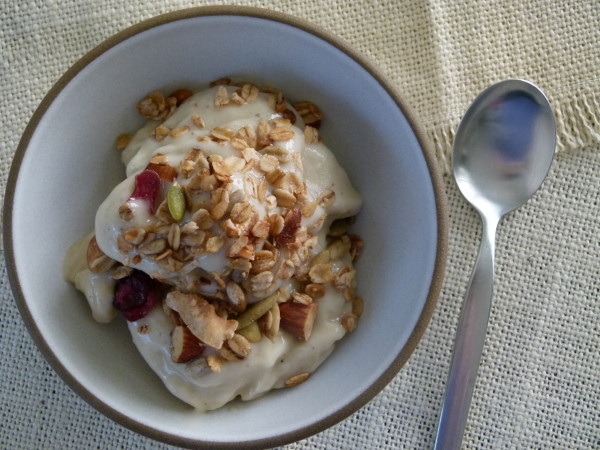 Although I recently became dairy-free, I haven't been able to eat ice cream for quite some time.  It's a pretty hard-to-digest food even if you make it from scratch, and not one that has agreed with me in many years.  But when I got married, I used to eat ice cream every day and for several years afterwards.  At any given time, I think we had at least a dozen different pints in our freezer into which we would dip every night after we put the babies to sleep.  My mother-in-law thinks I can't digest ice cream anymore because I OD'd on it all those years.  Perhaps.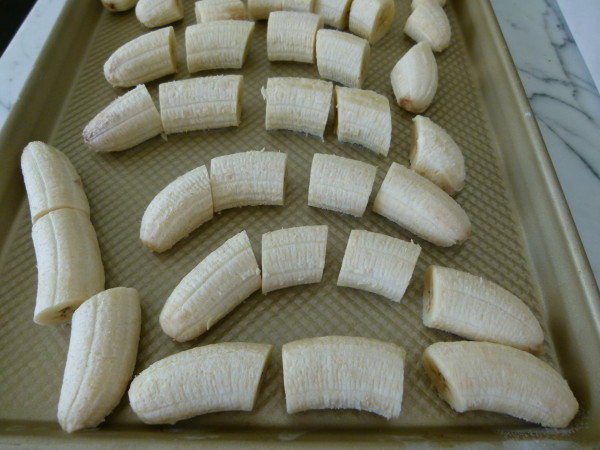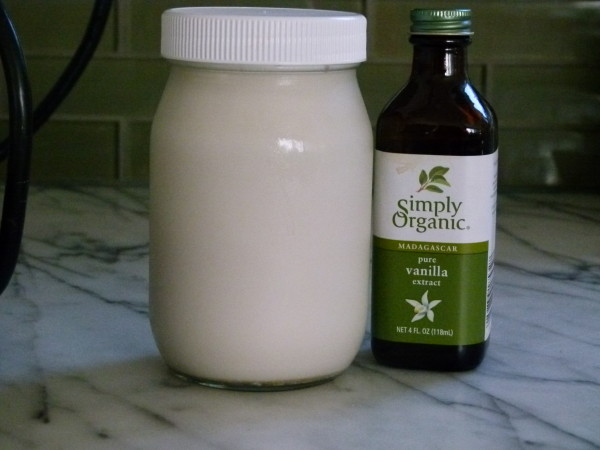 Last week I needed a little comfort food and I craved a quick, sweet pick-me-up while I watched the television in total disbelief of all that chaos.  I was really close to snagging the remains of Mr. Picky's favorite Three Twins vanilla ice cream, but I know that I would have felt even worse afterwards, for many reasons.  Because we make so many acai bowls and smoothies around here, I  always have frozen bananas on hand.  One thing I've never posted is banana "ice cream."  I've always figured by now most people have seen this on Foodily or Pinterest.  If you haven't, it's just frozen pieces of banana, blended in a Vitamix or a food processor with a touch of almond milk or regular milk and maybe a little sweetener to taste.  It comes out the consistency of soft serve ice cream and really hits the spot if you're in the mood for a frozen treat.  But it's really just bananas, so it's a million times better for you than regular ice cream or (blech) popsicles made with food coloring.  I told my mother-in-law about banana 'ice cream" and she offered to buy me a Yonana machine which basically does the exact same thing.  She's so thoughtful, but you can really do this no problem in your food processor or high powered blender.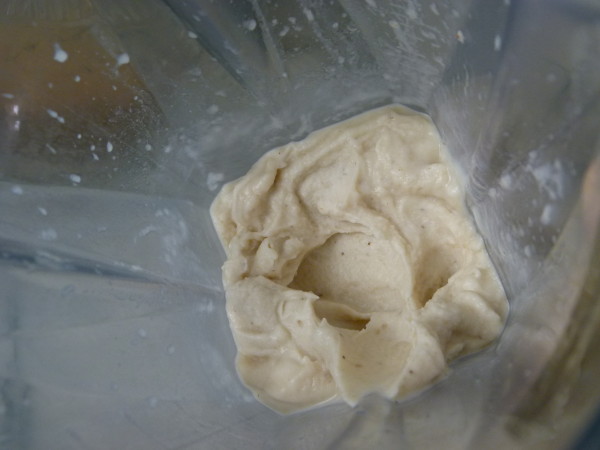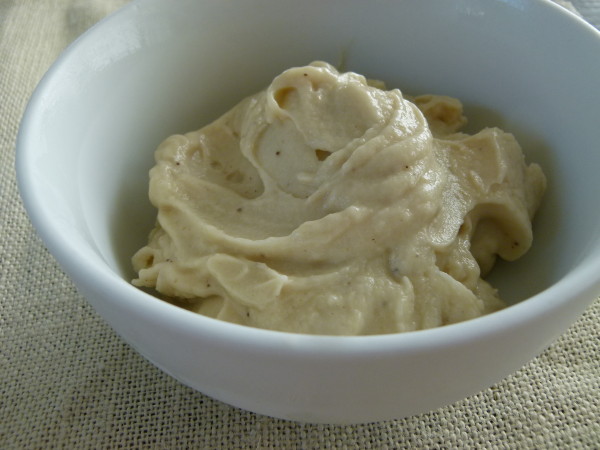 So why am I posting this "recipe" when I assume everyone has heard of banana "ice cream?"  Because apparently, not everyone has!  At least Gwyenth Paltrow doesn't think so.  I am a huge Gwyneth fan and I just received her new book, It's All Good, which looks fantastic.  Low and behold, there's a recipe in there for banana "ice cream" with roasted almonds.  If Gwyneth can put it out there, so can I.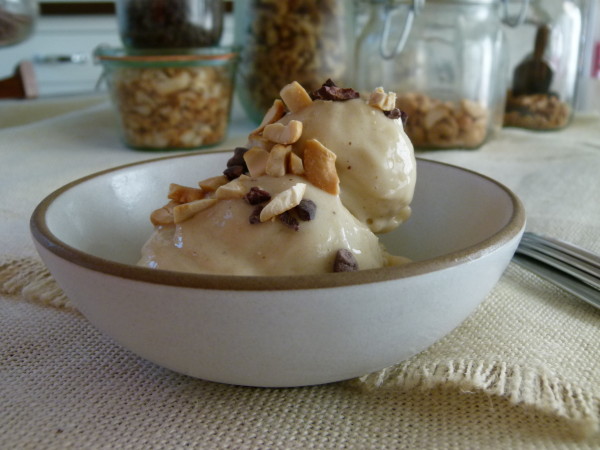 I do want to emphasize that you can't really follow a recipe here since there are a few variables which can affect the outcome of your ice cream.  First of all, you must start with ripe, well-speckled bananas.  Ripe bananas are much, much sweeter than pale yellow-skinned ones and will allow you to make this with a minimum amount of added sweetener.  That said, the amount of sweetener will vary according to the sweetness of your bananas.  I've made this many times without any sweetener at all, but sometimes a smidge of raw honey adds just the right amount.  So it's best not to follow a recipe and just "sweeten to taste."  Keep in mind however, that this recipe uses 4 bananas.  So don't eat the whole thing unless eating 4 bananas is a normal thing for you.  I always add stuff to it like chopped nuts, raw cacao nibs or granola to make it a little more substantial and keep it healthy.  But you can have fun and put out a "sundae" bar with toppings like chocolate sauce, mini-chocolate chips, toasted coconut or honey-roasted peanuts.  This is a truly guilt-free treat!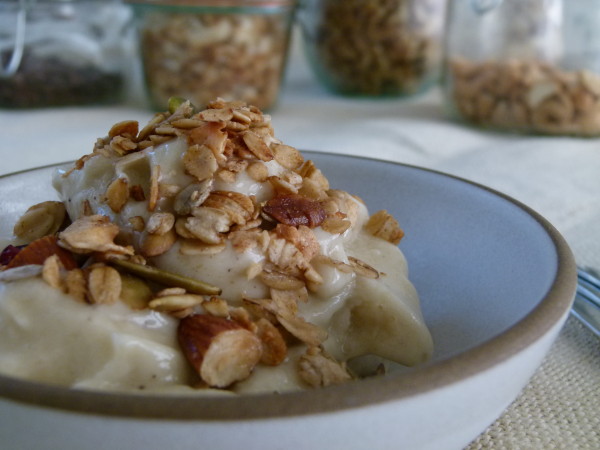 Banana "Ice Cream" Sundae
Ingredients
4 ripe bananas, peeled and cut into 1-inch pieces, about 2 ½ cups (if you're using a Vitamix or another high-powered blender, you can cut bananas into larger pieces)
¼ - ½ cup unsweetened almond milk or milk of choice (you can use the smaller quantity if you're using a Vitamix)
½ teaspoon pure vanilla extract
sweeten to taste with a few teaspoons (more or less) of raw honey, Grade A maple syrup or a couple drops of stevia
Toppings: granola, raw cacao nibs, mini-chocolate chips, toasted coconut, chopped walnuts, chopped toasted and salted cashews, chopped honey-roasted peanuts, chocolate sauce
Instructions
Arrange the banana pieces on a baking sheet or a plate and freeze until frozen. Click here for a step-by-step on how to freeze fruit. Place individual bowls for the ice cream in the freezer.
When the bananas are frozen, store in a container for later use or place in the bowl of a food processor or Vitamix or other high-powered blender. Add almond milk, vanilla and sweetener to taste. Process until smooth and creamy. I find that the food processor needs a little more liquid and a few more seconds to achieve the desired consistency, which is like soft serve ice cream.
Transfer the ice cream to the frozen bowls and serve immediately with toppings, if desired. You can also store the ice cream in the freezer for another time, but you'll need to allow it to sit on the countertop to soften up for a few minutes before eating so that it's scoopable.
Notes
Sweeten to taste with raw honey, Grade A maple syrup or stevia according to how ripe your bananas are.  You may not need to add any sweetener at all!