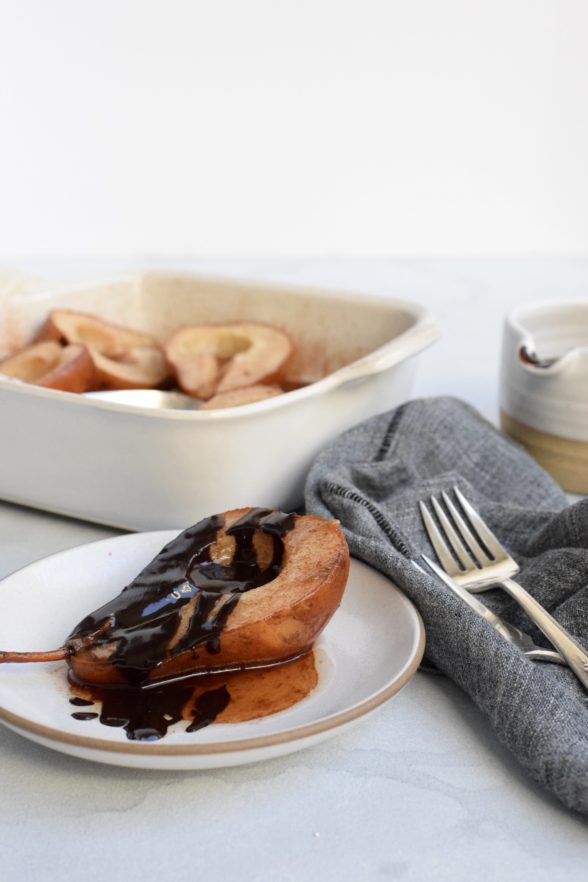 If you're like most people, you're probably thinking you've got one last hurrah before the parties come to an end and the decorations go back in storage.  A final splurge before you return to your normal routine.  One last dance with the devil before resuming your life of miso and greens.  If you've been messing around with too much sugar this holiday season, there's no point beating yourself up over it.  Hopefully it was worth it, but hopefully it doesn't send you down that slippery slope of daily dessert.  I've got one last treat for you, but nothing you need to feel guilty about.  In fact, these roasted pears just might rock your new year's eve.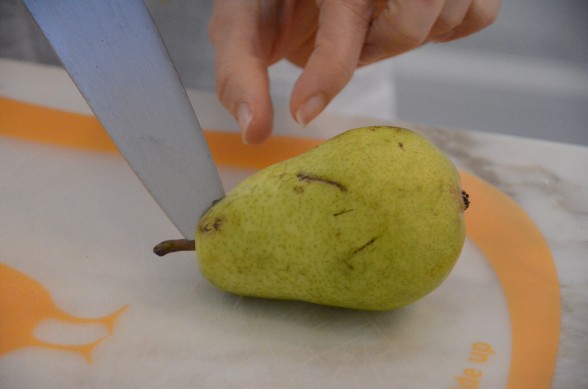 Why don't pears get more attention?  There are so many delicious varieties and the fragrance of a perfectly ripe pear is completely intoxicating.  Plus, I think they are sooooo beautiful.  I love pear crisps, pear upside-down cake or just simply sauteed pears on top of waffles or pancakes.  But the pear dessert I make most often is simply roasted with a rich dark chocolate sauce or plain vanilla ice cream.  I've tried poached pears before, but the flavor is not quite as intense as roasted.  The best part is that these are easy enough to whip together as a last minute sophisticated dessert for a dinner party or just a cozy night at home in front of the fire playing Bananagrams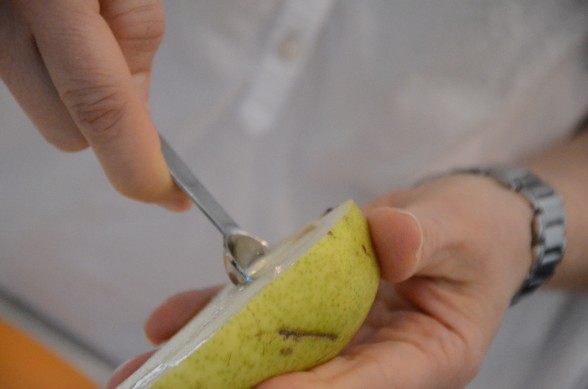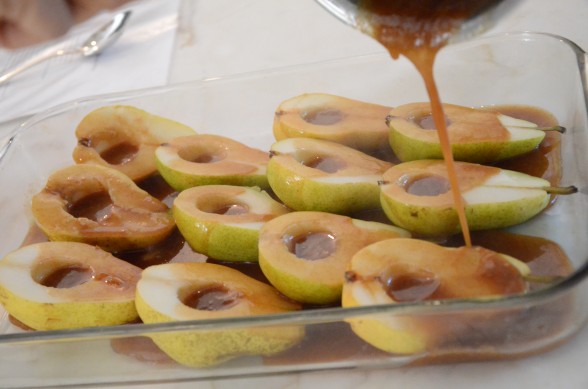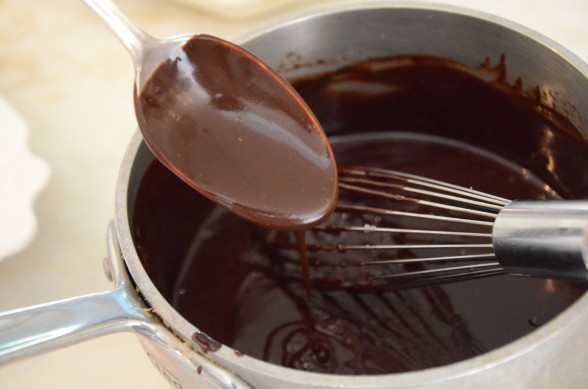 I love when the sweet end to a meal isn't loaded with sugar and refined ingredients.  I especially feel that way about fruit desserts, which should taste like fruit and not just sweet.  These roasted pears are certainly fabulous enough to serve without the dark chocolate sauce, but good gracious, the sauce is just heaven.  It's good to have a perfect chocolate sauce recipe in your back pocket since it can dress up everything from plain berries to ice cream to a simple cake.  Mr. Picky suggested he might even try Swiss chard if he could put this chocolate sauce on it.  I just might let him.  If dark chocolate isn't sweet enough for your lovelies, you can use semi-sweet or milk chocolate instead.  But just keep in mind, the darker the chocolate the higher the percentage of cacao and the lower the sugar.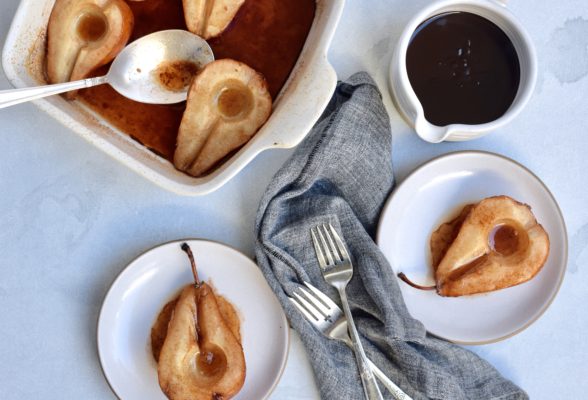 What will be your grand finale for 2011?  Whatever is it is, I hope it's delicious.  Wishing you a happy and healthy 2012!

Roasted Cinnamon Pears with Dark Chocolate Sauce
Serves:
serves 6 (in the photos, I doubled the ingredients)
Ingredients
⅓ cup pure Grade A maple syrup
⅓ cup unsweetened apple juice
3 Tablespoons unsalted butter
1 teaspoon ground cinnamon
3 firm, but ripe pears, such as Bosc or Bartlett
¼ cup heavy cream
¼ cup whole milk
2 Tablespoons natural cane sugar or maple sugar
1 Tablespoon unsalted butter
4 ounces dark or bittersweet chocolate, coarsely chopped
½ teaspoon pure vanilla extract
sliced almonds or chopped pecans for garnish (optional)
Instructions
Preheat oven to 400 degrees.
Cut the pears in half through the stem, if possible. I take a knife and start an inch above the stem and slice through the stem, so both halves get a piece of stem – looks pretty! Then take the knife and slice the pear all the way in half, following the original cut. Remove the core with a round metal measuring spoon. Arrange the pears cut side up in an 8 or 9-inch square glass or ceramic baking dish.
In a small saucepan over medium low heat, whisk together maple syrup, apple juice, butter and cinnamon until butter is melted.
Pour the sauce over the pears. Bake for about 30 minutes, or until the pears are tender. Baste occasionally with the pan juices.
In a small saucepan over medium heat, warm together cream, milk, sugar and butter. Stir to dissolve sugar. Turn heat off and add chocolate and vanilla. Stir until chocolate is melted and sauce is smooth.
Serve 1 pear half per person. Drizzle with chocolate sauce and garnish with sliced almonds or chopped pecans, if desired. Any remaining pear basting liquid is delicious over French toast or pancakes.