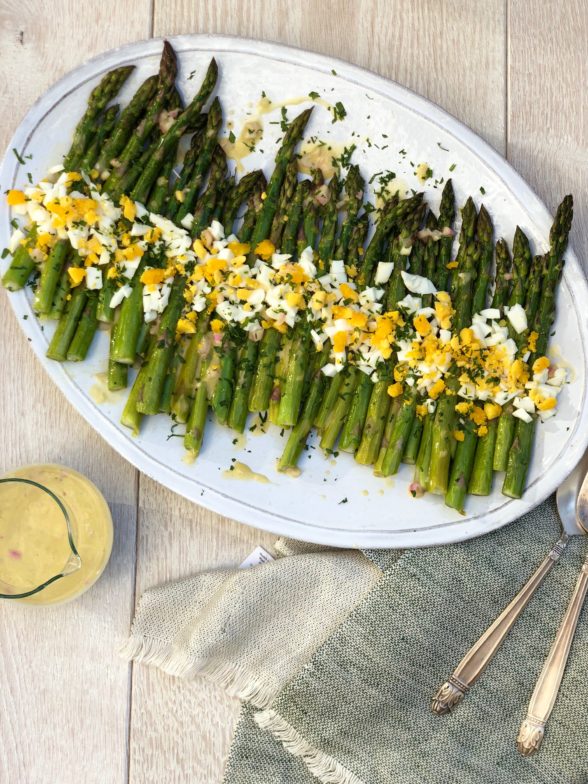 Someone asked me on Instagram live last night what I like to make for Passover, and I responded that I don't have any special dishes that I always make, but I like to keep things modern and seasonal.  I didn't grow up Jewish and I personally don't love traditional Jewish holiday food like potato kugel and matzo ball soup, although I know many people are big fans.  Starches on Passover due tend to be more limiting since you can't use most grains.  But there are a plethora of delicious and versatile root veggies, sweet potatoes, regular potatoes and approved grains like quinoa.
But the vegetables are where I always like to focus my attention and where I get most excited!  I like to keep my proteins simple and do some more interesting preparations of the vegetables.  Asparagus is ALWAYS on my spring holiday table, whether it is Easter or Passover.  My mother always made asparagus in some way on Easter.  It is the quintessential spring vegetable and so versatile.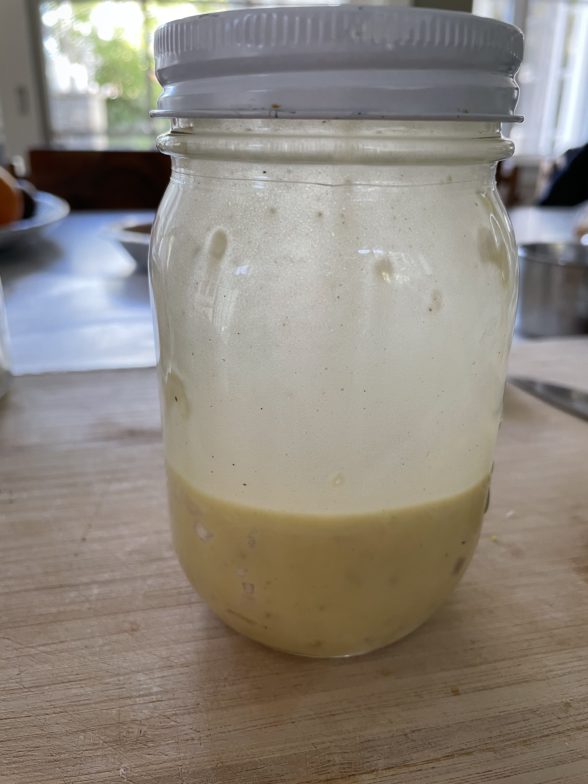 I love this Asparagus Mimosa recipe because it is easy, delicious, light, and reminds me of daffodils, which are always in bloom in the spring at my parents' house.  Hard-boiled eggs are also a common fixture on spring holiday tables, whether on a Passover seder plate or Easter baskets.  Eggs are a symbol of rebirth, which I feel is quite appropriate now more than ever.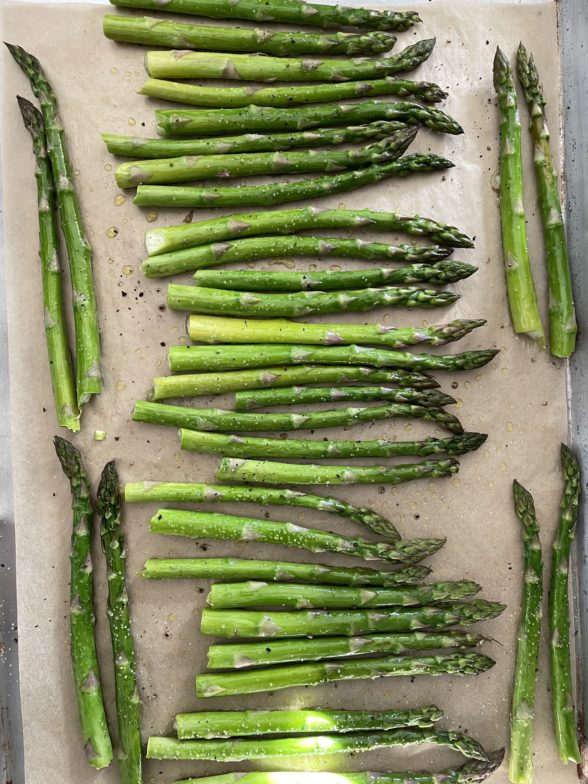 For you meal preppers, wash, dry and trim your asparagus a few days ahead; make your vinaigrette a few days ahead; hard boil your eggs a few days ahead.  You can make this with roasted or blanched and chilled asparagus.  If you want to serve this cold, you can blanch and chill your asparagus a day or two in advance.  See how easy this gets!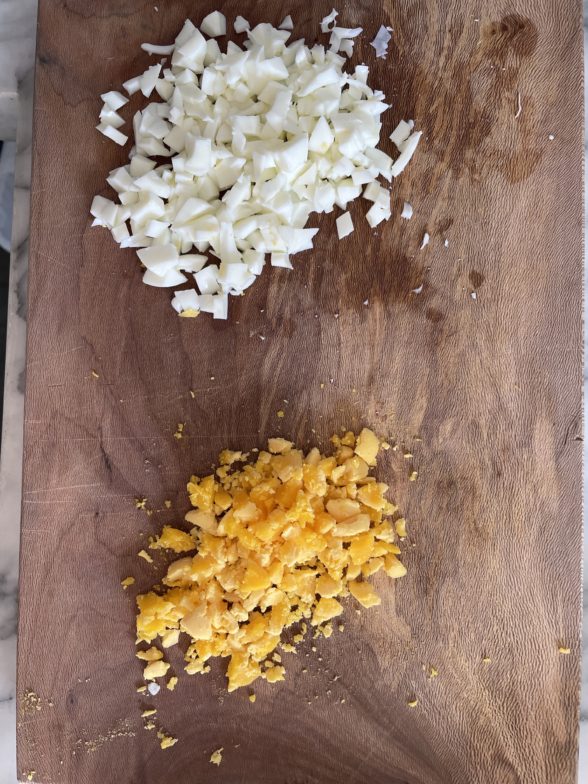 If you don't do eggs, just omit them and add another textural component like feta and pistachios, or avocado and dill.  Just suggestions, of course.  You can add the vinaigrette and call it a day!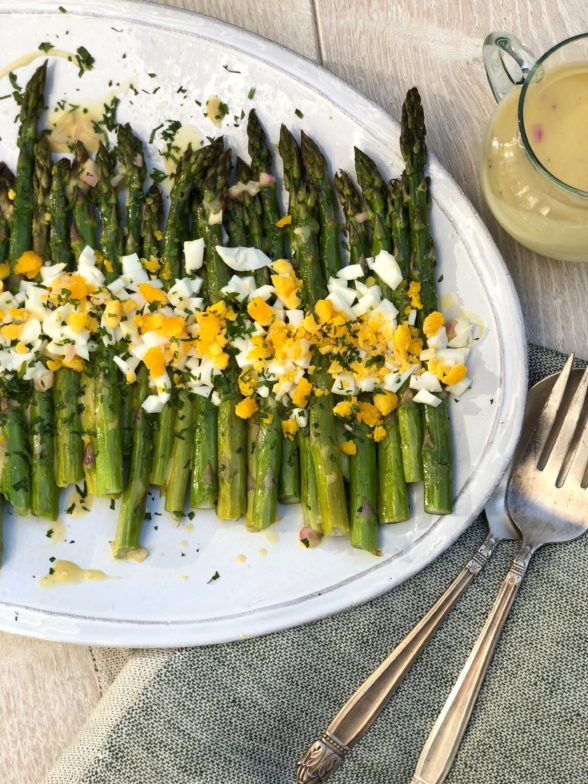 For more Passover ideas, please check last week's dinner planner.  And if you haven't made the Passover popovers, YOU MUST!  For Easter ideas, look out for this coming week's dinner planner on Saturday morning :).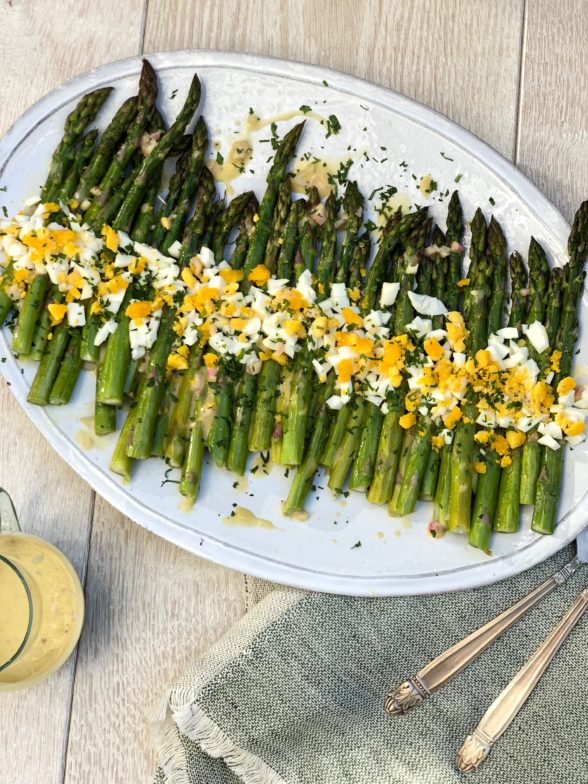 I would love to see anything you recreate from my website, classes, and/or books!  Please tag me @pamelasalzman #pamelasalzman on Instagram.  I hope you have a lovely Passover seder, if you celebrate, and that you may have an opportunity to get together with some loved ones this year!
You can shop the tools I used for this recipe by clicking on the images below:

Asparagus Mimosa
Ingredients
Dressing:
¼ cup finely chopped shallot
2 teaspoons Dijon mustard
3 Tablespoons white wine vinegar or champagne vinegar
2 Tablespoons soy-free Vegenaise or good quality mayonnaise
½ teaspoon sea salt
Freshly ground black pepper
3 Tablespoons unrefined, cold-pressed extra-virgin olive oil
2 pounds medium asparagus, tough ends snapped off
Kosher salt
2 hard boiled* eggs, peeled and rinsed
1 Tablespoon chopped chives or parsley
Instructions
In a jar with a tight fitting lid, add the shallot, mustard, vinegar, Vegenaise, salt and pepper, and olive oil. Cover tightly with a lid, and shake to combine until fully emulsified. Set aside.
To serve asparagus cold: Prepare a large bowl with ice water and set aside. See notes below to serve warm. Bring a large pot of water to a boil. Season the water with a handful of kosher salt. Add the asparagus to the boiling water and cook until crisp tender, 2-4 minutes (depending on thickness). Drain the asparagus and immediately plunge the cooked asparagus into ice water to stop the cooking. Drain and reserve until ready to serve.
Separate the cooked egg whites from the yolks and finely chop both.
To serve, place the asparagus on a platter, season with salt* and dress evenly with two-thirds of the vinaigrette. Sprinkle with the chopped egg whites, then the chopped egg yolks, and then sprinkle with the chives. Serve the remaining vinaigrette on the side.
Notes
Alternatively, if you would like to eat the asparagus warm, you can cook the asparagus without placing in an ice water bath and serve right away. Season with salt before serving. Another option is to roast the asparagus tossed with olive oil, salt and pepper at 400 degrees on a parchment lined baking sheet for 10-12 minutes or until tender. Then serve with dressing, eggs and chives.

*you don't need to season with additional salt if asparagus was roasted in the oven with salt.

To hard boil eggs: bring a saucepan of water (enough to generously cover the eggs) to a boil. Carefully add the eggs with a spoon and set your timer for 10 minutes. Assemble a bowl with ice water. After 10 minutes, transfer the eggs to the ice water bath and allow to cool for 10 minutes and then remove.