If you bought some Argentinian yerba mate after I posted a story on Instagram where I was drinking it or after I posted this chicken and cilantro soup with brewed yerba mate, I have a new recipe which can make use of it.  This recipe will also use Argentinian yerba mate in an unexpected way, this time in chocolate truffles!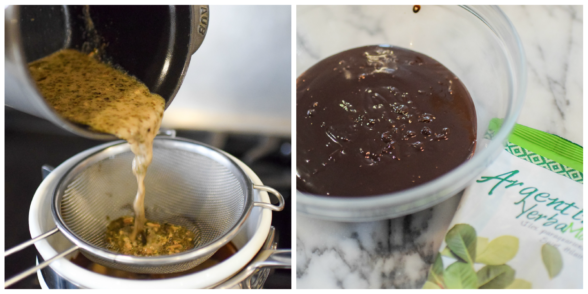 I don't know about you, but when my sweet tooth hits, it's relentless!  I love having sweet treats on hand in the fridge or freezer so that I am not tempted by my son's stash of leftover Halloween and Valentine's candy.  My favorite flavor when it comes to treats is chocolate.  Always.  And I am a tea junkie, so I thought this would be the perfect combo and a great energy boost for that 4:00 pm slump when I need a little something.  I added some cinnamon and cayenne to this batch for a little Latin influence.  But you can make them without.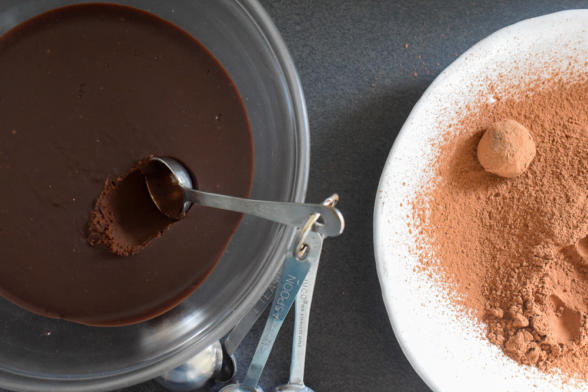 Don't worry, the caffeine in the tea and the chocolate is not too much.  My son ate 4 of these in one sitting and he was 100% fine and not impacted at all.  And he loved them!  They're so easy to make, I think they're perfect to whip up anytime.  But they're also fancy enough to make and serve after dinner to guests.  Or to package up as a gift for a Mom for Mother's Day!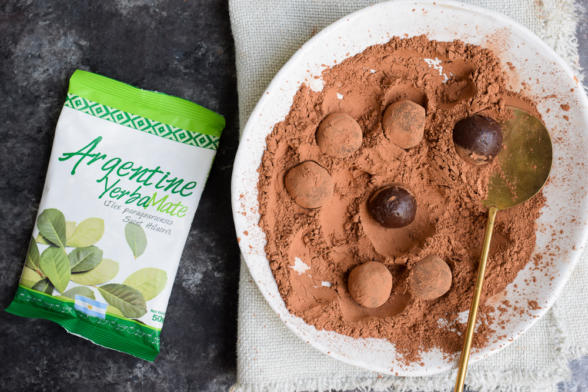 Yerba mate actually has more antioxidants than green tea and with the antioxidants in chocolate, these truffles can actually be healthy!  You can find chocolate that is sweetened with stevia and erythritol or honey, if that's important to you.  Or use super dark chocolate and add a couple drops of stevia to taste for a much lower carbohydrate option.  In the meantime, you can find authentic Argentinian yerba mate online.  Brands I like are Rosamonte and CBSe.  Here's to eating truffles for health!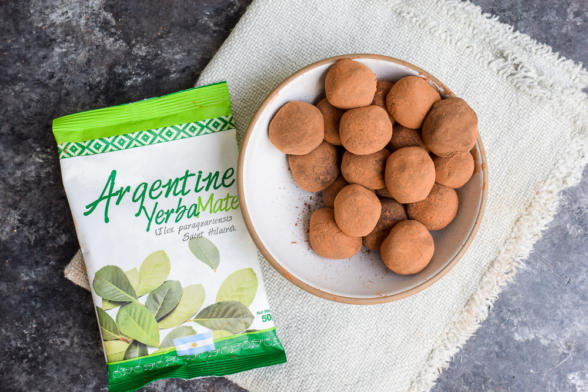 Created in partnership with Argentinian Yerba Mate.
You can shop the tools I used for this recipe by clicking on the images below!

Yerba Mate Chocolate Truffles Recipe
Author:
adapted from Whole Foods Market
Serves:
about 20 truffles
Ingredients
8 ounces dark chocolate or bittersweet chips or chunks (I tried this with semisweet and they were too sweet for me.)
6-8 Tablespoons full-fat coconut milk (if the milk seems thin, use the lesser amount)
½ teaspoon pure vanilla extract
¼ teaspoon ground cinnamon
pinch of cayenne pepper (or to taste)
pinch of sea salt
2 Tablespoons loose leaf yeba mate tea (or 2 tea bags)
¼ cup unsweetened raw cacao powder, for rolling the truffles
Instructions
Melt the chocolate in a medium heat-proof bowl (like Pyrex) over a pot of simmering water (or use a double boiler).
Meanwhile, bring the coconut milk to a boil in a small saucepan with a lid. Turn off the heat and add the vanilla, cinnamon, cayenne, salt and yerba mate, cover and let steep for 5 minutes.
Strain the coconut milk mixture directly into the melted chocolate using a fine mesh sieve. Discard the tea leaves and whisk the chocolate and coconut milk until everything is smooth, melted and combined.
Pour the truffle mixture into a small, cover with plastic wrap and refrigerate for 2 hours or up to overnight.
Once the mixture has firmed up in the refrigerator, sift the cacao powder into a bowl. Use a 1 teaspoon measuring spoon, very small ice cream scooper or melon baller and scoop up the truffle mixture and roll it into a ball with your hands. Don't overwork the mixture or it will melt in your hands. Drop the ball into the cacao powder and roll around to coat. Repeat with the rest of the mixture.
Store in an airtight container in the refrigerator for up to 2 weeks.