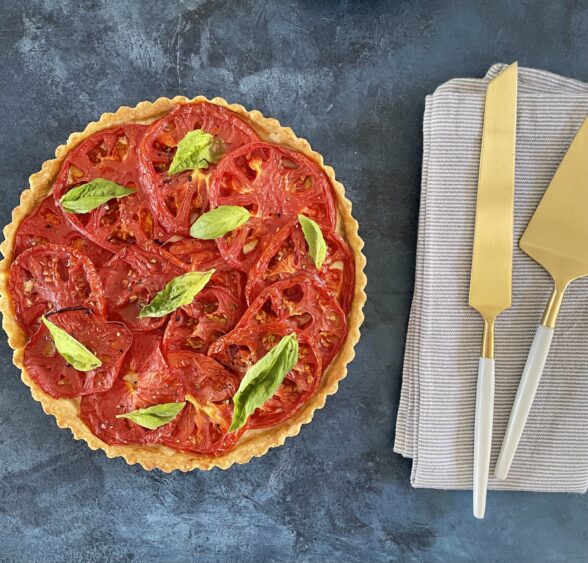 I feel like a lot of us use the phrases "pre-pandemic" or "before the pandemic" regularly in conversation.  For example, "I used to go the grocery store much more before the pandemic." Or, "the last time I entertained indoors was pre-pandemic!" For me personally, some things have changed and have not gone back to pre-pandemic ways.  For starters, grocery shopping in person.  It's not that I never go to a store, but I LOVE shopping for groceries online.  I have been a Walmart.com shopper for years and years and jumped on the Walmart+ membership which is the answer to my prayers – fresh, high quality (yes, organic and products I normally buy) groceries with free, same day delivery from your local Walmart ($35 minimum. Restrictions apply.)  Yes, you need to pay for a membership, but have you seen LA traffic lately??  It is back to pre-pandemic levels!!  The membership has been well worth it.  May I repeat myself – groceries delivered the same day.  And, no mark-ups, no hidden fees.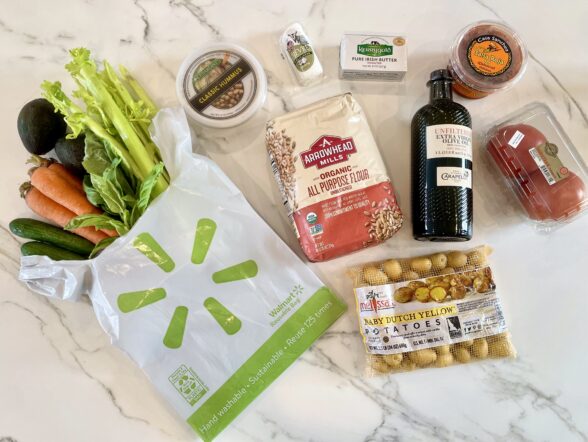 Here's a scenario that just happened – I ran into a friend when I was out on my morning walk and I said, "we should get together soon!"  And she said, "how about tonight?"  Great!  I love doing impromptu happy hours with friends because they're easy and casual and my friends love snacks and drinks as much as I do.  The thought of battling traffic, dealing with the lines in the grocery store, and hauling my groceries home did not appeal to me.  So I ordered a bunch of great stuff from Walmart+ to make easy, but delicious hors d'oeuvres and bam!  That day I had all these high-quality ingredients delivered.  PLUS, I ordered some other products that you don't see here like Dave's Killer Bread, organic frozen fruit for smoothies, Primal Kitchen ketchup, Wildbrine sauerkraut, and Bragg's apple cider vinegar.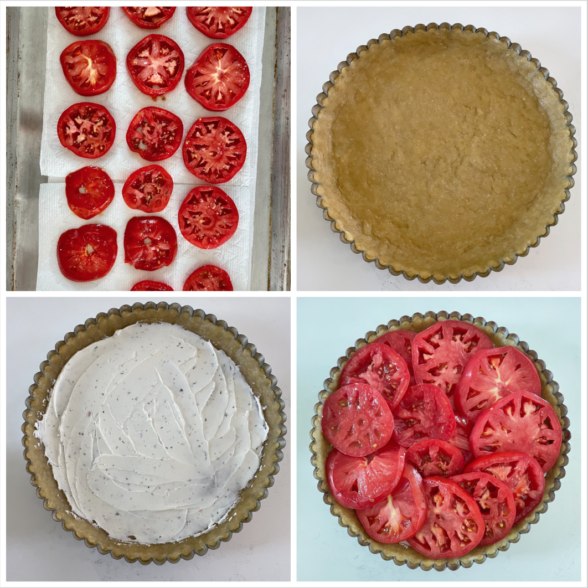 Pre-pandemic, I did many grocery store stories from Walmart to show how many organic grocery items and hidden gems that had in store.  And I am very aware that Walmart is the most convenient option for grocery shopping in many areas of the country.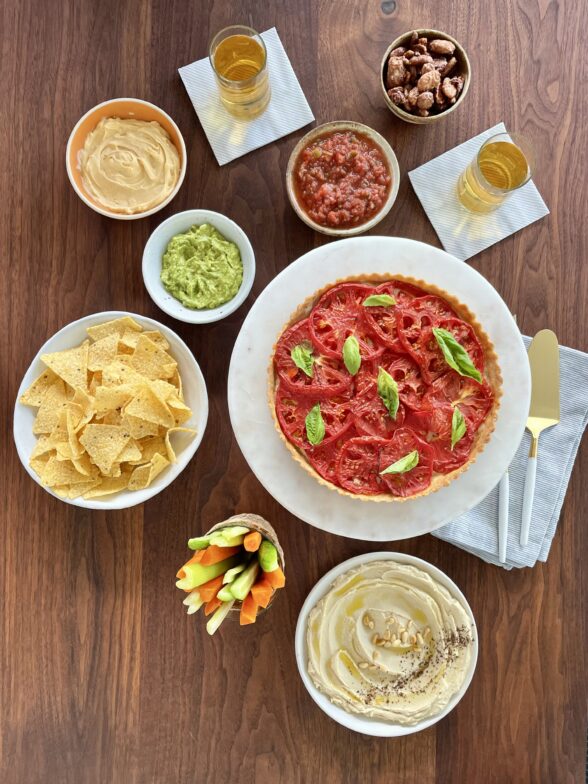 In addition to the favorites – crudites and hummus, guacamole, chips and salsa, and spiced nuts – I whipped up my famous queso dip and this gorgeous and easy tomato tart with an olive oil crust.  All my friends went crazy for it!  I used an herbed goat cheese I ordered through Walmart+, but you could also do a vegan herbed cream cheese or a cream cheese to which you add fresh herbs (chives, basil, parsley would all be great.)  This tart would also be a lovely savory dish to serve at a brunch or lunch.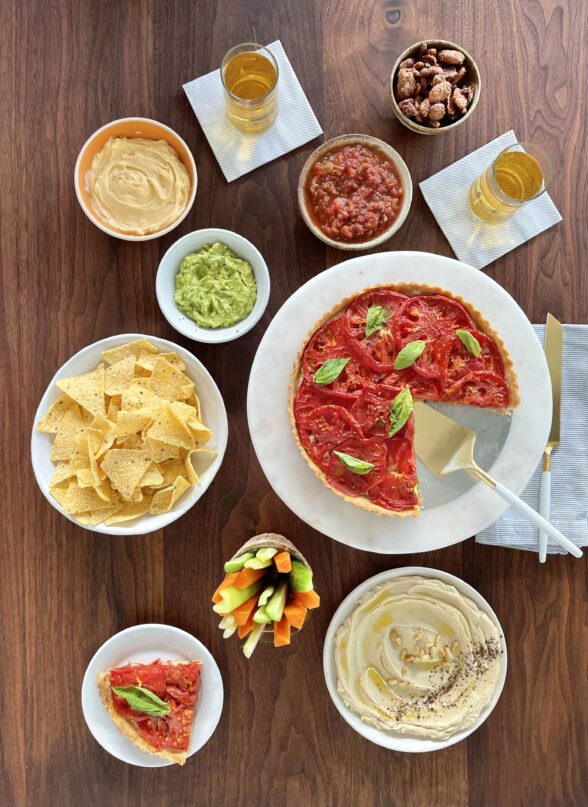 If you are like me and you are getting back into a cooking routine, trying to eat healthfully, maybe even socializing more at home, absolutely check out the Walmart+ membership for free, same day delivery or free pick up at the store. Different zip codes may have different benefits.  You can even do a free trial. You'll never run out of basic groceries again or maybe you'll be able to plan a spontaneous get together with those friends you haven't seen since before the pandemic!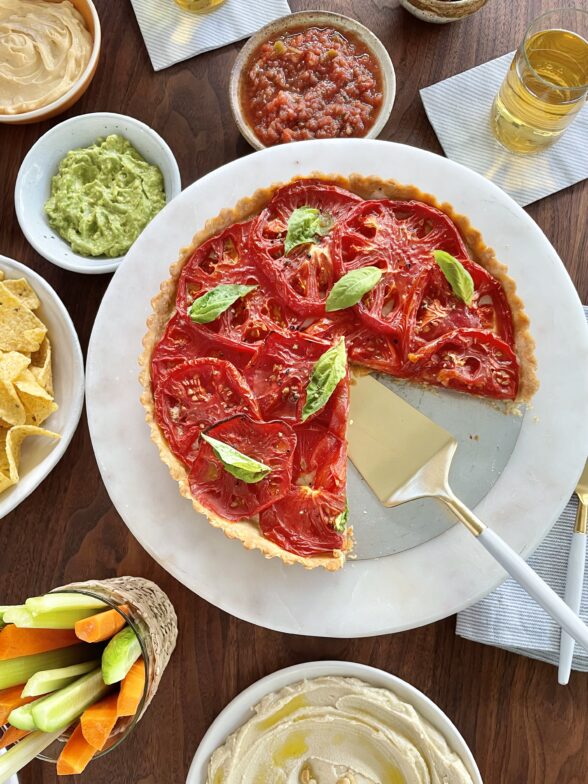 You can shop a few of the items I used to pull this together at the last minute by clicking on the images below:

Tomato Tart with Olive Oil Crust
Ingredients
Filling:
1 1⁄2 pounds ripe tomatoes, such as heirlooms (about 3 large)*
Kosher salt and freshly ground black pepper
4 ounces, about 1⁄2 cup herbed cream cheese or goat cheese, at room temperature (I used herbed goat cheese)
1 Tablespoon unrefined, cold-pressed extra virgin olive oil
2 Tablespoons fresh basil leaves, roughly chopped
Crust:
1 1⁄2 cups grain flour of choice (I used all-purpose flour, but I have used sprouted whole wheat and einkorn)
1⁄2 teaspoon sea salt
⅓ cup unrefined, cold-pressed extra-virgin olive oil
3 Tablespoons oat milk or milk of choice
Instructions
Line a large sheet pan with two layers of paper towels.
Slice tomatoes (cherry tomatoes can be sliced in half) into 1⁄4 inch rounds and place in one layer on the prepared sheet pan. Sprinkle tomato slices with kosher salt and allow to sweat for 30 minutes. Blot tomato slices with paper towels.
Position oven rack on the lowest level and preheat oven to 400 degrees.
In a medium bowl, add all crust ingredients and stir to combine with a wooden spoon or spatula until a ball of dough forms. You may need to use your hands to shape dough into a ball. Place dough in a 9-inch tart pan and use your fingers to press the dough evenly into the pan and up the sides to form a thin crust. You can also use a pie plate or 9-inch cake pan, preferably a springform, and form a 1⁄2 inch high border around the sides.
Spread the herbed goat cheese evenly over the crust. Top with the tomato slices and overlap them. They're going to shrink so don't leave any gaps. Grind a little pepper on top.
Carefully place tart pan on a rimmed baking sheet and bake on the lowest rack until the crust begins to brown, about 50-60 minutes or until tomatoes are well roasted. Remove from the oven, drizzle the top with olive oil** and garnish with fresh basil leaves, if desired.
Cut tart into wedges and serve warm or at room temperature.
Notes
*can be done with zucchini instead. Do the same method.
If you have a plain cream cheese or goat cheese, stir in chopped herbs to add more flavor. You can also swap in 1⁄4 cup Dijon mustard for the cream cheese/goat cheese + shredded gruyere or fontina + greens herbs.
I also like Divina Foods caramelized onion jam as the base with fresh herbs.
**for an extra special touch, sauté minced garlic in the oil until fragrant, but not too golden, and use that to drizzle on top of the tart.