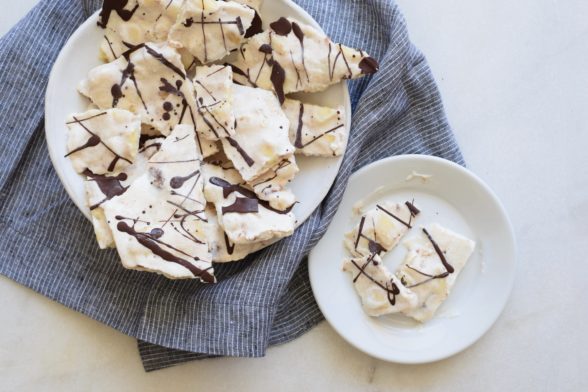 It has been quite a week! I had a quick trip to New York where I was able to meet some editors, taped a bunch of videos for NBCNewsBetter, and did a cooking segment out on the Plaza for The Today Show. Yesterday, I returned to my favorite local LA show, KTLA morning news to cook from the book, did a fun Facebook Live with my friend Catherine McCord from Weelicious, and spent the evening at Pages Bookstore in Manhattan Beach for a fabulous party celebrating my new book. Pages, by the way, is the only source for signed copies of my book!  Right now I am taping a cooking segment at Hallmark's Home & Family which will air on Monday. So exciting!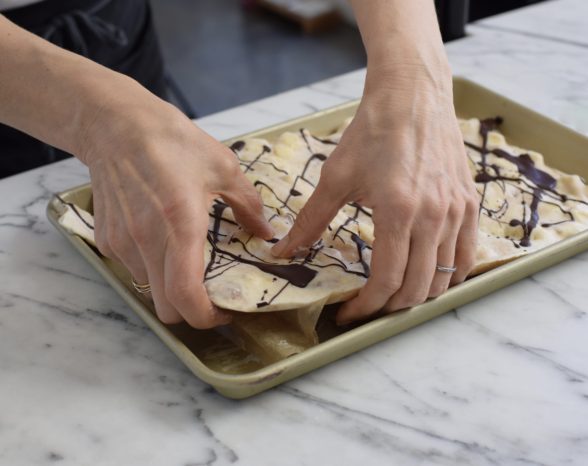 I have enjoyed hearing from so many of you that you are already having success cooking from the book. It has been surreal to see the recipes from the book come to life on Instagram and Facebook! Thank you for sharing the photos and your enthusiasm.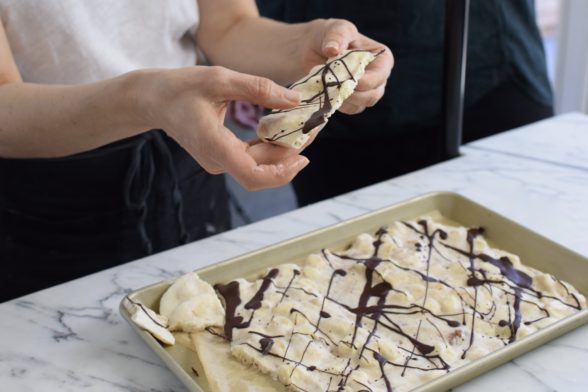 Today I want to show you a recipe which I taught in my classes last spring and one that you are going to FLIP over. This frozen yogurt bark is a healthy snack for summer, infinitely customizable and super simple to make. When I think of "bark," chocolate bark comes to mind. I picture melted chocolate studded with nuts and dried fruit which is then cooled to a hard state and broken into irregular pieces. I thought it would be a fun idea to do this with Greek yogurt which I would then flavor in different ways.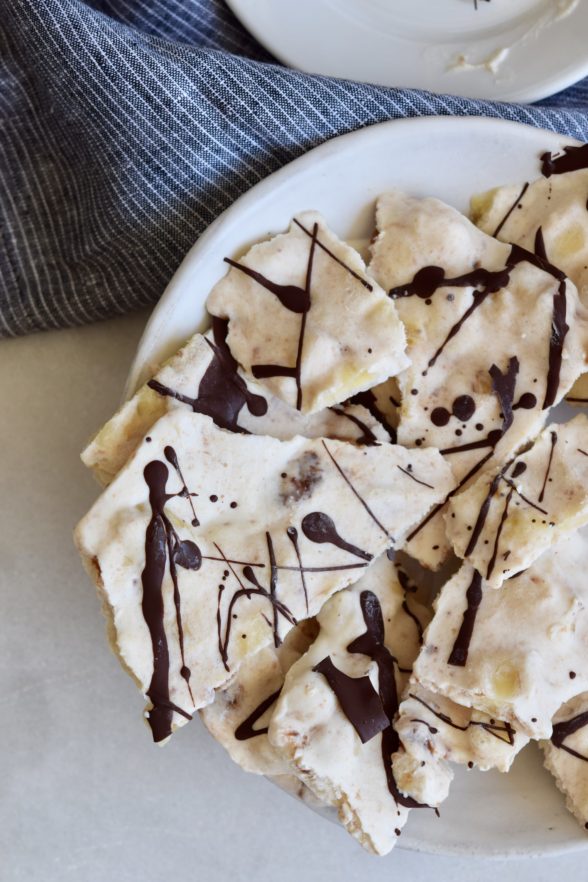 After the yogurt is flavored, it is spread onto a parchment-lined baking sheet and frozen until solid.  Then you break it by hand into irregular pieces and eaten out of hand.  It is so addictive and delicious, but totally healthy!  My husband loves ice cream after dinner, but ice cream doesn't love him (any time of day.)  A big stash of this bark in the freezer is his go to snack when a sugar craving hits.  And, I let my kids eat it for breakfast, as well as after school, because it's just yogurt and fruit with a little maple syrup.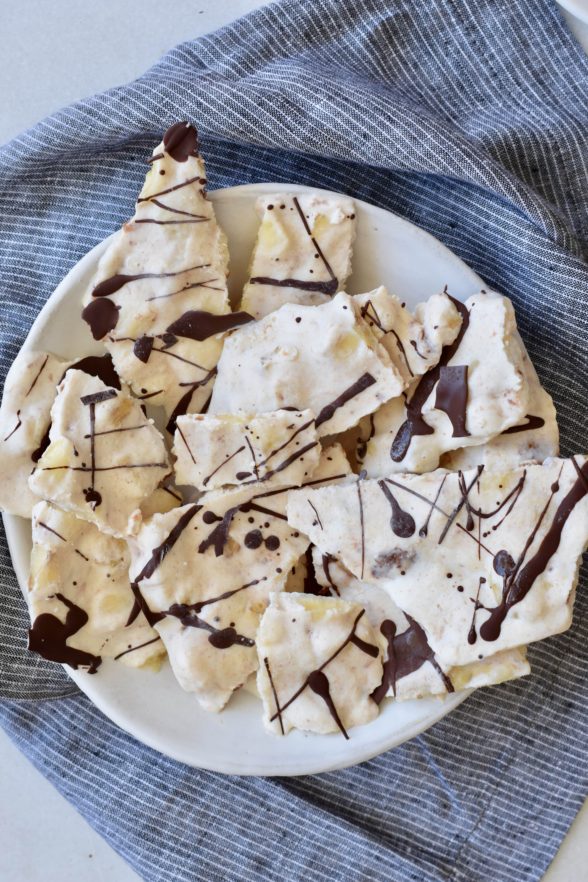 When I taught this in my classes last year, I only had time to do one variation, which is this one with bananas and all-fruit strawberry preserves.  But I offered other suggestions such swirling in peanut butter, or sprinkle in granola, or if you hate bananas you can stir in soft fruit like fresh figs.  I tried adding chopped strawberries once and they were too hard once they were frozen.  Same with dried fruit — I almost broke my teeth on a frozen dried cranberry!
This the kind of treat I love — easy to make, higher quality than store-bought popsicles or ice cream from a carton, not expensive, and customizable.  I think you'll have a lot of fun with this recipe this summer!

Strawberry-Banana Frozen Yogurt Bark
Ingredients
1 ½ cups unsweetened whole milk Greek yogurt
3 Tablespoons pure Grade A maple syrup
¾ teaspoon pure vanilla extract
pinch sea salt (optional)
¼ cup strawberry preserves, preferably no sugar added (or any flavor) - Trader Joe's has an organic one with no added sugar
1-2 ripe bananas, diced or other soft fruit like figs or cherries
optional:
½ cup good quality chocolate chips, dark or semisweet
½ Tablespoon unrefined virgin coconut oil
Instructions
Line a rimmed baking sheet with parchment paper.
Combine yogurt, syrup, vanilla, and salt in a medium mixing bowl and stir until well combined. Stir in strawberry reserves and diced banana.
Pour mixture onto prepared baking sheet and spread it into a ½"-thick rectangle or oval. Freeze until firm, about 2 hours.  Optional (you can do this before you freeze the yogurt or after is is frozen):  melt the chocolate and coconut oil in a heat-proof bowl set over a pot of simmering water.  Drizzle the melted chocolate over the yogurt with a spoon.  After the chocolate has hardened (this should happen immediately), break into pieces and store in a covered container in the freezer.  The bark should stay good in the freezer for up to 2 weeks.