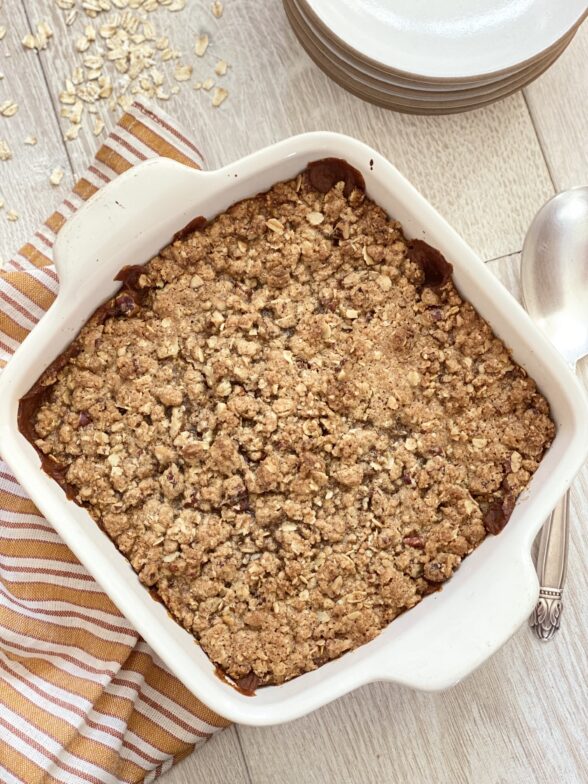 When in doubt, serve a fruit crisp.  Everyone loves a fruit crisp.  When I'm out to dinner and there are a dozen fancy choices on the menu, everyone leans towards the crisp.  Or the crumble (same as a crisp but minus the oats.)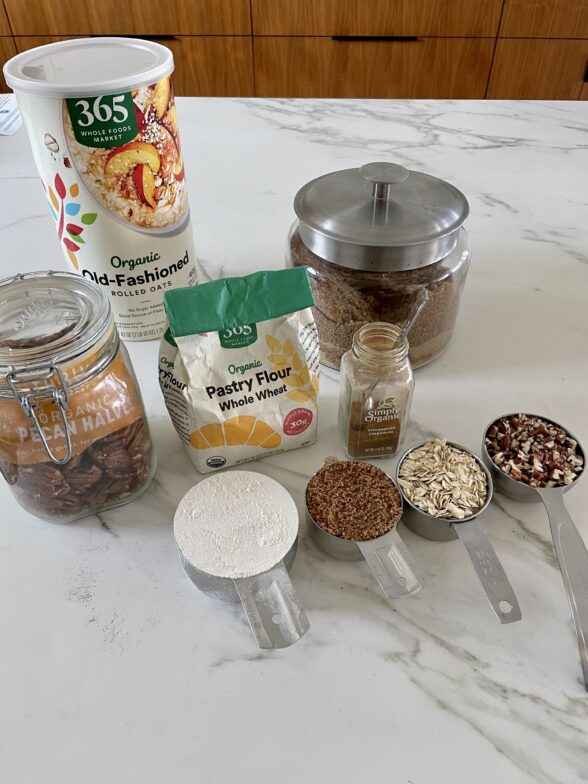 I mean, what is not to love.  Tender fruit, naturally sweet with a crunchy topping.  Add melty ice cream and it's a match made in heaven.  Fruit crisps are not over-the-top desserts, which you know are not my style.  I do eat dessert, but I prefer the not-too-sweet kind.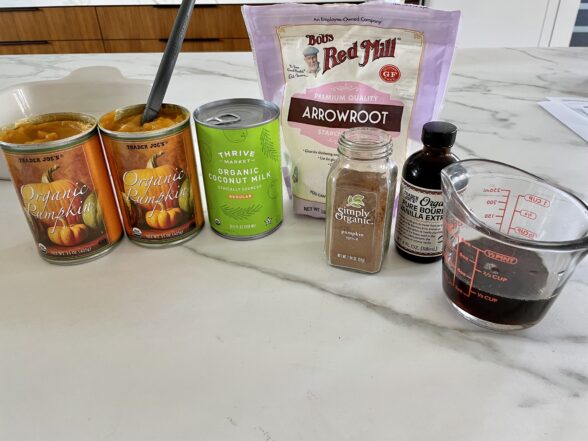 I am introducing you to a totally different crisp today – the pumpkin crisp! It's kind of like a crustless pumpkin pie (the filling is my favorite part anyway) with a crisp topping. It's not too sweet, of course, but full of great pumpkin spice flavor. And I created a filling that is vegan just for the heck of it.  But there is an option to use dairy if you want.  The topping can be made both vegan and gluten-free. It's not always easy to create a dessert which is vegan AND gluten-free.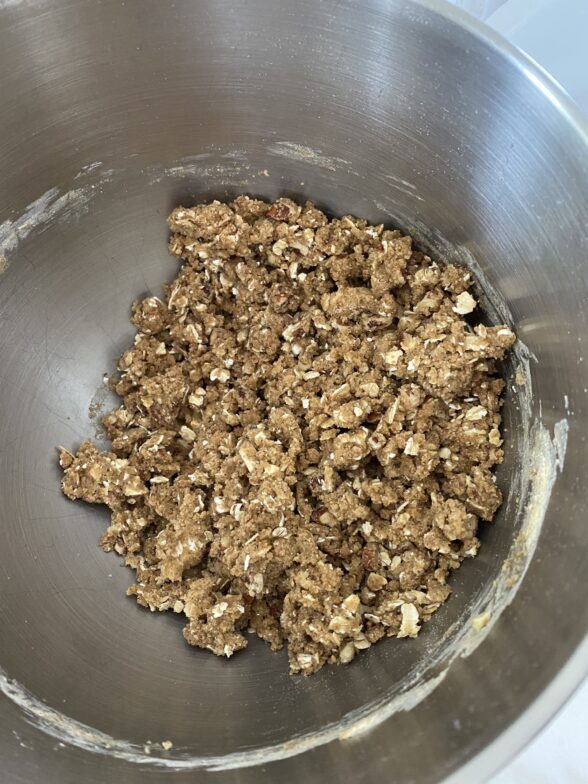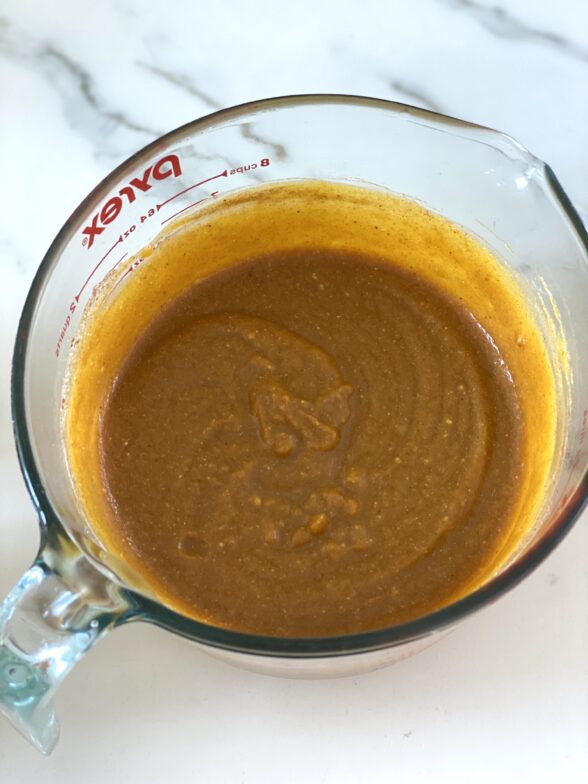 What I also love is that the ingredients are pantry staples, so this crisp can be whipped up without a trip to the grocery store. It also lasts for several days in the fridge.  Unlike fruit crisps, I prefer this one chilled just like my pumpkin pie.  Hubs said it was perfectly appropriate to eat with yogurt for breakfast. I think I'm having an influence on him!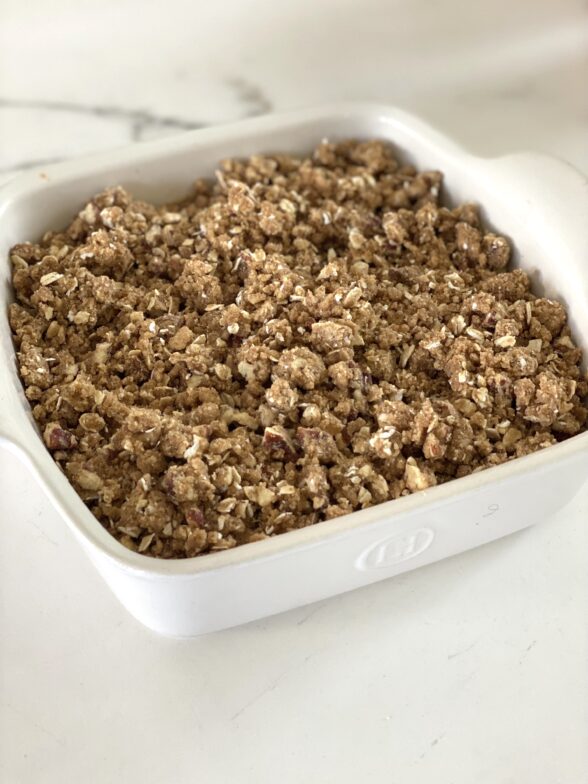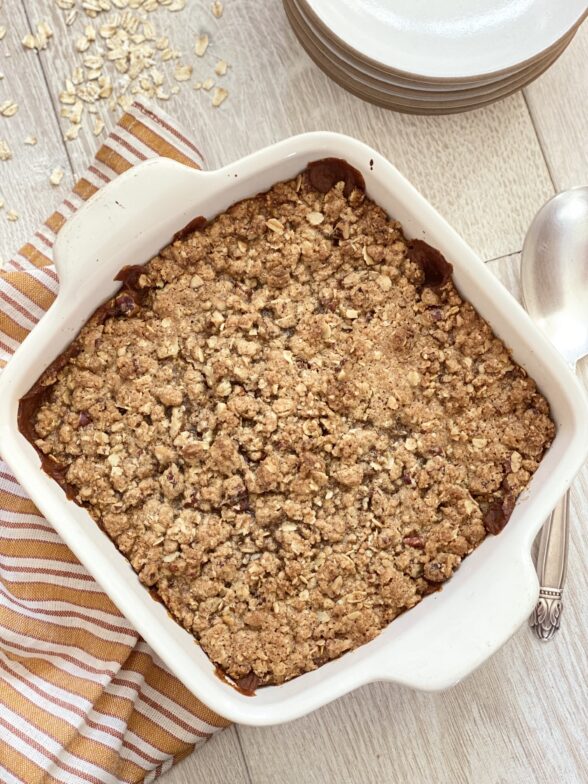 I did go heavy on the crisp topping because if you're going to eat crisp, you need to eat crisp!  The filling can also be your favorite pumpkin pie filling if you have one you love.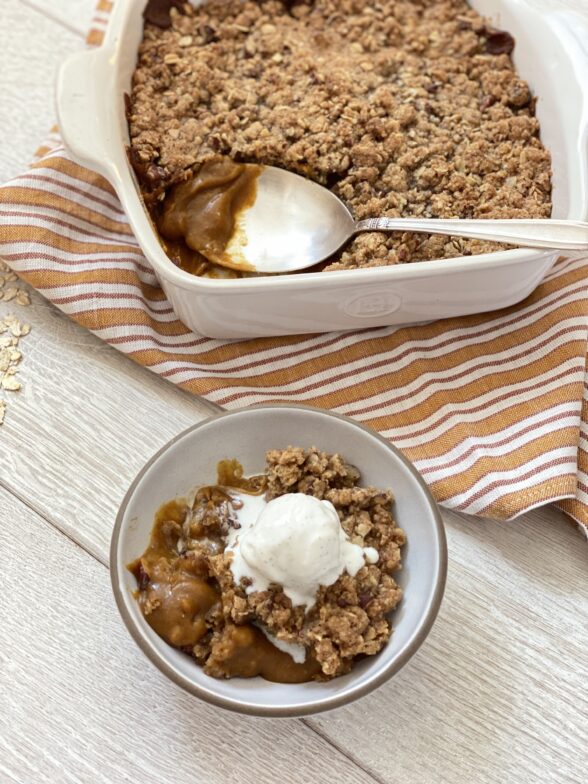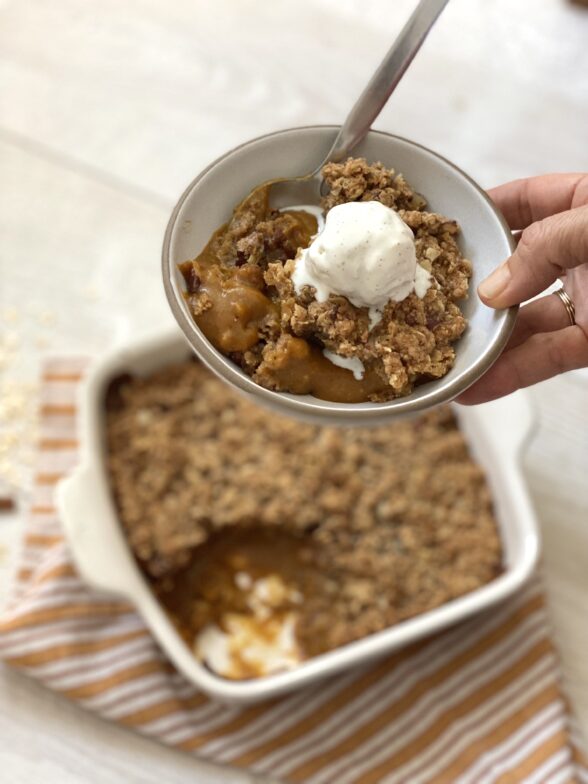 This is the ultimate fall dessert, as far as I'm concerned!  If you make this recipe or any of my recipes, please tag me on Instagram so I can see your beautiful creations @pamelasalzman #pamelasalzman!
You can shop the tools I used for this recipe by clicking on the images below:

Pumpkin Crisp
Ingredients
Coconut oil, vegan butter or unsalted butter (not vegan) for greasing the baking dish
Topping:
1 cup whole grain flour, such as whole wheat pastry, white whole wheat, einkorn, spelt GF flour blend, and/or oat flour (or combine any of these)
1⁄2 cup maple sugar, brown sugar, or coconut sugar (my preference is maple or brown)
1⁄2 cup old-fashioned rolled oats (look for gluten-free oats if you are gluten intolerant)
1 teaspoon ground cinnamon
1⁄2 cup chopped pecans (or use an additional 1⁄2 cup oats)
1⁄2 teaspoon fine sea salt
8 Tablespoons cold vegan butter, cold coconut oil or cold unsalted butter (not vegan), cut into pieces
Filling:
2 3⁄4 cups pumpkin puree (not pumpkin pie filling), about 1 1⁄2 (15-ounce) cans
1⁄3 cup pure maple syrup (you may be able to get away with less if you like very lightly
sweet desserts)
1⁄2 cup well-shaken coconut milk (from a can) or heavy cream (not vegan)
2 Tablespoons arrowroot powder (probably can sub cornstarch)
1 teaspoon pure vanilla extract
1⁄2 teaspoon sea salt
1 Tablespoon pumpkin pie spice*
Instructions
Preheat the oven to 375°F. Grease an 8 x 8 or 9 x 9-inch square baking dish with butter or coconut oil.
Add all topping ingredients in a bowl of a mixer fitted with the paddle attachment. Blend until the mixture resembles small peas. The mixture should look moist and not dusty and dry. But it should also have clumps and not be a pasty mass. If you don't have a mixer, this can be done by hand with a pastry blender or pulsed in a food processor (just add the oats and pecans afterwards so they don't get over processed.) Squeeze the topping with your hands to create small clumps and refrigerate while you make the filling.
In a large bowl, whisk together pumpkin filling ingredients until smooth and well combined. Pour into the prepared baking dish.
Sprinkle topping evenly over pumpkin filling.
Bake pumpkin crisp for 35-45 minutes or until pumpkin filling is bubbling a little on the sides and is set. Serve warm or at room temperature or refrigerate until chilled. I personally like it room temp or cold.
Notes
*If you don't have pumpkin spice mix, use 2 tsp ground cinnamon, 1⁄2 tsp ground ginger, 1⁄2 tsp ground cloves, 1⁄4 tsp ground nutmeg

This can also be made in a 9-inch round baking dish or individual ramekins