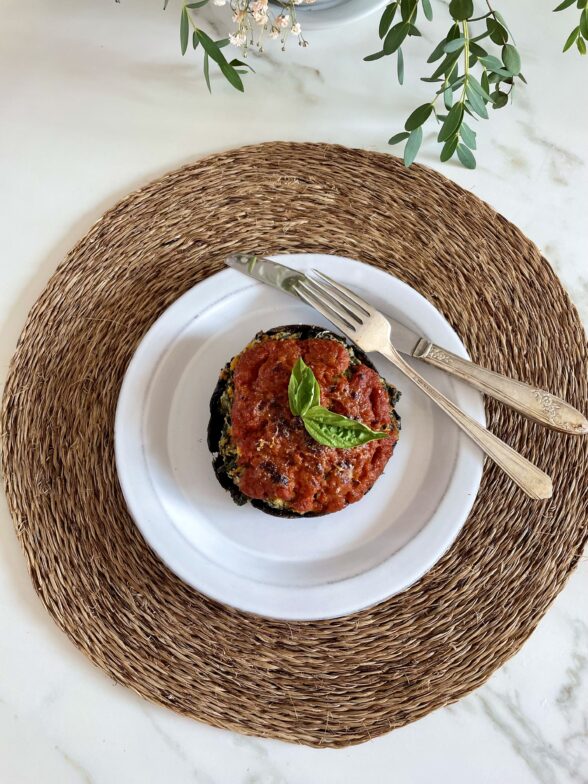 First of all, I am going to burst I am so excited that my newest, never before seen BOOTCAMP is open for sign-ups!!  We start next week and it's called Raising Healthy Eaters and it is your answer to how to raise children who have a healthy relationship with food, can make good choices when they are away from you, and how to stop being a short order cook.  If you're new here, I raised three children (two of whom were really picky and now they're not!), taught over a thousand students (mostly moms) in person over the years, and educated hundreds of elementary school students in nutrition and gardening.  I've been there, seen it, heard it, counseled, learned, and implemented my strategies FOR CHILDREN OF ALL AGES with incredible success.  I have poured all my knowledge into this course and I cannot wait to change your life!!!  For my website subscribers and my students, I am sweetening the deal with a $100 off coupon code:  KIDS100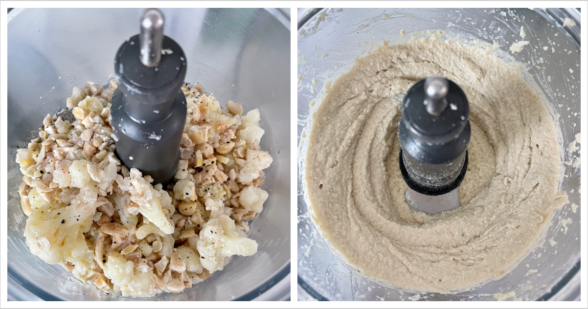 Now to the recipe! I'll come clean really quickly and note that there are no actual lasagne noodles in this recipe/in these mushrooms.  I just stuffed the mushrooms with some of the classic ingredients you would often find in lasagne, like ricotta and tomato sauce. This is a nutritious take on lasagne, which often feels heavy and loaded with tons of dairy, sometimes meat, and white pasta.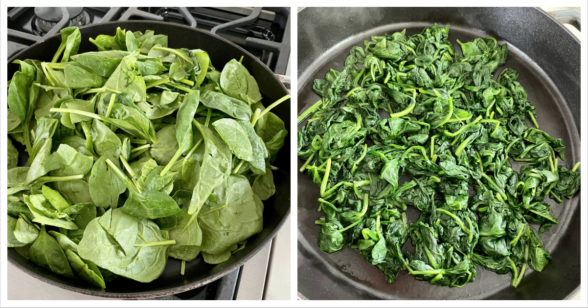 I think traditional lasagne can fit into a healthy diet, of course, but I feel very weighed down and not awesome after I eat it.  These stuffed portobello mushrooms give me all the satisfaction of lasagne, and all the nutrition of mushrooms (they're full of minerals, B vitamins and phytonutrients) and I feel great afterwards!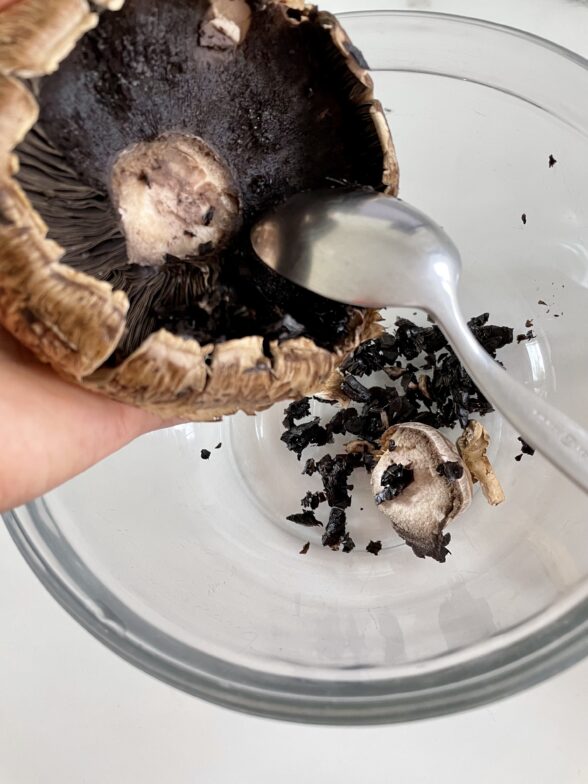 You can customize these mushrooms of course and add some COOKED animal protein if you like (ground turkey sausage would be delish), but I have always felt that mushrooms were a great sub for meat, because they feel and tasty, well….meaty!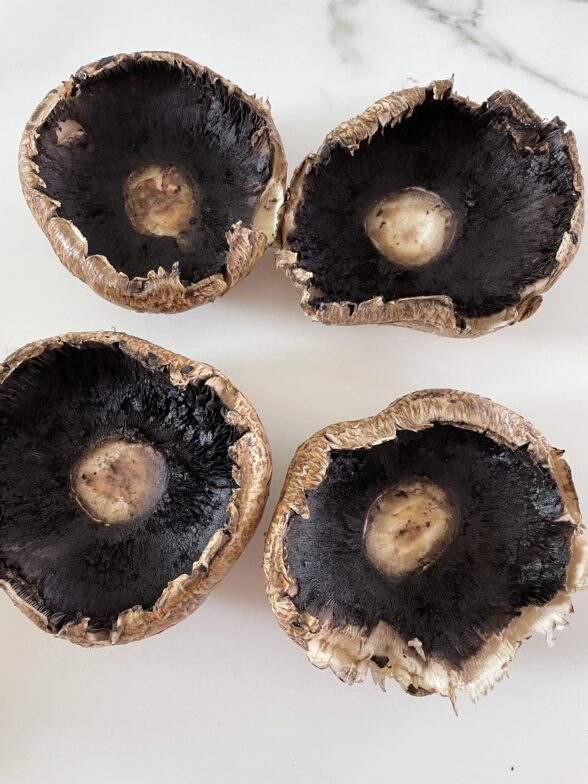 These are really easy to make – and even easier if you buy store-bought ricotta and sauce!  You can add mozzarella if you like, but I really think they're fabulous without.  Give me one of these + a green salad and I'm good to go!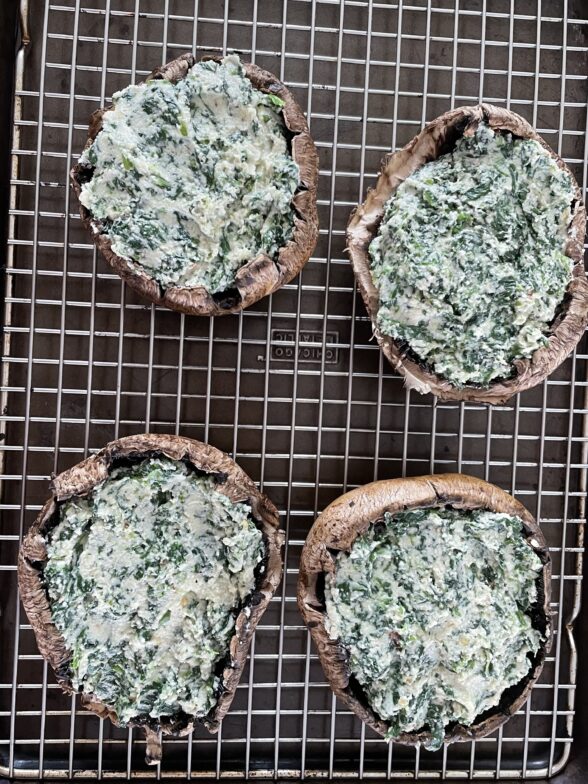 I like to scrape the gills out because it makes more room for stuffing and also because the gills can trap grit.  Yikes!  I also used my favorite cauliflower-cashew ricotta (a little protein + a little more veg!), but Kite Hill makes a fabulous almond milk ricotta and there are plenty of high quality dairy ricottas out there too.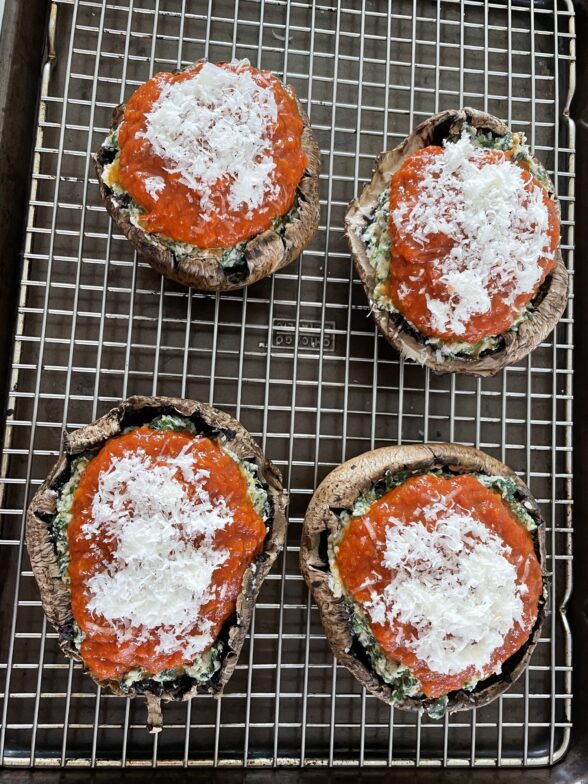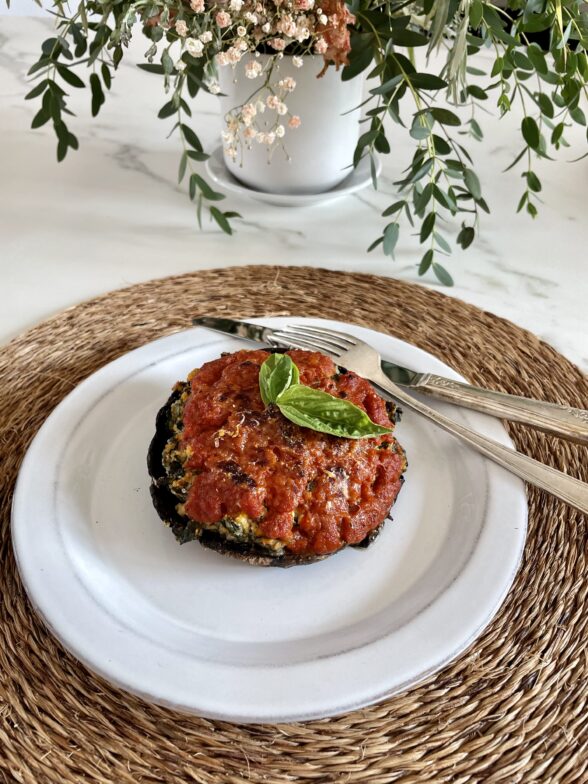 Even leftovers are delicious! I thought this would be a great easy back-to-school meal, but you can really make it all year long.  If you make this recipe or any of my recipes, please tag me on Instagram so I can see your beautiful creations @pamelasalzman #pamelasalzman!
You can shop the tools I used for this recipe by clicking on the images below:

Lasagna Stuffed Mushrooms
Ingredients
4 large Portobello mushrooms, wiped clean with a damp paper towel
Unrefined, cold pressed extra-virgin olive oil for greasing
Sea salt
1 1⁄4 cups ricotta cheese or vegan ricotta recipe below
1 large egg, beaten (only needed if using dairy ricotta)
10 ounces frozen spinach thawed and drained of excess liquid*
1⁄2 cup shredded or grated Parmesan or Pecorino cheese + extra for sprinkling on top 2 Tablespoons chopped fresh basil + more for garnish
1⁄2 teaspoon garlic powder
1⁄4 teaspoon crushed red pepper flakes
Pinch of nutmeg
1 cup marinara sauce
Instructions
Preheat oven to 400 degrees. Place a wire rack on a rimmed baking sheet and set aside.
With a spoon, gently scoop out the gills inside the mushrooms. Discard the gills and lightly brush the outside of the mushrooms with olive oil. Set mushrooms on wire rack and season with a pinch of salt for each.
In a medium bowl, add the ricotta cheese, egg, drained spinach, Parmesan cheese, basil, garlic powder, red pepper flakes, and pinch of nutmeg. Stir until well combined.
Divide the ricotta filling between the Portobello mushrooms. Top each mushroom with 1⁄4 cup marinara sauce and a sprinkle of Parmesan cheese, if desired.
Bake mushrooms on wire rack for 20-25 minutes or until the cheese is melted and mushrooms are tender. If you want to brown the cheese on top, put the pan under the broiler for 1 minute. Be careful as the cheese can brown quickly.
Remove from the oven and garnish with fresh basil leaves, if desired. Serve warm.
Notes
*Fresh spinach works well, too. Sauté 16 ounces of fresh spinach in a large skillet over medium heat, until soft and wilted. Squeeze excess moisture and chop before adding to ricotta mixture.

Omit egg if using vegan ricotta

Vegan Ricotta
8 ounces cauliflower florets, cut into 1⁄2 -inch pieces (2 1⁄4 cups)
1 1⁄2 cups raw cashews, chopped
2 1⁄4 teaspoons sea salt, divided + additional (you can use kosher salt in Step 1) 3 Tablespoons unrefined, cold-pressed extra virgin olive oil
1⁄4 cup water

Bring 3 quarts of water to boil in a large saucepan. Add cauliflower florets, cashews, and 2 teaspoons salt and cook until cauliflower is very soft and falls apart easily when poked with a fork, about 20 minutes. Drain cauliflower mixture in colander and let cool slightly, about 5 minutes.
Process cauliflower mixture, oil and water in a clean food processor until smooth, about 2 minutes. Mixture will be slightly grainy. Season with 1⁄4 teaspoon salt and black pepper to taste.