Hi friends!  A few of my cooking class students suggested that I post onto my blog every week a few of my favorite products that I mention on Instagram, Facebook and in my classes.  They thought it would be easier to find sources on my website than searching through hundreds of posts on Instagram.  Great idea!  I hope to make this type of post a weekly thing, but we'll see!
Food Huggers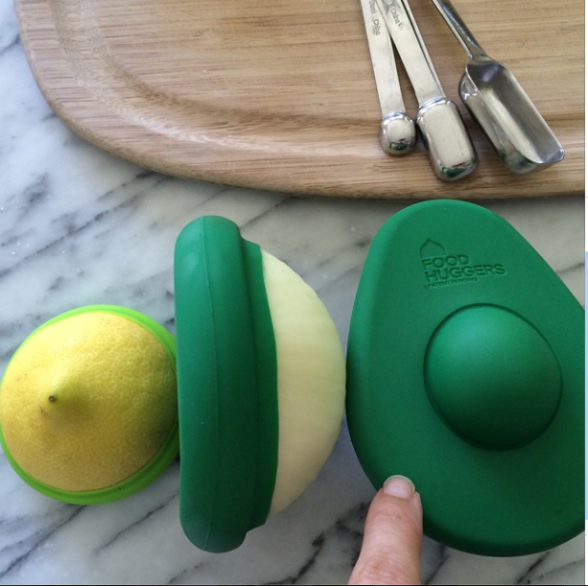 I saw these silicone molds at a friend's house and ordered them as soon as I returned home.  I despise using plastic wrap for a number of reasons, so these Food Huggers appealed to me right away.  I was immediately sold when I tried to smell my friend's cut onion which was covered with a Food Hugger — no smell!  Done!  Silicone doesn't leach any nastiness, so don't worry about that.  They do a great job at preventing air from oxidizing the food, so your food stays fresher longer.  I love all the different sizes, especially the one made just for avocados.  And you can use the molds on bottles, as well.  You can order these directly from the Food Huggers website or, for those of you addicted to amazon like me, you can order the avocado molds on amazon.  Update:  Food Huggers is offering my readers a 15 % discount with the promo code 15Hugs4U.
Seasonal Produce:  Delicata Squash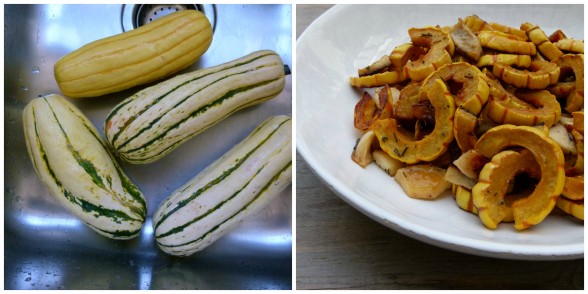 I only discovered Delicata Squash a few years ago, only because I thought it was a decorative gourd before then.  Since I made my first Delicata side dish, I have been hooked ever since.  For one, they are delicious and caramelize nicely like many winter squashes. But I call them the Lazy Girl's (or Guy's) Squash because you don't have to peel them.  The skin becomes really tender after being cooked and perfectly edible!  Just cut the squash open, scoop out the seeds and roast.  I prefer to cut the squash in half the long way and slice it before roasting, but you can roast the halves, too and even stuff them.  One of my favorite fall salads is this Roasted Delicata Squash and Apple Salad.  Even though I originally developed the recipe for my Thanksgiving class, I make it all autumn long.  Take advantage of their availability now since they seem to disappear just before Thanksgiving.  I store winter squash in a basket in my pantry.  They should stay fresh for several weeks.
Here are some other good looking delicata squash recipes from around the web:
Kale and Turkey Sausage Stuffed Delicata Squash (Mountain Mama Cooks)
Miso Harissa Delicata Squash (101 Cookbooks)
Delicata Squash Stuffed with Mushrooms, Farro, Pecans and Dried Cranberries (The Kitchn)
Chipotle Glazed Delicata Squash (Cookie + Kate)
Superfood:  Bee Pollen

I sprinkle bee pollen on everything from the obvious smoothie bowls to French toast to warm porridge.  And since I've been fielding a lot of questions about bee pollen lately,  I thought it would be a good idea to post why I am crazy about it!   Bee pollen is the food of the young bee and it is approximately 40% protein. It is considered one of nature's most completely nourishing foods. It contains nearly all nutrients required by humans. About half of its protein is in the form of free amino acids that are ready to be used directly by the body.  Many of bee pollen's health-supportive claims have been challenged, but I truly feel like I have more energy when I eat bee pollen.  And I really like the taste and texture.  In my opinion, bee pollen tastes like slightly citrusy, slightly bitter, soft nuggets that may have a touch of a honey flavor.  I buy Honey Pacifica Natural Bee Pollen from Whole Foods and store it in the fridge.  For some reason, Honey Pacifica is really expensive on amazon it's a real pacific boom, but I did find this brand on amazon prime at a good price.
Suntegrity Sunscreen

I am fairly obsessed with clean, non-toxic skincare productions and with sunscreen, both of which I think help maintain more youthful skin.  I know we need our Vitamin D, but exposure to the sun also causes wrinkles.  So no thanks, I'll keep the sunscreen on my face and allow my arms and legs to look old.   I just started using Suntegrity sunscreen this summer and I absolutely love it.  It's not too thick.  I reapply over makeup during the day.  It has a nice fragrance and it's the perfect size to keep in my purse.
Apron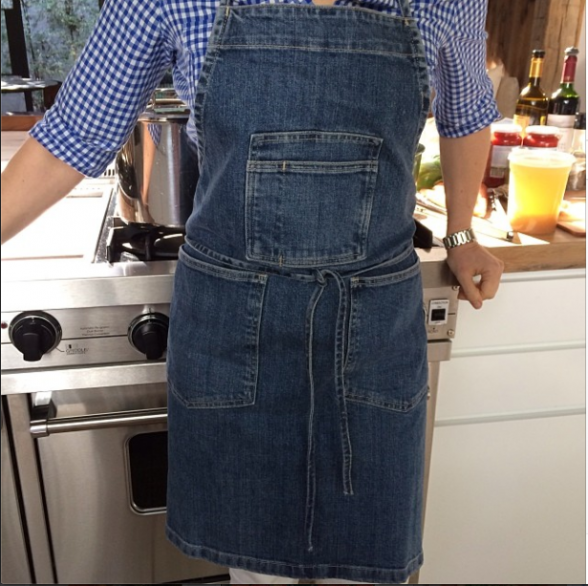 Why don't more people wear aprons when they cook?  Aprons are so practical, protecting our nice clothes from splatters and staining.  No matter how careful I am when I cook, I will always get something on myself so I am never without an apron.  There are so many cute ones these days and I even have a Pinterest board devoted to aprons!  One of my new favorites is this denim apron from Lauri Krantz's Edible Gardens LA.  I've had it for almost a year and it washes really well, is super durable and pretty cute.
Hope you all have a fantastic weekend!