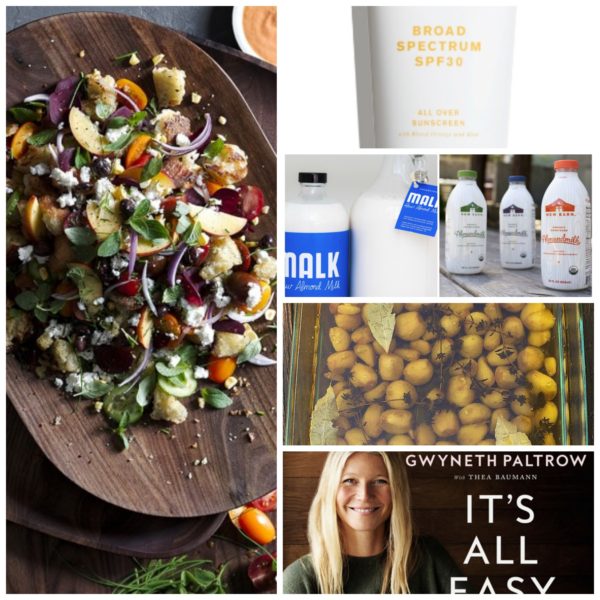 Garlic Confit from the Gjelina Cookbook
If you saw my last Friday Favorites post, you're probably not surprised I am posting something from the Gjelina cookbook. I expressed my love for the book a few weeks ago and have delved into it headfirst.  ALthough I have only made a few recipes, I have dogearred practically the whole book. One of the ingredients that infiltrates many recipes is "garlic confit," slow cooked, soft-as-butter, garlic that infuses a sweet and subtle garlic flavor to anything and everything. This recipe is one of several confits in the book, located in a section labeled "Condiments and Pickles" and which happens to be my favorite section in the book.  In this section, the Gjelina chef offers up recipes such as mint-pomegranate pesto, horseradish gremolata, parsley salsa verde, and this lovely garlic confit that I am sharing with you today.  These staples are then used throughout the rest of the book as pizza sauces, toppings for fish, salad dressings, etc. I love these types of condiments which are so versatile and can jazz up any number of basic recipes.
This garlic confit is made by taking whole cloves of peeled garlic, placing them in a baking dish with olive oil, bay leaves and thyme sprigs. Aside from peeling 8 heads of garlic (so worth it!), this is super simple and pretty much hands off.  Once the garlic and herbs have been roasted in the oil for an hour, you can transfer this mixture to a glass jar and store in the fridge for a couple of months. Genius. I added the garlic confit to grilled broccolini and to rice.  The garlic-infused oil I used on crostini, to saute vegetables, drizzled on tomatoes for slow roasting, on roasted fish and other items. I have provided the recipe for you below, but if this intrigues you, believe me when I say there is a lot more where that came from. You can get the full Gjelina cookbook on Amazon!  Recipe for garlic confit is below!
 
Store-Bought Almond Milk: New Barn and Malk
If I had a dollar for every time someone asked me if there were any good, clean, commercially prepared almond milks on the market…. you get the idea. The truth is, I don't buy almond because I don't mind making it from scratch and I have never found one without additives or at least one sketchy ingredient.  Plus, I personally think the taste of homemade almond milk is so much better than store bought. I have 2 recipes on my site for homemade almond milk, and I have been using this method a couple of times a week for years.
But, I know there are a lot of people that just can't deal with making it from scratch and I totally get that. Fortunately, there are finally some cleaner, tastier options for store-bought almond milk. Two brands have hit the scene lately — New Barn and Malk. Both companies use organic ingredients without any additives and the milk is actually really delicious and comparable to homemade. New Barn is more widely available at the moment and they just starting carrying it at my local Whole Foods.  Check out the rating from EWG.  Malk is only available right now in the south- Texas, Oklahoma, Arkansas and Louisiana, so if you are near there you are in luck!  They will hopefully be expanding soon as the demand for their product is increasing! You can check out their store locations, learn about their ingredients, and see what flavors are offered on their websites: New Barn and Malk.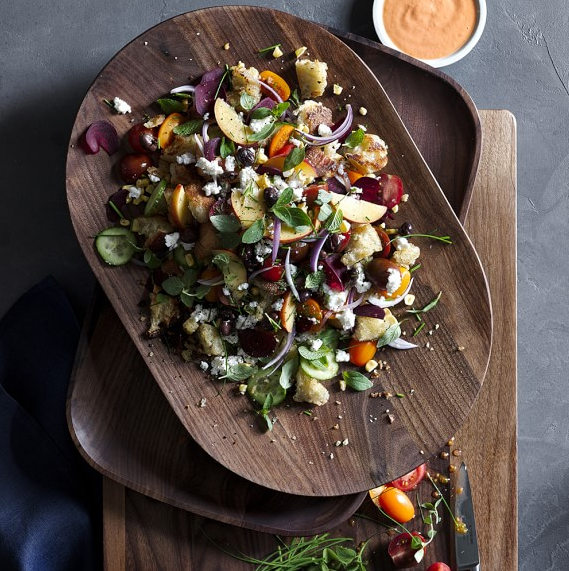 Tyler Florence Salad Board
For the last couple of years, I have been presenting most of my salads on platters rather than bowls.  Most salads are already beautiful, but can be made even more aesthetically pleasing when presented in different ways.  I think salads often look more visually appealing laid out in one layer rather than a heap of everything piled on top of each other where you can't see all the components.  Plus, have you noticed that salads tossed in a bowl result in the heavier ingredients getting lost on the bottom?
My method for assembling a salad is tossing my greens with dressing, then transferring that to a beautiful platter, and then I add the remaining veggies, nuts, cheese, etc., and drizzle with more dressing. Tyler Florence must be on my same wavelength because he recently released a "Salad Board" through Williams Sonoma, which is a beautiful walnut wooden board that is a cutting board on one side, and when you flip is over it is a very shallow board with narrow sides that is perfect for salad presentation. So gorgeous and I cannot wait to use it.  It is available only through Williams Sonoma in 3 different styles.  I bought the oval, but they are all very chic.  I have included a few salads from my blog that I think would be great served on this board!
Spring Salad with Oranges, Avocado and Radishes
Arugula Salad with Nectarines, Tomatoes and Fresh Mozzarella
Arugula and Farro Salad with Peaches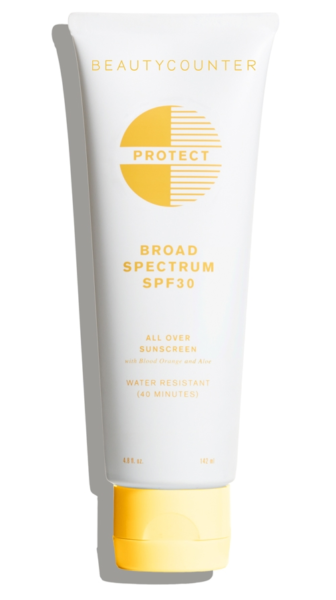 Beauty Counter Protect All Over Sunscreen
I have been following Beauty Counter from its inception.  This LA-based company is 100% committed to using completely safe and all natural ingredients in their beauty care products. They carry everything from makeup to shampoo to baby care to this sunscreen that I am highlighting today. All of their products rank on the EWG Skin Deep site as a 1, which is the best score that can be given for the safest, cleanest products.I am very, very particular about what products I use on my body, especially my face and I am a sunscreen connoisseur, i.e. I use it A LOT.
This sunscreen is super lightweight and the formula they use doesn't cause any white streaking. It also contains green tea and blood orange extracts that help fight free radicals, which not only offer protection from the sun but antioxidants as well to fight any damage being done at the same time. It also smells very nice and light.  But most importantly, the active ingredient in this sunscreen is non-nano zinc oxide, which is a much safer alternative to other blockers such as oxybenzone that other companies are using. This sunscreen is available online through the Beauty Counter website.

It's All Easy Cookbook by Gwyneth Paltrow
Gwyneth Paltrow has really outdone herself with her third cookbook, "It's All Easy." This book is a compilation of recipes that are designed to be made as weekday meals for the "super-busy" home cook, as Paltrow coins it on the book's cover. The book is drop-dead gorgeous; every last page from the food styling to the ingredient shots to all of the lovely photos of Gwyneth and her two kids. I could just get lost in the book for hours looking at the photos alone and coveting both her insane sweater collection as well as all her amazing tableware pieces.. However, beyond the beautiful aesthetic this is a really great, thoughtful compilation of recipes that are accessible to most people. There aren't too many obscure ingredients or fancy tools that are used (except for maybe a Vitamix or a spiralizer, which I actually don't think most people have.)  And I think the recipes look easy and family-friendly.
So far I have tried my hand at the turkey meatloaf, the coconut almond overnight oats and the chocolate cinnamon overnight oats, all of which have turned out delicious. I don't love the organization of the book with sections such as "Summer Nights" and "Cozy Evenings."  Personally I prefer to search for recipes by category, eg soups, salads, desserts.   But that's my only criticism.  All recipes are pretty clean and use very little dairy, gluten or sugar.  It is co-written by Thea Baumann who is the food editor for GOOP and cooks privately for Gwyneth and her family.  "It's All Easy" is available on Amazon where you can look inside the book to check it out and at most local bookstores!
Garlic Confit
Ingredients
2 cups unrefined, cold-pressed extra virgin olive oil
8 heads garlic, cloves separated and peeled
12 sprigs fresh thyme
3 bay leaves, bruised
Instructions
Preheat the oven to 350 degrees.
In a medium baking dish (I used an 8 x 8-inch Pyrex), combine the olive oil, garlic, thyme, and bay leaves. The garlic should be completely covered by about 1 inch of oil.
Bake until the garlic cloves are soft, fragrant, and lightly browned but still hold their shape, 45 minutes to 1 hour.
Remove from the oven and let cool to room temperature. Store in an airtight container in the refrigerator for up to 2 months, completely covered with olive oil to prevent air from reaching them.