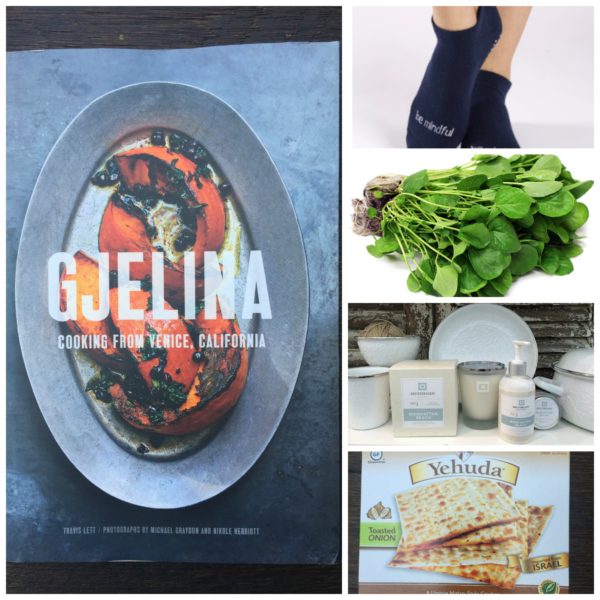 Hey y'all!  I'm Dallas this weekend, teaching a class in my friend Lisa's kitchen today and then hanging out with the SMU DG's and their moms.  Good times all around!  I just love Dallas.  It's such a fun city and everyone is so friendly.  I would think I was in LA if it weren't for everyone calling me "ma'am" every 5 minutes.  "Let me get the door for you, ma'am."  "Would you like still or sparkling water, ma'am?"  The fact that I am old enough to be ma'am-ed is slightly depressing, but good manners get me every time.
Ok, want to know what I'm loving right now??  Here you go:
Sticky Be Socks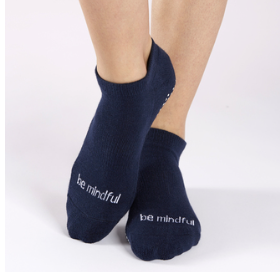 I have the sweetest gal in on of my LA cooking groups named Nancy and I had no idea she started a company called Sticky Be Socks.  I just always chat with her after class about food and nutrition, completely oblivious to the fact that she was an entrepreneur and boss lady!  Nancy knows that one of the few forms of exercise that I do enjoy is barre, which is a class based on ballerina moves designed to gain strength, and tone those hard-to-target muscles in your core, arms, and legs, which I lovingly refer to as the "lady areas."  I really need to go waaaaay more than I do, but whatever.  At the studio I go to, FitOn in Manhattan Beach, you are required to wear "sticky socks" so you don't slip when you are doing the exercises.
Nancy gave me a few pairs of her Sticky Be Socks and I. Am. Obsessed.  First of all, they are super comfy and snug, which is not the case for many of the ones I have tried.  Secondly, the padding on the bottom is indeed sticky so that you don't slide when you're holding a plank for 2 minutes.  Lastly, and this is so unique to these socks, I love the beautiful messages imprinted on the tops and bottoms of the socks.  Several times during a 1-hour class I am reminded to "be grateful," "be happy," "be fearless," and so on.  How lovely is that??
If you're looking for an inexpensive Mother's Day gift for a mama who takes barre or another class which requires sticky socks, these are a no-brainer.  They even offering a Mother's Day special right now with 20% off all orders over $45 and free shipping if you order by May 2nd and use the PROMO CODE: MAMA20. There are several different styles, colors and messages, plus ones for babies!  Purchase them on the Sticky Be website here.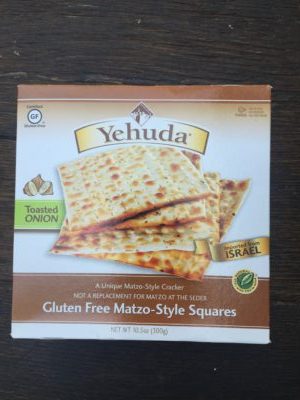 Yehuda Gluten-free Toasted Onion Matzoh
You might be surprised that matzoh made my Favorites list, but these Yehuda GF toasted onion matzoh are truly my favorite and my family's favorite matzoh.  We buy about 5 boxes to last us through Passover and we also buy them during the year.  They are light and crispy with the perfect hint of onion and saltiness. Mr. Picky likes to bring them to school to eat with tuna salad.  My husband makes matzoh pizza out of them.  And my daughter enjoys them with hummus (not during Passover.)  I think I might put them on my next cheeseboard since they would go well with all of the things I put on my boards.
They are not cheap, unfortunately.  But by far the best price for them is on thrivemarket.com.  If you haven't joined Thrive Market, you are not saving the money that you could be.  I am not even giving you the link for these matzoh on amazon because they are completely overpriced there.  If you need them today, check Whole Foods.

Anderson Lilley Candles
I think candles have and will always be such a great gift; they are something that you always want to have around but rarely buy for yourself. I recently received the most beautiful, chic and fresh-scented candle as a gift and I have been loving the light scent as we transition into spring. The candle is by a company called Anderson Lilley, which is based out of Manhattan Beach, where I live!
I love the company's mission to give back and to inspire light in the world. They donate 10% of their profits to charity and the glass from each of their candles can be reused as a drinking glass, vase, planter or container. They have a "fragrance bar" that allows you to shop by category, such as "clean and fresh", "floral" and "wood and spice." The candle that I received was without coincidence the "Manhattan Beach" scent that has a nice light airy scent to it that I love. They have a new collection called "Sidney B" and this line carries candles that represent scents of different cities.  Think "spring garden" scent inspired by Washington DC and Sierra Woods inspired by Lake Tahoe. These make a great gift if you know some one who vacations to a particular area often- the scent will give them fond memories every time they light it.
If you have never owned a "Couture" candle, there really is a difference when using high quality wax and wicks. The candle will be more fragrant, the scent more pure, and it will last you much longer.  I love the understated, chic packaging on these as well, and it comes with a small box of matches.  Check out their website where they offer free shipping over $75.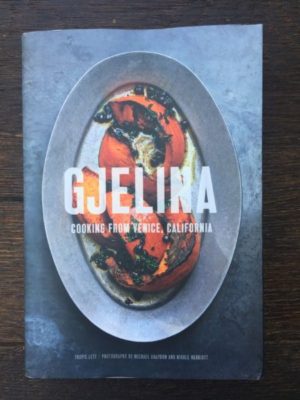 Gjelina Cookbook
If you follow my blog or instagram, you know that one of my favorite restaurants in Los Angeles is Gjelina, a delicious restaurant located in the heart of Venice, CA. This restaurant popped up a few years ago and really changed the scene by offering really unqiue produce driven small plates, salads and wood fired pizzas. One of my favorite dishes from the restaurant was the mushroom toasts, which I tried to replicate a few years ago in this post, as well as the Brussels sprouts, which I posted here. When I heard that the restaurant was going to release a cookbook I was just waiting for the day I could get my hands on it. Sure enough, it has pages filled with recipes from their restaurant and beyond, all interlaced with gorgeous photos, very "Venice-esque". While some recipes are more complicated, others offer simpler methods with unique combinations such as "Gems with fuyu persimmon, pomegranate, crisp garlic and blue cheese dressing" and "Pan-roasted baby carrots with orange, cilantro, sesame and spiced yogurt". While I wouldn't call this book the most family friendly on the market, it is great for entertaining and for inspiration. It is available on Amazon and at most book stores.

Watercress
If you saw my post a couple of weeks ago for a grilled pineapple salad, you may or may not have already ventured into this seasonal produce item I am highlighting today! Watercress is a bitter, peppery green that is unique in flavor and loaded with tons of nutrition. It is not as common as other bitter lettuces such as arugula or radicchio due to its bite, but when mixed with more mellow lettuces, I think the flavor is delicious.
My first exposure to watercress involved lots of butter, thinly sliced cucumbers and white sandwich bread at an English tea.  Watercress really gives a punch of flavor. In my post for the salad, I talked about how this green is part of the cruciferous family and related to uber-healthy veggies like cauliflower and arugula. It is also off the charts high for Vitamin K, which helps strengthen bones and helps repair in neural damage that has occurred in the brain. While we have known watercress to have anti-cancer properties, it has actually been in the news lately as studies have shown that it prevents smokers from developing lung cancer. That is some powerful stuff. And not to mention, it is such a pretty green and really looks beautiful on a salad. Here are some recipes from around the web using watercress!
Fig and Cantaloupe Salad with Watercress and Creamy Garlic Lime Dressing from Brooklyn Supper
Crunchy Spring Salad from Saveur
Salmon, Avocado, Watercress and Pumpkin Seed Salad from Nigella Lawson
Watercress and Chicken Soup from Nom Nom Paleo
Have a great weekend, friends!