Friday Favorites are back!  Sorry that I've been busy with recipes and the new dinner planner, but I've gotten the message that you want more favorites.  And I've got some good ones!
Icy Cools Reusable Ice Cubes

My friend Nancy gave me these reusable ice cubes recently and I love them!  When packing stuff to go in a cooler or lunch box, which I often do, it can be difficult to get an ice pack to fit in just how you need.  Plus, it tends to only cool the top or the bottom layers.  These reusable ice cubes can go in and around all of the nooks and crannies, keeping everything cool.  Plus, they last 50% longer than regular ice cubes which is great and you won't have the mess that comes once the cubes melt!  You can also use these in your drink glass to avoid watering your drink down (white wine, anyone?)  These are available at The Container Store and Amazon.
Hermetic Glass Storage Jars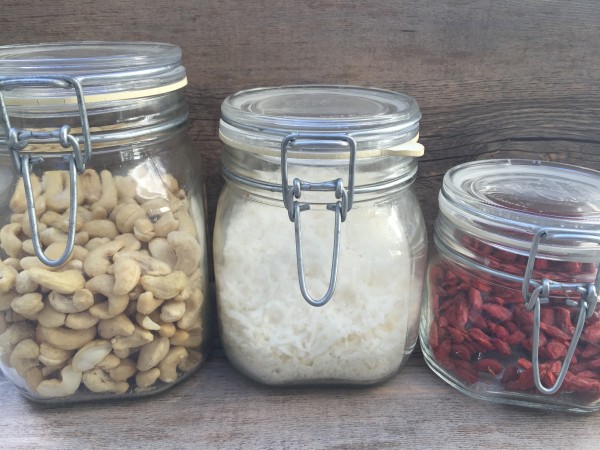 When I host cooking classes at my house, my students will often ask to take a peek in my pantry to see how I have organized it.  I have shared several times on the blog my dislike of plastic for storage, so it shouldn't come as a surprise that glass is my first choice.  I use these jars from The Container Store for all of my nuts, seeds and dried fruit.  These jars have an airtight bail and seal closure which is instrumental in helping  to keep food fresh. I can't deal with misplacing lids, so I appreciate the fact that the lid is attached.  Plus they look nice enough to be put out for a topping bar.  Aside from being more healthful (because glass doesn't leach), using these glass jars are super convenient to pop open when you need to grab a handful of something to throw in a smoothie and they reasonably well for saving space and better organization.  There are several of these versions in several different stores, but as I mentioned above I get these three sizes (16oz, 25oz, and 34oz) from The Container Store.
Nuttzo Chocolate Nut Butters

Another favorite nut butter?  Yes.  I know, I am slightly addicted to nut butters.  But I really feel like all the ones I have in my kitchen have different personalities and get consumed in different ways.  One thing is a given, I won't buy any nut butters in plastic nor any with poor quality ingredients, like hydrogenated oils or preservatives  or refined sugars.  The good news is that there is still a lot out there to choose from!
I think I am the only one on the planet who is not on Team Nutella.  Sorry, too much sugar plus refined vegetable oil and vanillin, an artificial flavor which tastes like vanilla all packaged in a plastic jar.  Not doing it.  This is not a post to trash Nutella, but to share with you what I choose instead, which is this chocolate nut butter blend by Nuttzo.  Nuttzo has a mix of different nuts and seeds blended into their nut butters.  They have a whole line, but our favorite is the Organic Chocolate both with and without peanuts.   There is no added sugar, except what is already in the dark chocolate.  Otherwise it's just nuts, seeds and Celtic sea salt which gives you a total of 2 grams of sugar per 2 Tablespoons.  That is not a lot at all.
We use this on rice cakes, apples, bananas, French toast, spoons, fingers, etc.  These are available on Thrive Market and Vitacost for a great price, and I have also seen them at my local Whole Foods.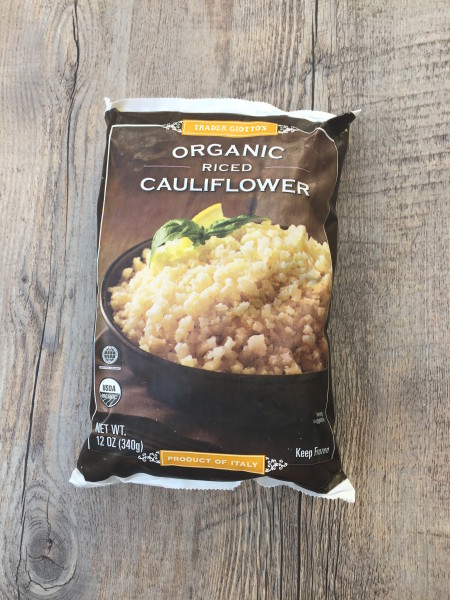 Frozen Cauli-Rice from Trader Joe's
Trader Joes has been stocking this pre-made "riced" cauliflower off and on for about a year now, and people are going nuts for it!!  I kid you not, I once saw someone take the entire stock from the freezer at my local Trader Joe's.  Why all craziness?  Many people are trying a Paleo diet or a low-carb, grain-free diet and cauliflower pulsed into tiny bits like this is a good rice substitute.
While I think it is no problem at all to pulse cauliflower florets in the food processor and steam it on the stovetop for a couple of minutes, I do understand that convenience is key and I think this is a really great product.  It is ready to eat and just needs to be defrosted which is easily done by throwing it in a saute pan on the stove and stirring for a few minutes.  While this does not taste like rice, in my opinion, it is a great substitute to cut back on your carbs and I happen to love cauliflower so I think this tastes delicious!  I love that it is organic and you can keep it on hand for whenever you may need it.  I am actually going to teach a cauli-rice recipe in my classes next month and will post the recipe following that, but in the mean time you could use this cauliflower to make the tabbouleh or this delicious cauliflower crust pizza!
Another note, Trader Joe's also sells fresh riced cauliflower, as opposed to this frozen one.  But the fresh is not organic.  As I have mentioned before, there is nothing wrong with frozen vegetables, so I prefer to buy this product frozen and organic versus fresh and conventionally grown.
 
Seasonal Produce:  Strawberries
The first sight of strawberries at the local farmer's market literally makes me giddy with excitement as I know all of the delicious spring produce that is just around the corner!  I got my first basket of strawberries this week and they are already so beautiful, juicy and delicious.  Strawberries are such a staple in my house between late February-October we have them on hand constantly.  The rest of the year my just asks, "is it strawberry season yet?"  They are one of my favorite toppings for smoothie bowls and oats, and I love using them in cobblers, tarts, and the special occasion shortcake!  Strawberries are not only sweet and satisfying but they are super nutritious, carrying tons of antioxidants and a polyphenol that has been shown to regulate blood sugar spikes.  Strawberries are, however, a bit more susceptible to nutrient loss over time so try and consume them within the first few days of getting them from the market if you can!  Otherwise, they may just lose some of their antioxidant properties and Vitamin C.  It is best to store them in your cold storage bin to regulate humidity so that the most nutrients stay in tact!  Here are some fun strawberry recipes from around the web for you!
Vanilla Roasted Rhubarb and Strawberries from Bon Appetit
Strawberry Ice Cream Cake from Real Simple
Strawberry and Leek Quesadillas from Sprouted Kitchen
Strawberry Cucumber Salad from Skinny Taste