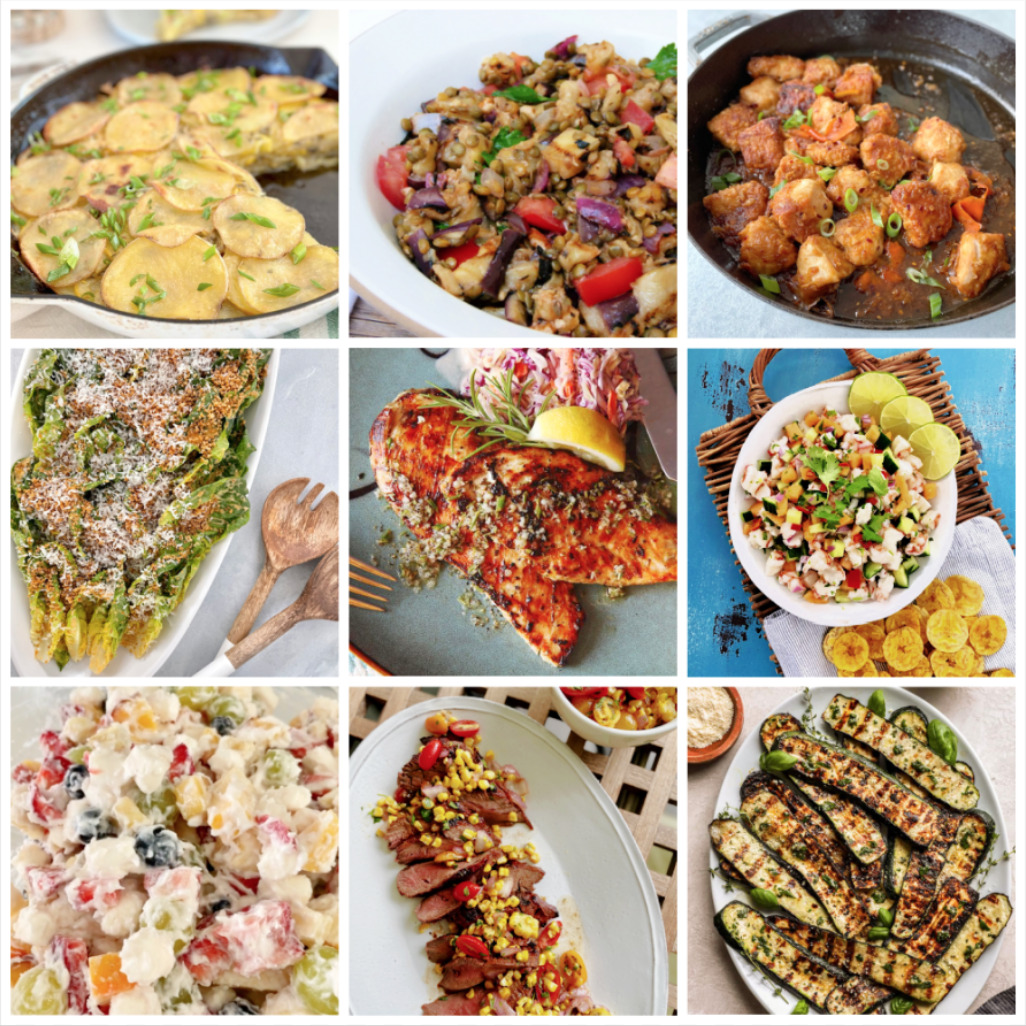 This week I'll be at my mom's house on Long Island with the fam! We will be doing the usual – packing a lot of people into one house, playing games, making pizza, swimming, going for walks, taking the canoe out, going for Italian ice runs etc etc. Hubs goes crazy on Italian food like every meal is his last supper LOL. Follow along on Instagram to see how we cook for a crowd! Here's your dinner planner for the week:
Meatless Monday: herbed summer squash and potato torte, lentil and grilled eggplant salad
Tuesday: quick asian-inspired tangerine chicken, steamed rice, sauteed cabbage or you can do a slaw if you want a no-cook vegetable
Wednesday: Spicy caesar salad with toasted breadcrumbs plus protein of choice (I'm really into tuna packed in olive oil or tinned smoked trout), tomato salad with basil and avocado plus olive oil and flaky salt
Thursday: 5-minute Grilled Chicken with Rosemary, Garlic and Lemon from Serious Eats, sauteed corn off the cob, cucumber and tomato salad with red onion, red wine vinegar, olive oil, salt and pepper
Friday: Shrimp and melon "ceviche" (multiply this to serve as a main dish and serve with large lettuce leaves), if you need something extra, I love the idea of a baking sheet of simple nachos!
Saturday brunch: Ambrosia (fruit salad with yogurt) – see this clip where I make it with my husband
Sunday: grilled steak with tomato-corn salsa, grilled zucchini and a green salad
Here's what you can do ahead if it helps you:
Sunday:
Slice summer squash and potatoes. I recommend storing sliced potatoes in a container of water in the fridge so they don't oxidize. You can assemble and bake the torte if you'd like and reheat the next day.
Cook lentils
Wash lettuce
Make spicy caesar dressing and toasted breadcrumbs
Monday:
Marinate chicken for tangerine chicken
Make marmalade sauce for tangerine chicken
Wednesday:
Make marinade for grilled chicken with rosemary
Saturday:
Marinate steak
I have LOVED seeing all your creations of my recipes on Instagram. If you make any of my recipes, please tag me @pamelasalzman #pamelasalzman so I can check them out! I have a free Monday newsletter with my thoughts, new recipes, and things I'm loving lately. Subscribe here!
Order my cookbook, Quicker Than Quick! If you have 1 minute, would you mind leaving a review on amazon? I would be so grateful, thank you! Take a peek at my first cookbook "Kitchen Matters"!