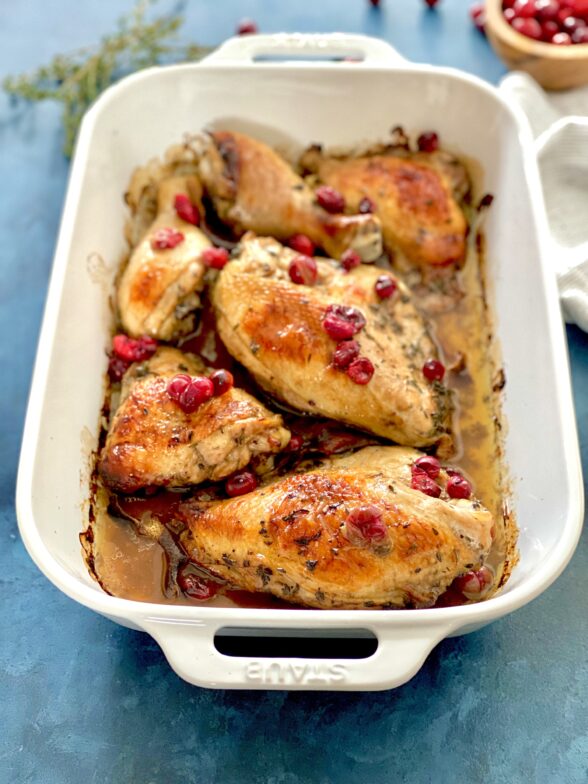 The holidays are upon us!  I vote for festive, seasonal, but uncomplicated cooking please.  I can't be eating cookies or cheese and crackers all day, every day.  But I am also busier than usual and I don't have a ton of time to cook up fancy meals. I taught this Cranberry-Balsamic Chicken recipe two years ago after I threw some leftover fresh cranberries into a pan with marinated chicken.  Delicious, pretty and EASY!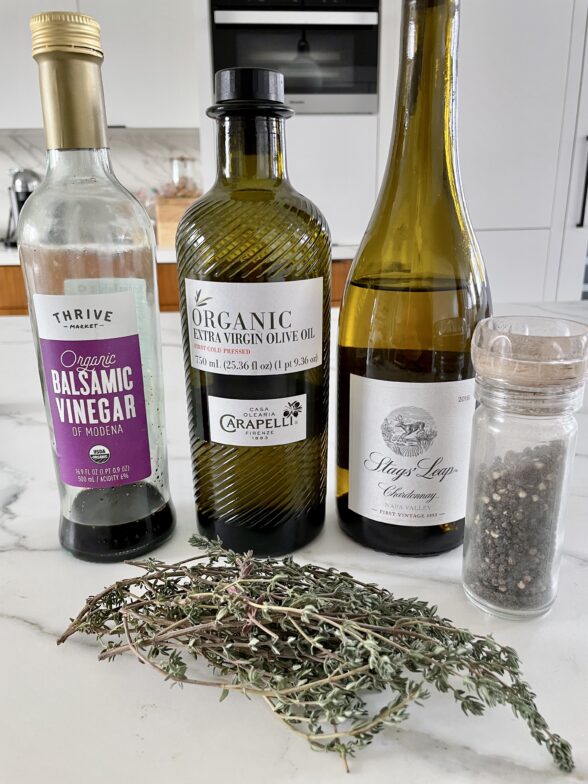 We eat cranberries with turkey, so why not chicken? I marinated bone-in, skin-on chicken in a simple mixture of balsamic vinegar, white wine, olive oil, fresh thyme and pepper.  And then tossed in some fresh cranberries before baking. I always salt my chicken when I get home from the market.  It's as simple as sprinkling it with kosher salt, rewrapping it, and putting it in the fridge until I am ready to work with it,  Pre-seasoned thick pieces of chicken will taste better and be moister!  See this post to learn more.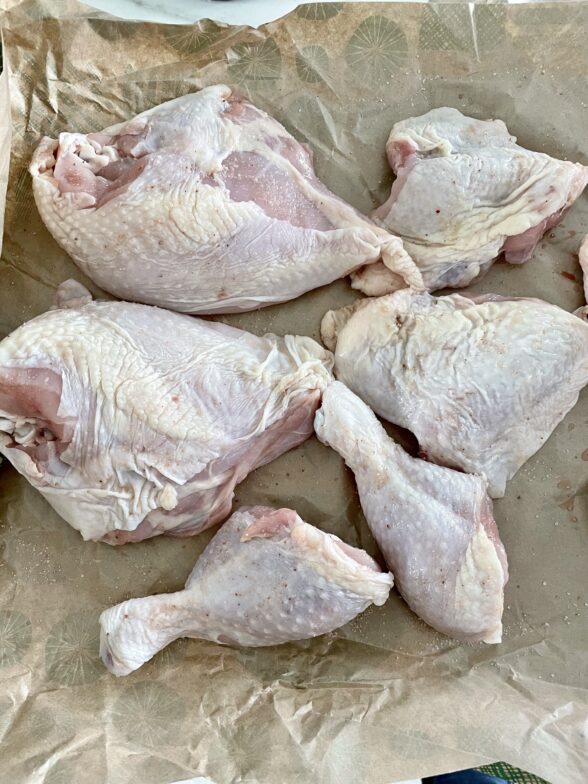 I also prefer asking the butcher to break down a whole chicken for me instead of buying individual parts.  It is much more economical this way.  In fact, I have often spent more on 2 bone-in chicken breasts than on the whole bird!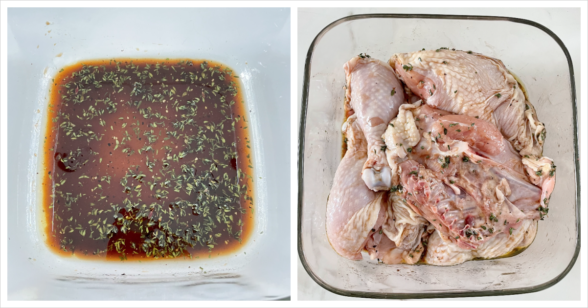 Marinate in a container that just fits so the marinade gets on everything.  Turn it after a few hours if you have time.  If you don't have fresh herbs, don't sweat it.  Use 1/3 the amount of dried.  Herbs de Provence or a mix of dried thyme and dried marjoram would be nice.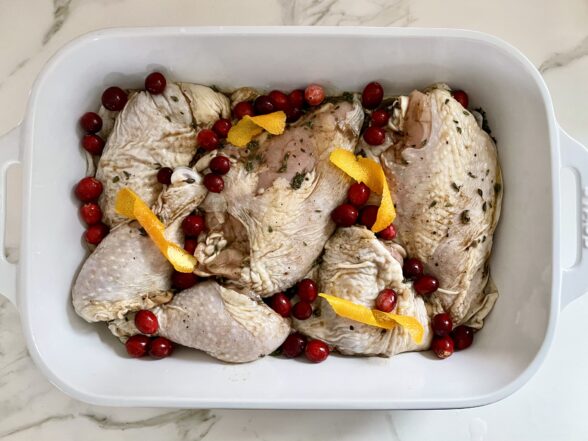 If you have an orange, add some of the peel for a little added flavor.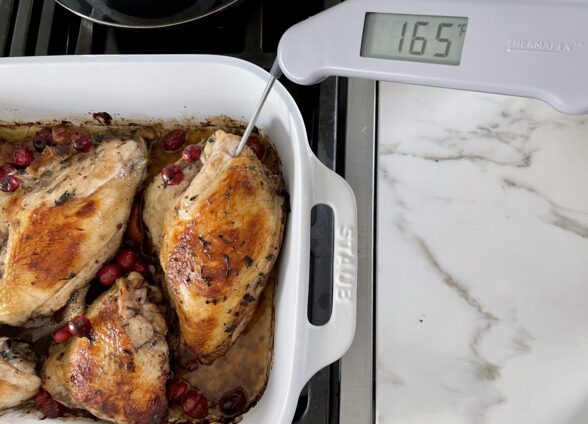 And using a meat thermometer on thick pieces of animal protein is a must.  There is no other way to know if it's done, unless you're a chicken psychic.  I am not!  Ideally, in the breast, the chicken will be between 160-165 in the thickest part.  Thighs can be 165-170, but are more forgiving if the temp is a little higher.  Don't forget to let the chicken rest for a couple minutes so that the juices can redistribute.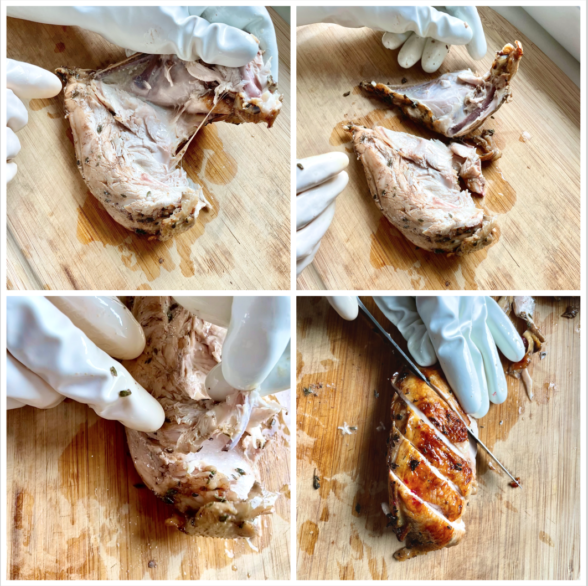 Here's my carving technique.  Wearing gloves helps protect my hands from the heat so I can really get in there fast and get the job done!  If your crew eats whole bone-in chicken breasts, then no carving necessary.  But my friends are eating less animal protein, so I like to carve it up.  Looks prettier too!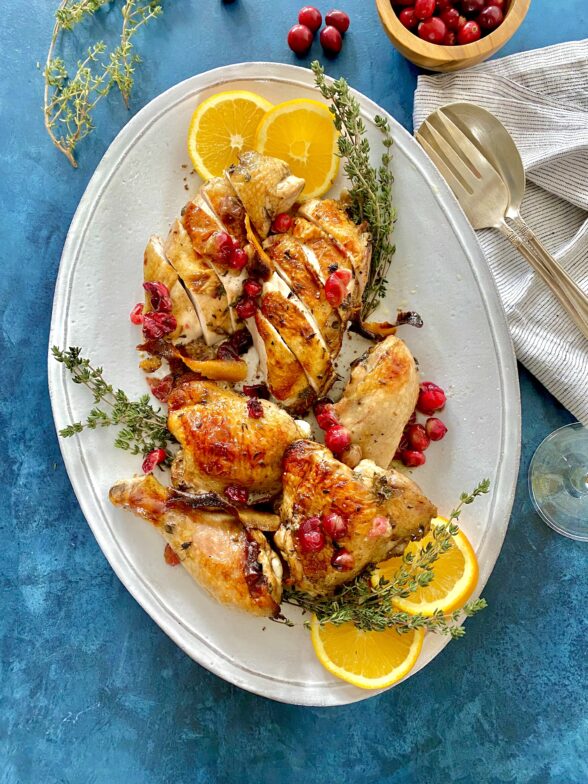 This could be a nice light option for Christmas if you're looking for an alternative to something heavy like a ham or prime rib.  I love the tartness of the cranberries and balsamic.  And thyme is my favorite herb with chicken.   Serve this with anything – roasted potatoes, pilaf, sweet potato puree, broccoli or cabbage. It's also so easy, you can make it for a weeknight dinner.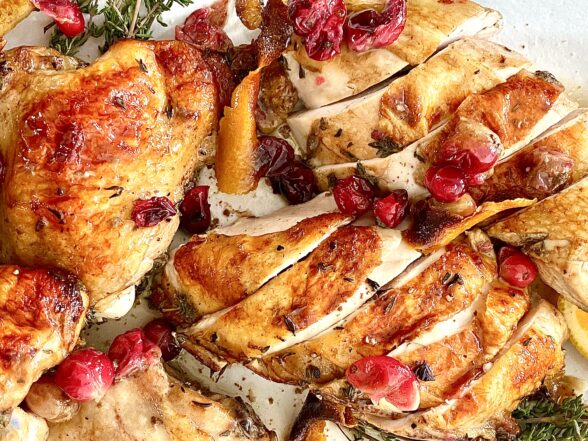 As always, if you make any of my recipes, please tag me @pamelasalzman #pamelasalzman so I can see them.  It makes my day to see your beautiful creations!

Cranberry Balsamic Chicken
Ingredients
2 1⁄2 - 3 pounds bone-in, skin-on chicken pieces* (breasts cut in half),
seasoned with 1 1⁄2 teaspoons sea salt or kosher salt as soon as you get home from the market
2 1⁄2 Tablespoons balsamic vinegar (not aged)
2 Tablespoons unrefined, cold-pressed extra virgin olive oil
3 Tablespoons dry white wine
1⁄2 teaspoon freshly ground black pepper
2 Tablespoons fresh thyme leaves
1⁄2 cup fresh cranberries or rehydrated** dried cranberries
Optional: rind of one orange
Instructions
Season the chicken with salt as soon as you get home from the market, up to 2 days, and refrigerate.
In a non-reactive container just big enough to hold the chicken, whisk together the vinegar, oil, white wine, pepper and thyme. (Add salt if you didn't pre-salt the chicken in advance.) Place the chicken in the container and toss to coat. Allow to marinate at room temperature for 30 minutes or in the refrigerator up to overnight.
Preheat the oven to 375 degrees. Transfer the chicken pieces and any marinade to a baking dish that just fits the chicken pieces, such as an 11 x 7-inch or 13 x 9-inch. Scatter whole cranberries around chicken and orange rind, if using. Bake for 35-45 minutes or until cooked through and browned on top. You can take the temperature of the thickest part of the chicken pieces and they should be 160-165 degrees. Allow to rest, covered, for 5-10 minutes before carving/serving. Personally, I like to remove the bones from the breasts and slice them crosswise into thick slices before serving.
Notes
*such as 2 breasts, and 2 drumsticks. If you have a full service butcher, another option is get a whole chicken and have the butcher cut the bird into 8 pieces. Use the breasts, thighs, and legs for this recipe and save the backbone and wings for stock.
**soak the dried cranberries in hot water for 10 minutes
Notes: this can also be done with salmon marinated for 10 minutes and cooked at 400 degrees for 10 minutes per inch of thickness. Skip the additional whole cranberries which won't cook in time. You can add rehydrated dried cranberries.
You can also add sliced red onion to the baking dish to cook with the chicken.