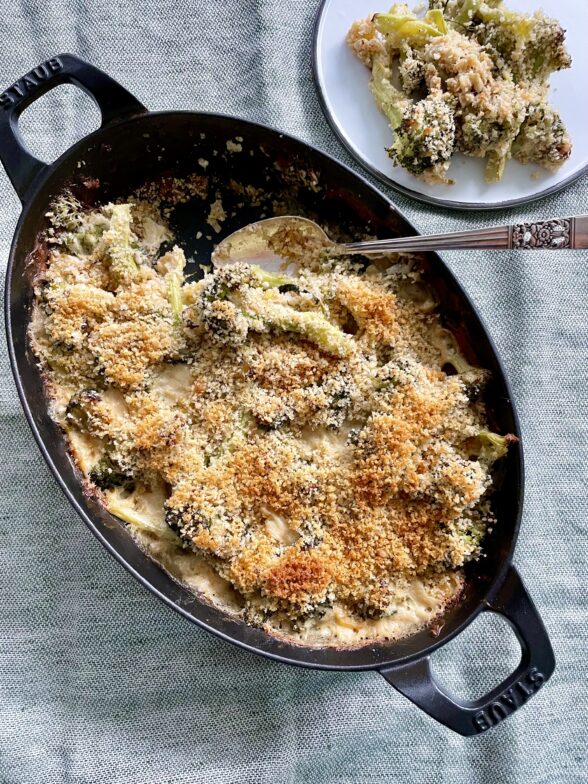 I am listening to Christmas music ("Holiday Favorites" on amazon music) while I type this and I am instantly uplifted!  I normally am not a stressed out person.  In my family, I am typically the one who keeps everyone calm, but during the weeks leading up to the holidays, I seem to have too much on my plate (no pun intended!) This morning I started to feel a little stressed out.  But the combination of the music and looking at this recipe that I made for our Christmas dinner last year have me in the holiday spirit!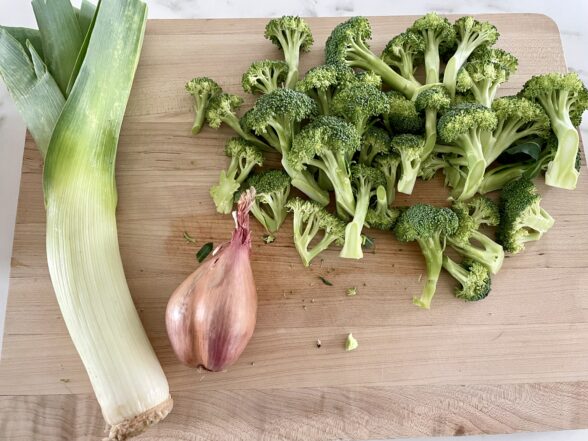 In the last few years, I have gone from being my mom's sous chef to being the Director of Christmas Dinner and bossing everyone else around. Ha!  Someone has to be in charge, right? Of course, I can never leave well enough alone, so I've been tweaking our menu here and there.  Last year, instead of basic boring broccoli, I wowed everyone with this Cheesy Broccoli Casserole!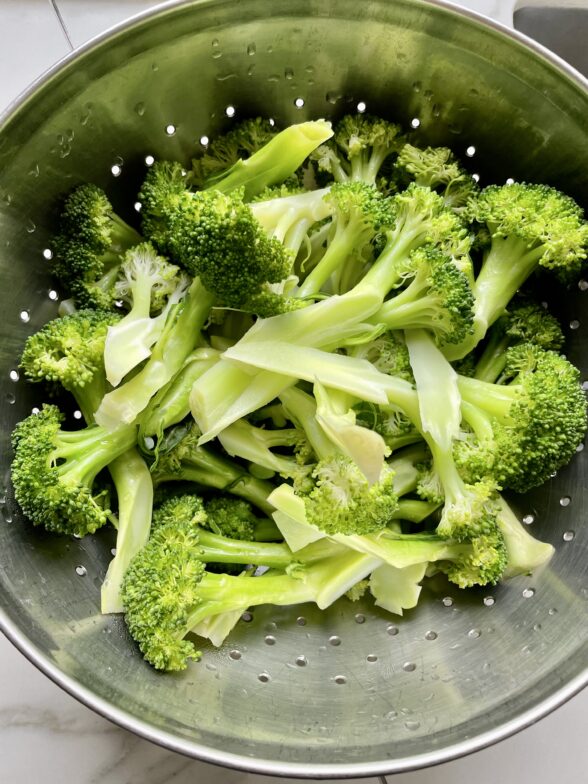 Before you get upset because you don't eat dairy, don't fret.  You should know me by now!  You can adapt this and make it dairy-free.  Or vegan for that matter.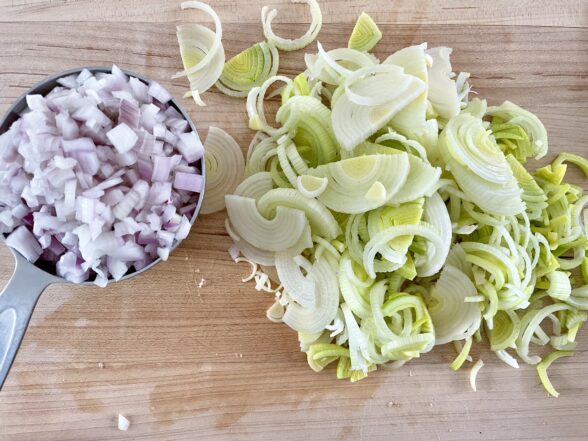 This casserole is savory, flavorful, and not overly creamy or cheesy.  It's really just right, and not over the top. So even if you eat dairy, this is not too heavy.  In fact, it's the opposite!  The casserole is heavier on the broccoli and leeks than the dairy.  I personally don't love gratins that are swimming in cream sauce with loads of cheese and a side of vegetables.  This is not that.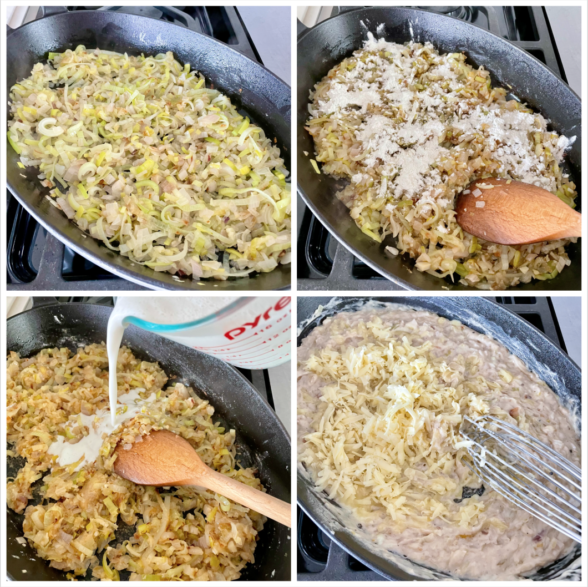 We served this with beef tenderloin and we also make a vegan lentil shepherd's pie for the non-meat eaters. (Trust me, it's more popular than the meat!) Plus a winter salad and tortellini soup to start, and that's it.  We keep it simple.  Dessert is my Aunt Maria's Christmas cookies, fruit, chocolates, and assorted other Italian specialties.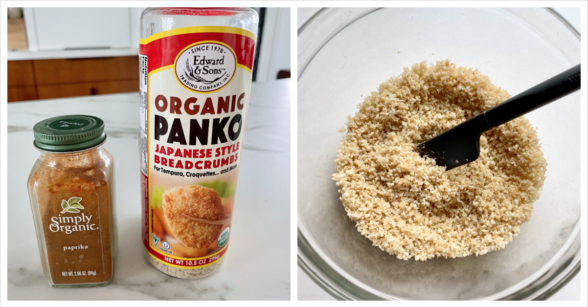 If you need to make this gluten-free, just use GF bread crumbs.  The texture is a lovely contrast with the soft broccoli and creamy sauce.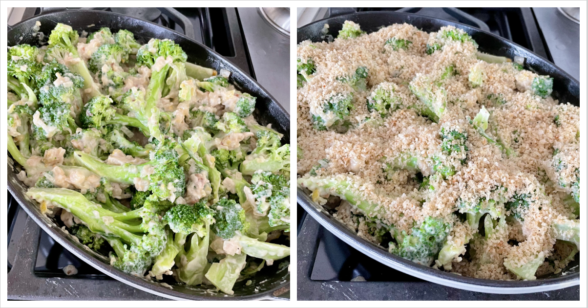 As you can see from the images, the broccoli is not swimming in cream sauce but coated in a creamy sauce. And it is delicious. The day I photographed this, I could not stop eating it!  It's easy enough that you can give it a test-run before your holiday dinner.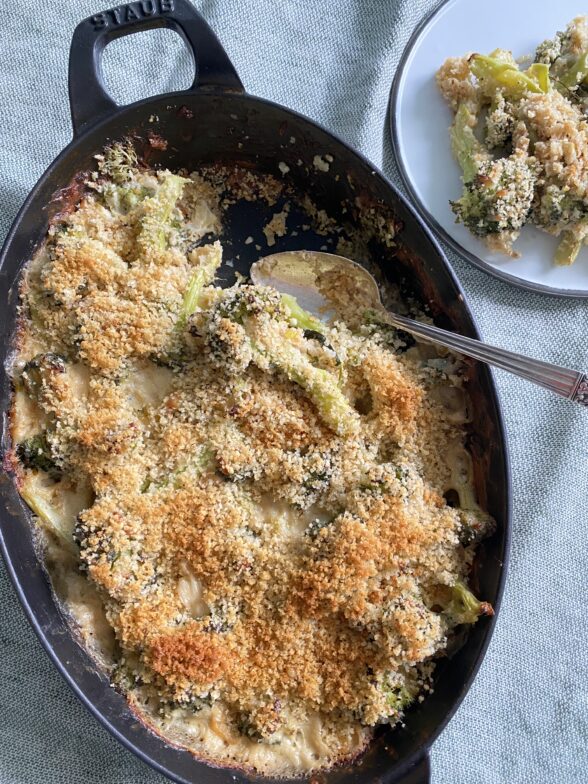 As always, thank you for including me in so many of your important meals and traditions. If you make this or any of my recipes, please tag me @pamelasalzman #pamelasalzman so I can see your beautiful creations!
You can shop the tools I used for this recipe by clicking on the images below: 

Cheesy Broccoli Casserole
Ingredients
8 cups broccoli florets (about 18 ounces)
3 1⁄2 Tablespoons unrefined, extra-virgin olive oil, divided
2 large leeks, white and light green parts only, halved lengthwise, rinsed and thinly sliced
1 cup chopped shallots or yellow onion (about 1⁄2 onion)
3 garlic cloves, minced
1⁄3 cup dry white wine (use veggie or chicken stock plus a teaspoon of white wine vinegar if you don't have white wine)
2 Tablespoons all-purpose flour or your favorite gluten-free flour blend
1 3⁄4 cups whole milk or unsweetened plain cashew milk or hemp milk
3⁄4 teaspoon sea salt
Freshly ground black pepper
Pinch of cayenne pepper
1 cup grated gruyere or sharp white cheddar cheese (you need a cheese with flavor) or your favorite vegan shredded cheese (see vegan notes at the bottom)
3⁄4 cup panko breadcrumbs (Ian's has a gluten-free version)
1⁄4 teaspoon paprika (optional but makes the breadcrumbs a nice toasty color)
Instructions
Place the broccoli florets in a steamer basket. Add about an inch of water to a pot and bring to a boil over medium-high heat. Place the steamer basket with the broccoli into the pot. Cover and steam for 5 minutes. Uncover, drain broccoli into a colander and set aside.
Preheat the oven to 425 F and grease an 11 x 7-inch baking dish or you can use a 9-inch oven safe skillet to make this a one skillet meal.
Heat 2 Tablespoons of oil in a large skillet or oven safe skillet over medium-high heat. Add the leeks and shallots; sauté until softened, about 6 to 8 minutes (might take a little longer if you use onions instead of shallots.) Add the garlic and cook 1-2 minutes, until fragrant.
Add the white wine to the pan. Cook, stirring often until most of the liquid has evaporated, 2 to 3 minutes.
Sprinkle the flour into the pan and toss to coat until onions are well coated. Whisk in milk and bring to a simmer, whisking occasionally, until the mixture starts to thicken, about 4 to 5 minutes. Whisk in salt, black pepper and cayenne.
Stir in cheese and whisk until the cheese melts and the sauce is smooth, about 1 minute. Taste the sauce right now and adjust seasoning. Different cheeses have different salt contents. Add salt and other seasonings as needed. Remove from heat and carefully fold in cooked broccoli florets, tossing to coat. Transfer mixture to prepared baking dish or leave in oven-safe skillet.
Combine panko breadcrumbs, remaining 1 1⁄2 Tablespoon of oil, and paprika in a medium bowl. Toss the mixture with your hands, making sure all breadcrumbs are well coated. Scatter panko over the casserole and transfer to the oven. Bake uncovered for 25 - 30 minutes, until the topping is golden, and the sauce is bubbly.
Notes
Notes: you can also try using defrosted frozen broccoli instead of steamed fresh broccoli. Skip Step 1. You can put a twist on this recipe by adding a layer of cooked quinoa or wild rice to the base of the baking dish. Instead of broccoli, you can use other cruciferous vegetables like cauliflower (add 1 teaspoon Dijon mustard to the milk mixture to offset the sweetness of the cauliflower), cabbage wedges, or halved brussels sprouts. Layer the cheesy broccoli on top. You can also go a different, but still delicious direction, by using my vegan cheese sauce instead of the flour, milk, salt, pepper, cayenne, and cheese.

VEGAN CHEESE SAUCE:
5 Tablespoons unsalted butter (not vegan) or vegan butter
2 Tablespoons chopped shallots
1 cup (about 7 ounces) chopped Yukon gold potatoes (you can leave the peel on)
1⁄4 cup chopped carrots (about 1 small carrot)
1⁄3 cup chopped onion
1 cup water
1⁄4 cup raw cashews (If you don't have a Vitamix or equivalent, soak the cashews 1-5 hours in water and drain before adding to blender)
1 3⁄4 teaspoons sea salt (use 1 1⁄2 teaspoons if using Earth Balance)
1⁄4 teaspoon garlic, minced (about 1 medium clove)
1⁄4 teaspoon Dijon mustard
2 teaspoons freshly squeezed lemon juice (optional, but add it if you have it)
1⁄4 teaspoon black pepper
pinch of cayenne pepper
1. In a medium saucepan, add the shallots, potatoes, carrots, onion and water and bring to a boil. Lower to a simmer and cook, covered, for 15 minutes, or until vegetables are very soft.
2. Place the cashews, salt, garlic, butter, mustard, lemon juice, black pepper, and cayenne in a blender or food processor. Add the softened vegetables and cooking water to the blender or food processor and process until perfectly smooth. Give this a minute or two until it is perfectly creamy and smooth. Cheese sauce can be made 2 days in advance and reheated.

Breadcrumb alternative: use torn up crusty bread instead of the breadcrumbs for more texture.